AMP projects featured at "Potential in Proximity: Exploring Displacement & Arts Education in Community Spaces"
Detroiters will have a chance to interact with several of Allied Media Projects' partners on November 3 and 4 in a weekend-long presentation at the Detroit Public Library-Main Library. The goal of the program is to help cultivate civic engagement through artistic expression.
The program is presented by Red Bull and ProjectArt Detroit and will feature a film screening and lecture, panel discussion, and interactive and hand-on community programming.
"This unique weekend will offer an opportunity for artists and Detroiters to engage in conversation and learn from one another," says Toni Moceri, director of sponsored projects for AMP. "Our goal is to create a space that inspires co-reflection and co-creation."
The Saturday program will feature a screening of Aunt DDOT, a Detroit Narrative Agency Fellowship-funded short film by Bree Gant that brings together personal narrative, radical imagination, experimental video, and the Detroit city bus. It tells the story of a disillusioned Detroit artist struggling to ground herself in reality or her dreams.
"AMP and DNA have provided a quality of infrastructure and care that make it possible for me to live as a working artist in Detroit," says Gant. "To work for myself and my community. I am also learning the language to talk about how inseparable art and politics are, without shame or blame."
The Sunday program will feature six interactive, human-centered workshops in Strohm Hall at the Main Library that will engage participants in tactile and visual experience, critical thought, and dialog. The workshops will be led by:
Fringe Society: A hybrid and intersectional fiber art practice with a goal of cultivating a fertile place for marginalized communities to thrive.
The Aadizookaan [ADZKN]: A multimedia art studio and artist residency in Southwest Detroit drawing on guidance from ancestral indigenous-based knowledge systems.
Seraphine Collective: An inclusive, supportive and active community of feminists fostering creative expression and camaraderie among marginalized musicians and artists in Detroit.
A People's Guide to AI: A comprehensive beginner's guide to understanding AI and other data-driven tech.
The Muslim Anti-Racism Collaborative (MuslimARC): A provider of racial justice education and resources that connects people across multi-racial and multi-faith groups using digital media, dialogue, and storytelling.
Co.Open: A producer of workshops to expand skills and build capacity for community organizers, small businesses and freelancers in Detroit.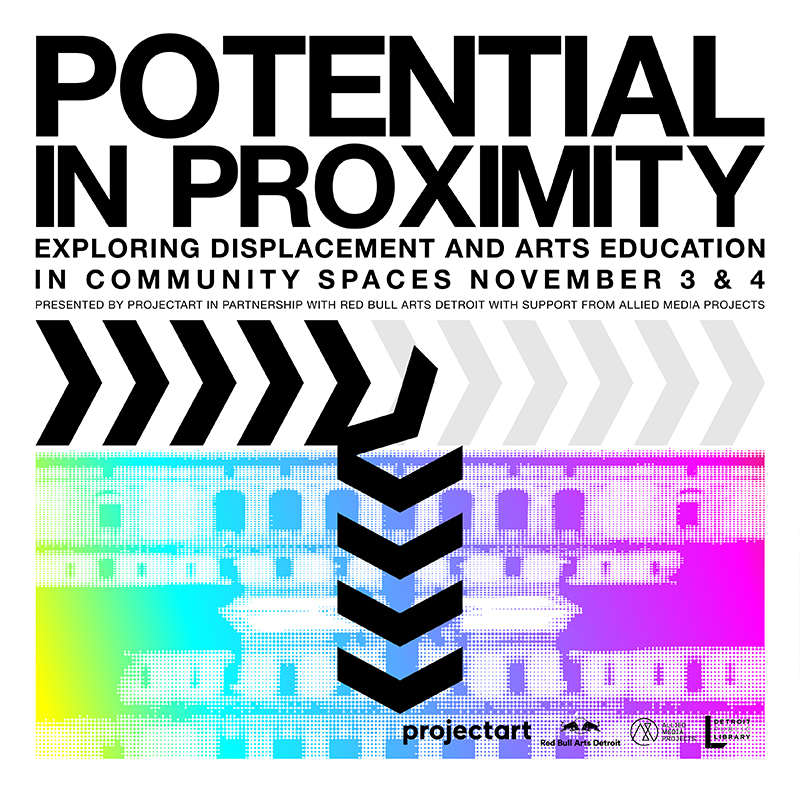 Levon Kafafian, a co-founder of Fringe Society, will present "Workshop Fiber: Process as Metaphor" designed to help participants "learn how processes that go into making fabric provide us with windows into how we see the world."
"What I have in mind is to bring a number of textile tools to introduce people in a hands-on sort of way to different textile processes, and simultaneously have conversations with them in order to open dialogue about what these processes mean for people and also how they inform the ways we see the world," says Kafafian.
A storytelling workshop lead by Christy Bieber, an artist & cultural worker with The Aadizookaan who performs as Giizhigad, will explore the structure and characteristics of Anishinaabe storytelling through modes of storytelling via contemporary and traditional media, music, film, and design.
"The workshop will have a focus on Traditional Anishinaabe or Native American culture blended with the way contemporary stories are being created by Native artists and all our relations," says Bieber. "We will also build in the art of visiting by learning from each other through cultural exchange and creating together."
Technology will also play a prominent role in the workshops. Seraphine Collective will offer an introduction to the basics of DJ-ing, while Co.Open will provide a preview of tools available to start creating media to impact community from making your own maps to making your own music. A People's Guide to AI will give participants a crash course in the basics of what makes up artificial Intelligence, then ask them to create a collaborative speculative story that depicts a future of technology that is equitable and inspiring.
"Learners will walk away with a greater understanding of AI in our everyday lives, the agency they have in shaping the future of technology, and a copy of A People's Guide to AI booklet to continue learning," says A People's Guide to AI cofounder Diana Nucera.
Jessica Allie, director of ProjectArt Detroit, says the Sunday program was selected in consultation with librarians from communities such as southwest Detroit (Campbell Branch), Banglatown (Knapp Branch), Rosa Parks (Parkman Branch) and others.
"These projects help to support existing goals and concerns of communities throughout the City of Detroit. The Potential in Proximity event also provides an opportunity for Detroiters and non-Detroiters alike to familiarize themselves with the valuable public space that is the Detroit Public Library," says Allie. "It is with the support of Allied Media Projects we are able to cover a wide range of topics in a meaningful and impactful way."
More details about the full program:
Saturday, November 3rd
Art + Accessibility followed by Economic & Community Displacement
Where: Red Bull Arts Detroit, 1551 Winder St. Detroit, MI 48207
When: 6pm-8pm
Moderator: Toni Moceri
On Saturday, Red Bull Arts Detroit will host a short film screening of ProjectArt's Main Branch Artist in Residence Bree Grant's Aunt DDOT, the Detroit Narrative Agency Fellowship-funded short film about that brings together personal narrative, radical imagination, experimental video, and the Detroit city bus. The film tells the story of a disillusioned Detroit artist struggling to ground herself in reality or her dreams. Afterward, Lagos Nigeria Native, Detroit expat, chef, writer, & lecturer Tunde Wey will hold a brief discussion on his multi-city dinner series centered around food as a stimulus to address racial wealth disparity, economic displacement, gentrification, & U.S. anti-immigration sentiment, which led him to cities like Detroit, New Orleans, & Nashville Tennessee. Immediately following, Bree and Tunde will participate in a conversation focused on art, accessibility, and displacement moderated by Moceri.
Sunday, November 4th
Arts Access + Funding for the Arts
Where: Detroit Public Library Main Branch, 5201 Woodward Ave. Detroit, MI 48202
Adam Strohm Hall, Teen Hype Center, Children's Library
When: 1pm-3pm ProjectArt Workshops & Allied Media Projects
3:30pm-5pm Panel Discussion
Moderator: Imani Mixon
On Sunday, there will be a full day of programming at the Detroit Public Library's Main Branch. First, six local organizations and ProjectArt's artists-in-residence will partner with DPL to present programming in the library space. Later in the afternoon, there will be a panel discussion on access to and funding for the arts in Detroit featuring celebrated Detroit Artist Hubert Massey who serves as an art mentor for the Detroit Council of Arts and the Detroit Summer Youth Employment Program, Detroit School Board Member Misha Stallworth, Arts Advisor and Cultural producer/Membership Manager at MoCAD Wayne Northcross, and Director of Creative Industries at Creative Many Michigan Cézanne J. Charles, with moderator Imani Mixon.
These events are free & open to the public. People of all ages are welcome.
About ProjectArt
ProjectArt empowers youth, emerging artists, and communities by partnering with public libraries, enhancing these vital cultural hubs through artist residencies. Socially conscious emerging artists teach free after-school visual art classes to underserved children ages 4-17 while developing new artwork in the library. ProjectArt provides classes to 42 libraries in 6 cities throughout the country. ProjectArt Detroit classes are offered in: Main Library, Parkman Library, Campbell Library, Sherwood Forest Library, Jefferson Library, Knapp Library, Edison Library.
About Red Bull Arts Detroit
Red Bull Arts Detroit is an artist residency, visiting curator and writer fellowship, micro-grant program, and experimental, non-commercial exhibition space. Since 2011, the organization has ensured a sustained commitment to the cultivation and advancement of the arts in Detroit and beyond. In 2018, Red Bull Arts Detroit joined Red Bull Arts New York as the second pillar of the Red Bull Arts platform. Located in Eastern Market's historic E&B Brewery, the organization (formerly known as Red Bull House of Art) has hosted over 100 resident artists, and served countless community members through exhibitions, studio assistantships, and inclusion in a variety of programs.