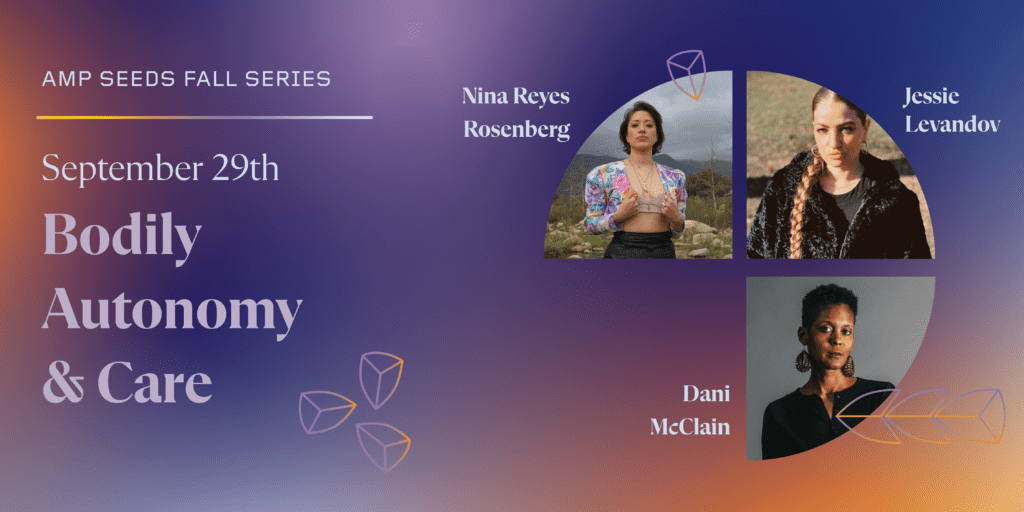 ASL, CART (English) provided.
Beyond access to contraception and abortion, the Reproductive justice movement challenges us to consider broad access of reproductive care, affirmative bodily autonomy, and self-determined parenthood as essential aspects of autonomy and justice. Bodily Autonomy & Care brings together reproductive justice organizers and filmmakers who are collaboratively creating short films that center and affirm unapologetic feminism with love and dignity.
Featuring:
MALA Forever is a radical feminist film & digital studio. We are a home for bold revolutionary storytelling that dismantles systems of oppression and cultivates liberation, love, and abundance. MALA was Co-Founded by Jessie Levandov & Nina Reyes Rosenberg.
Jessie Levandov is a queer director, writer, creative producer and founding partner of radical feminist creative studio Mala Forever. Her award winning work is both tender and defiant, spans mediums such as narrative, documentary, music video, fine art, and fashion, and centers stories that uplift queer intimacy and joy. Her queer coming of age film BABY won the Grand Jury Prize at Outfest film festival, and premiered as a Vimeo Staff Pick. Her work has been featured at venues such as The Guggenheim Lab, Slamdance, Rooftop Films, Brooklyn Museum, Museum of Fine Arts Boston, Fotografiska NY, and the Leslie Lohman Museum. As a community-based artist and educator, Jessie is deeply invested in storytelling as a means of community organizing, healing, and collective liberation. She is the former Director of Youth Documentary Workshop at New York City's Educational Video Center where she designed and facilitated intensive, free documentary filmmaking programs for low-income high school aged youth. She has facilitated community arts programming in NYC public schools, shelters, arts organizations, and at Allied Media Conference in Detroit. Jessie holds a BFA in Film & Television from NYU Tisch School of the Arts and is based in Brooklyn, New York.
Nina Reyes Rosenberg is a queer feminist Chicana-Jewish filmmaker, writer, artist, and cultural strategist. She is a founding partner of radical feminist creative studio Mala Forever. Her original screenplay La Paz has been honored by the Latino Screenwriting Project, and her short films Organism and Invisible Men have played for diverse audiences around the world. With over a decade of experience as an independent media creator and in-house producer at Portal A, Change.org, and the Bayview-Hunters Point Center for Arts and Technology (BAYCAT), her videos have reached millions online and catalyzed activist social justice movements and brands alike. Her fine art painting, installation, and curatorial works have exhibited at Bay Area institutions such as Mission Cultural Center for the Arts, SOMArts, Incline Gallery, and Not Ur Baby. Born and raised in San Francisco, she holds a BFA in Film and Television Production from NYU's Tisch School of the Arts, and is based in Los Angeles.
Moderator
Dani McClain is an award-winning journalist who reports on race, parenting and reproductive health. McClain's writing has appeared in outlets including The New York Times, TIME and The Atlantic. McClain is a Puffin Fellow at Type Media Center and a contributing writer at The Nation. She was a staff reporter at the Milwaukee Journal Sentinel and worked as a strategist with organizations including Color of Change and Drug Policy Alliance. Her book, We Live for the We: The Political Power of Black Motherhood, was published in 2019 by Bold Type Books and shortlisted in 2020 for a Hurston/Wright Legacy Award.
Seeds Cafe
We are excited to announce AMP Seeds 2022 will host our new Seeds Cafe, a virtual space to kick back, connect, and integrate the event with friends and co-conspirators.
The Seeds Cafe is a digital space where attendees can continue the conversation post-event in an intimate zoom room. Seeds Cafe will be hosted by Pink Flowers. Pink Flowers is an artist, activist and educator, whose work is rooted in ancient shamanic, African trickster, and Brazilian Joker traditions.
We are thrilled to offer the Seeds Cafe this season. We hope you will join us for guided reflections, somatic exercises, and connections.
Pink Flowers is a pleasure activist. She is the Artistic Director of award-winning Falconworks Theater Company in NYC. She is an award-winning actor and producer. Pink is a foremost Theater of the Oppressed practitioner, currently co-president of the national organization of practitioners and educators, Pedagogy and Theatre of the Oppressed, Inc. Pink trained with the Navajo Nation in Peacemaking mediation. She serves on the faculty of Pace University in NYC and holds a Masters in Theater from Yale University.