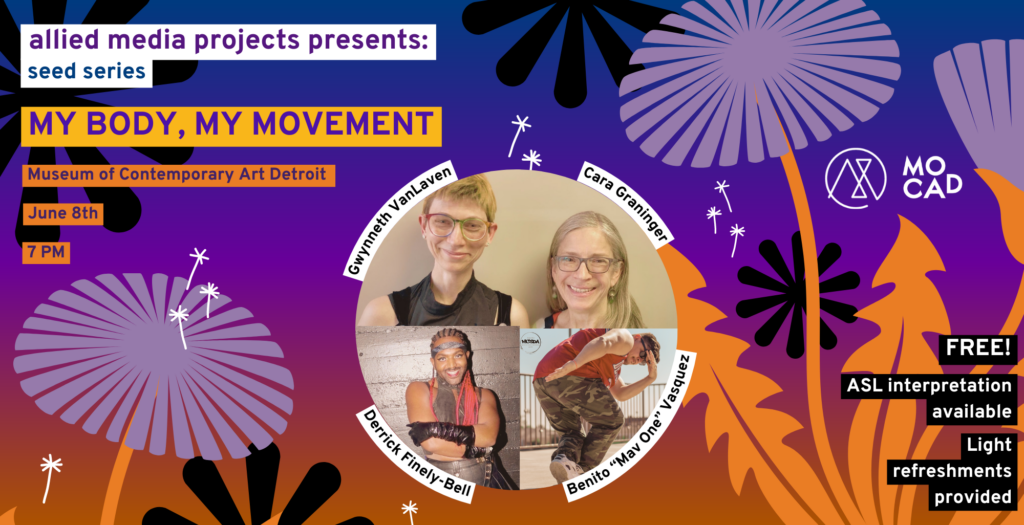 "If I can't dance, I don't want to be part of your revolution!" (Emma Goldman). The power of dance has long sustained social justice organizing as a technology of resistance that brings communities together for collective expression, joy, and healing. Join us for a night of performance, workshops, and a discussion that explores the liberating force of collective movement across abilities, ages, and styles. Featured dancers and choreographers include Benito "Mav One" Vasquez (Motor City Street Dance Academy), Cara Graninger (DanceAbility Detroit), and Derrick Finely-Bell (Thee Plastic Dollz dance crew) to explore how Detroiters are organizing communities through dance and storytelling. The panel will be moderated by choreographer and performance artist Jennifer Harge.
View our access statement here.
Jennifer Harge (she/they)
Jennifer Harge is an interdisciplinary choreographer, performance artist, and educator based in Detroit, MI. Her practice is rooted in movement improvisation, performance, installation, Black feminist thought, spirit work, and folklore. She privileges her interiority and subjectivity as form, moving from/moving with/rerouting/reimagining/reinventing the stories sitting in her blood memories.
Harge is currently developing a fable series, FLY | DROWN, which is intimately situated within the context of Black femme flesh, imaginations, dreamscapes, prayers, and homes. The latest iteration of FLY | DROWN, a clearing, made with Devin Drake, is on view at MOCAD this summer.
In winter 2023, Harge served as the Alma Hawkins Visiting Chair in Dance at UCLA, and in the fall will be a fellow at the Center for Experimental Ethnography at the University of Pennsylvania.
Benito "Mav One" Vasquez
Mav-One is a Detroit-born B-Boy who has contributed to Detroit's hip-hop and breakin' community for over two decades. He has taught hip-hop for over a dozen years. He is the founder of Motor City Street Dance Academy (MCSDA) and Fresh Classics, organizations through which Mav-One uses hip-hop dance as a foundation for youth mentoring, personal development, and community building. As one of Detroit's original B-Boys, Mav-One is a nationally recognized ambassador for Detroit's hip-hop culture and a mentor who links to generations of hip-hop dancers who have shaped Detroit's street dance traditions.
Derrick Finley-Bell
Derrick is a lifelong lover of all things Dance! Derrick discovered his passion for dance at an early age by watching his favorite artists on MTV. In the summer of 2020 Derrick founded his very own Dance Crew, "Thee Plastic Dollz"! Since founding the dance crew Derrick has gone on to tour with DJ/Recording Artist, Wreckno. They have spent the year filming music videos, and performing at music festivals across the country.
Cara Graninger (she/her) and Gwynneth VanLaven (she/they)
Cara Graninger and Gwynneth VanLaven met online during the covid-19 pandemic when Gwynneth joined Cara's virtual DanceAbility movement improvisation class. program of Detroit Disability Power, DanceAbility is dance improvisation for people of all ages, with and without disabilities, who come together to co-create and transform dance as equal contributors. Cara became a certified instructor with DanceAbility International in 2004, and was delighted to relaunch DanceAbility Detroit in 2019 with the support of DDP. Then the pandemic happened, and thanks to the generative collaboration between Cara and Gwynneth, DanceAbility kept growing! Gwynneth (she/they) brings their profound multidisciplinary artistry, their teaching experience (including skillful enthusiasm for teaching online), their embodied and diverse disability experiences, and their imaginative integration of art with social justice and healing. Cara (she/her) is a dance improviser specializing in contact improvisation, a foundation of DanceAbility. She brings thirty years of community arts teaching and organizing experience, her commitment to accessibility in art and society, and her deep love of movement. Together with a corps of regular participants, we're developing the theory and practice of DanceAbility Detroit.