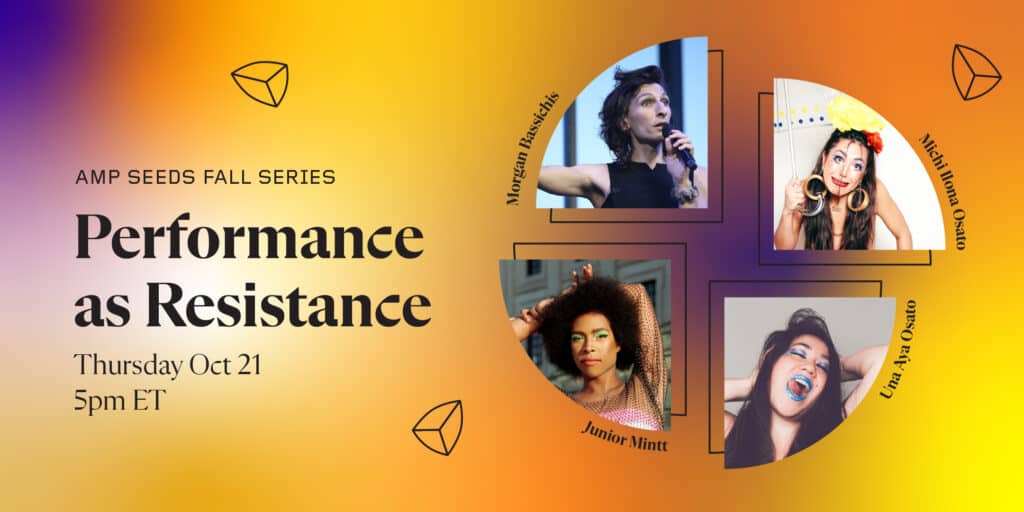 October 21st at 5pm ET
Performers can captivate our attention, embody space and reverberate energy while liberating themselves from their own bodies. Join us for an evening of song and dance hosted and curated by the Brown RadicalAss Burlesque co-founder, Una Osato. The line up will feature New York City-based performers working at the intersection of activism, embodied creativity and radical joy. Liberation is irresistible and these folks know it.
Viewers advised: Some performances contain partial nudity
ASL interpretation and CART (English) provided.
Featuring:
Una Aya Osato, our host and curtator, is a performer, writer, sex educator, CareBear, clown, and stripper from NYC. They are an award-winning actor and playwright who tours her original work nationally and internationally. Una is also a co-founding member of brASS: Brown RadicalAss Burlesque, a BIPOC femme burlesque collective. Una has been featured in the New York Times, Teen Vogue, NPR's CodeSwitch, NowThis, and many other publications and platforms.
Michi Ilona Osato aka sister selva is a burlesque & drag performer born and raised in the East Village of NYC. She has performed across NYC in venues such as Lincoln Center Out Of Doors, the Joyce Theater, the New Museum and Brooklyn Museum. Michi has appeared on television shows including Sesame Street and High Maintenance and her writing can be found with sister Una in adrienne maree brown's bestselling book Pleasure Activism. She is co-founder of brASS Burlesque, a queer POC performance company, her work has been featured in the New York Times, Teen Vogue, NowThis, and NPR's CodeSwitch. She considers all of her work, from Stripping to Acupuncture to Composting to Clowning, to be healing work.
Junior Mintt is a Brooklyn-based drag artist, speaker, comedian, and creator of Mintty Makeup. She is a proud Black Transwoman whose work on and off stage has been featured in Vogue, The CUT, ID, Buzzfeed, and Paper Magazine. Co-host of the Brooklyn Liberation March, Junior Mintt has performed stand up at Chelsea Music Hall, walked the fashion show in Susanna Bartsch's Love Ball, and performed for the Gibney Theater.
Morgan Bassichis is a comedic performer and musician who has been called "a tall child or, well, a big bird" by The Nation and "fiercely hilarious" by The New Yorker. Morgan's book of to-do lists, The Odd Years, was published by Wendy's Subway in 2020. Past shows include Don't Rain On My Bat Mitzvah (Creative Time, 2021), Nibbling the Hand that Feeds Me (Whitney Museum, NYC, 2019)and Klezmer for Beginners (Abrons Arts Center, NYC, 2019). Morgan has released two albums: March is for Marches with Ethan Philbrick (2019) and More Protest Songs! Live From St. Mark's Church (2018). They live in New York City.