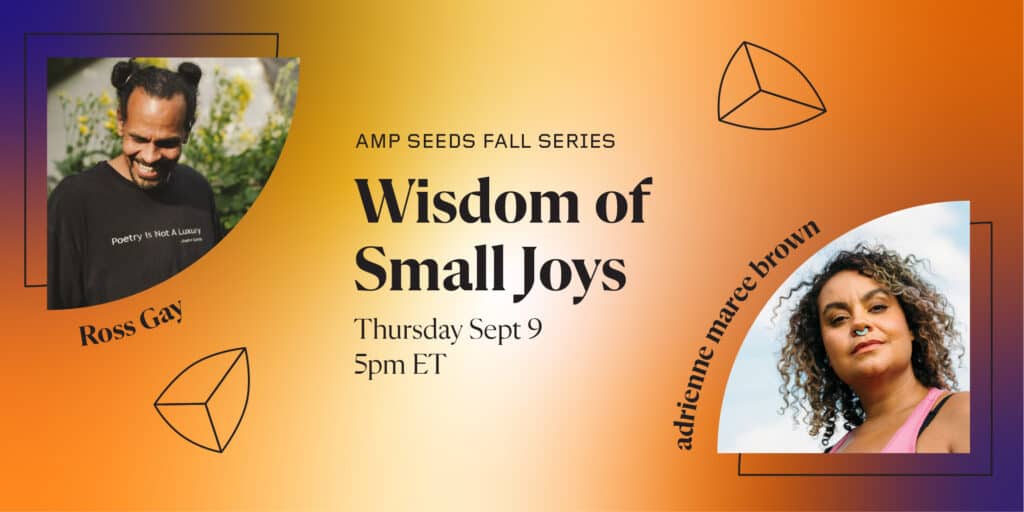 I want so badly to rub the sponge of gratitude

over every last thing, including you.

– Ross Gay
September 9th at 5pm ET
When our personal and collective struggle overwhelms our spirits, many of us find solace in unexpected pleasures. Do you smile as the apple juice runs down your chin or does the network of seeds inside your favorite squash arrest your attention?  Celebrated writers, Ross Gay and adrienne maree brown, explore how their practices of  reveling the comforts small joys bring have brought about individual and collective transformation.
Featuring:
Ross Gay is the author of four books of poetry: Against Which; Bringing the Shovel Down; Be Holding; and Catalog of Unabashed Gratitude, winner of the 2015 National Book Critics Circle Award and the 2016 Kingsley Tufts Poetry Award. His new poem, Be Holding, was released from the University of Pittsburgh Press in September of 2020. His collection of essays, The Book of Delights, was released by Algonquin Books in 2019.
adrienne maree brown is the writer-in-residence at the Emergent Strategy Ideation Institute, and author of Holding Change: The Way of Emergent Strategy Facilitation and Mediation, We Will Not Cancel Us and Other Dreams of Transformative Justice, Pleasure Activism: The Politics of Feeling Good, Emergent Strategy: Shaping Change, Changing Worlds and the co-editor of Octavia's Brood: Science Fiction from Social Justice Movements and How to Get Stupid White Men Out of Office. She is the co-host of the How to Survive the End of the World, Octavia's Parables, and Emergent Strategy podcasts.