Allied Media Projects is seeking Network Liaisons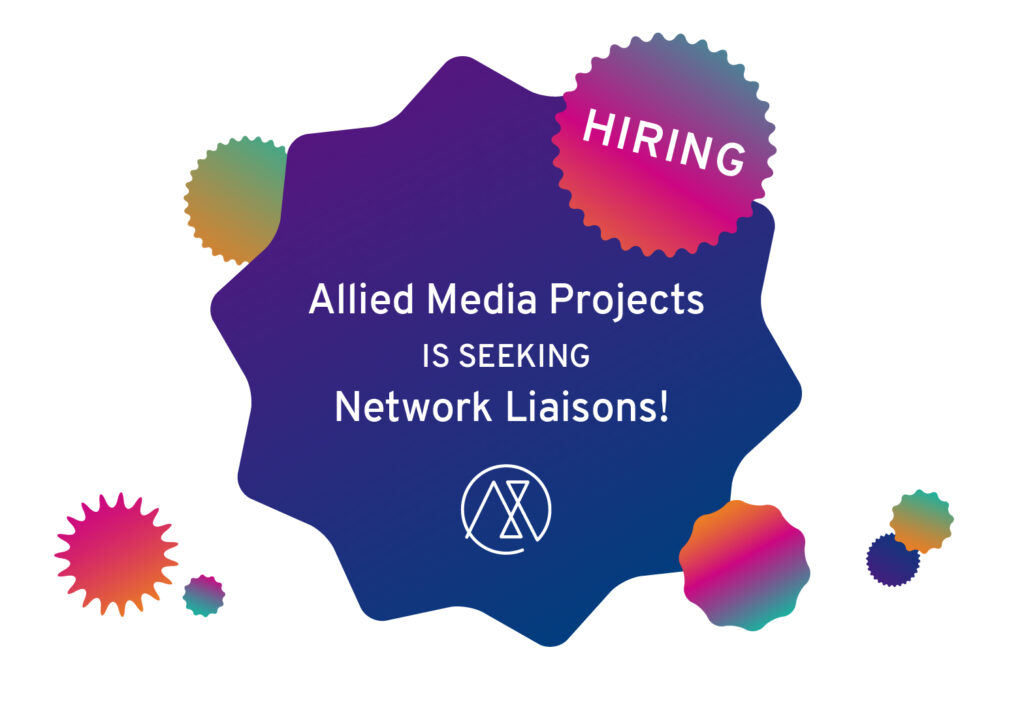 Background
Allied Media Projects (AMP), created approximately 20 years ago, cultivates media for liberation. Rooted in Detroit and connected globally, AMP is a network of media makers, artists, educators, and technologists working for social justice. Through its programs, AMP envisions and attempts to model a world in which we cultivate care and joy, dismantle harmful systems, and assume responsibility for creating new and liberatory ways of being.
AMP's current programs include:
The Sponsored Projects Program which provides fiscal sponsorship, training and capacity building to people and projects aligned with AMP's mission;
The Allied Media Conference, a convening of AMP's vast network where participants celebrate, strategize and skillshare; and
The Speakers Bureau which disseminates the skills, ideas and media of the AMP network to the wider world.
To learn about AMP, check out the following links:
Sponsored Projects Program @ AMP
Allied Media Projects knows that the work of uprooting oppressive systems and planting new liberatory ways of being takes resources and support.
Our Sponsored Projects Program provides fiscal sponsorship to facilitate the flow of resources across a growing network of people and projects making media for liberation. Our supportive services make the radical practical through easy to access administrative processes and responsive, caring, and solutionary customer service.
Our Sponsored Projects Program has provided fiscal sponsorship to more than 150 groups across the U.S. and Puerto Rico. We prioritize projects that are rooted in our hometown of Detroit, MI.
We are committed to creating an environment in which our network of sponsored projects is resourced and thriving.
Role Overview
The Network Liaisons at AMP are people who are passionate about the work of supporting and resourcing our movements. They are exceptionally well-organized, detail-oriented, and have strong interpersonal skills. They are self-starters, empathetic listeners, and creative problem solvers. This role will be approximately 80% correspondence & administrative work, 20% strategizing and brainstorming.
Each Network Liaison will be responsible for supporting the day-to-day needs of a portfolio of approximately 30 fiscally sponsored projects. The Liaison will coordinate with AMP departments to respond to requests and provide excellent support service. They will work closely with the Sponsored Projects Program team to evaluate and implement resources for the program's network of projects.
Responsibilities
Relationship management
Cultivate positive, supportive relationships with project point people.
Coordinate between AMP's Accounting, Communications, Development, HR, Legal and Tech departments in order to ensure that projects needs are met.
Develop knowledge about the work of projects by attending project activities and events when possible.
Programmatic advising
Check in with project leadership monthly and stay up-to-date on project activities.
Provide feedback on project plans and support with goal-setting, evaluation, and strategies, as needed.
Review monthly project financial reports and support projects in using the reports to guide decision-making.
Administrative support
Gather information for project profiles and other communication requests
Provide resources and tools to support project fundraising strategies in coordination with AMP Development team
Support grant applications and reports, manage grant agreements, and track deliverables and due dates.
Review and support development of project budgets.
Provide expense oversight and review payment and purchase requests.
Identify risk related to insurance, advocacy and project activities, in coordination with Sponsored Projects Program Director and General Counsel.
Ensure project understanding and adherence to AMP policies, processes, and guidelines.
Support the administration of contracts.
Fulfill other responsibilities as assigned.
Program Development
To advance the Sponsored Projects Program overall, the Network Liaison participates in the following, as needed:
Develop and evaluate programming.
Produce regional convenings of our network.
Develop and refine administrative processes.
Establish foundational knowledge of social justice movements and AMP's political framework. Continue to be informed of emerging developments and the ways in which they connect to the work of our network.
Establish foundational knowledge of organizational development such as governance, fundraising, and budgeting. Seek out and develop approaches that are aligned with AMP's mission and organizational culture.
Qualifications
Need to have…
Exceptional written and verbal communication skills.
Outstanding organizational skills, attention to detail, and ability to creatively problem solve.
Experience creating administrative processes, maintaining records and information.
Highly developed interpersonal skills with the ability to be calm and empathetic in stressful situations.
Ability to learn and adapt quickly.
Desire and ability to work collaboratively.
Experience working in community-based non-profits
Ability to meet deadlines, while balancing multiple priorities.
Nice to have . . .
Non-profit administration or organizational development experience.
Fiscal sponsorship experience, either as a provider or recipient.
Prior experience managing a portfolio of clients.
Contract and grant administrative experience.
Budget management experience.
Experience working with Google Suite, Asana, and Slack.
In-person and online event/meeting management experience.
A working knowledge of the Allied Media Projects network.
Are multilingual.
Are an active media-based organizer or media-maker with a social-justice background.
Job Details and How to Apply
This role's starting salary range is $36,000K-$45,000K and includes a competitive benefits package including: employer sponsored Medical, Vision, Dental, FSA, and retirement matching. It is a full-time position, based in Detroit.*
*During the COVID-19 pandemic, this job will operate in a remote capacity until safe to return to in-person work.
The ideal start date for this role is December 1st, 2020.
To apply:
Please send the following to work@alliedmedia.org with the subject line "Last Name, First Initial – AMP Network Liaison"
Cover Letter

Please include an answer to the questions:

"What does resourcing our movements mean to you?"
"What does customer service mean to you?"

A resume/CV
---
All completed applications received by October 30th will be considered.
Allied Media Projects is an Equal Opportunity Employer and does not discriminate on the basis of race, creed, color, gender, gender identity, gender expression, age, ethnicity, national origin, immigration status, sexual orientation, religion, HIV serostatus, disability, height, weight, veteran status or marital status.