AMC @ Night: A Five Day Music Showcase
Words by Allied Media Conference
Every year the Allied Media Conference presents musical acts and performances exploring the intersection of art and social change. This year we are excited to offers an expanded line-up with "AMC @ Night," a five-day music showcase featuring an exciting range of both national acts and representatives of Detroit's legendary music and performance scene. AMC @ Night will additionally feature DJs, an open mic, karaoke and bowling, and an art market.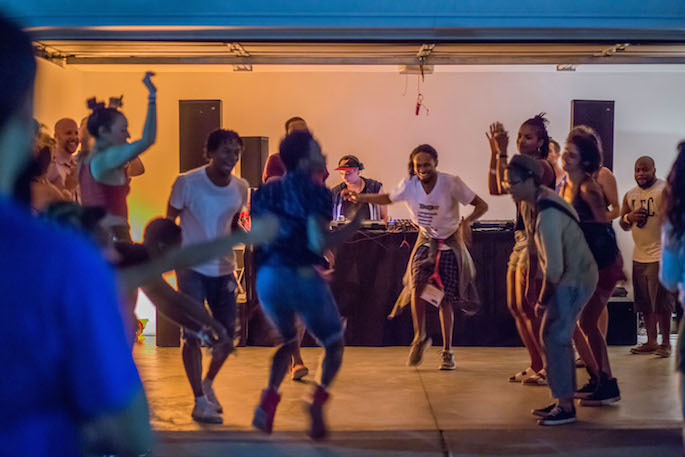 AMC @ Night will run concurrent with the annual Allied Media Conference, June 18-21, with shows taking place at venues throughout the Midtown area. Events at the Majestic and MOCAD are free for registered AMC participants. AMC @ Night is supported by a grant from the Knight Arts Challenge.
The signature event of the weekend is "Dance Dance (R)evolution", taking place Saturday, June 20 at the MOCAD (4454 Woodward Ave). Performers include Seattle-based R&B group THEESatisfaction, Los Angeles-based Afro-Mexican band Las Cafeteras, and Detroit hip-hop duo Passalacqua. The event will have a second stage inside Mike Kelley's Mobile Homestead installation, with a line-up of pioneering Detroit DJs, curated by the Detroit Sound Conservancy.
Be sure to check out the full AMC @ Night schedule and get ready for some amazing music, making new friends and dancing the night away!
Learn more about our featured performers…
THEESatisfaction
THEESatisfaction are Stasia Irons and Catherine Harris-White. Stas was born and raised in Tacoma, Cat in Seattle and Hawaii. The pair live/laugh/love/dance and create in Seattle, WA. They write, produce and perform their own material, funk-psychedelic feminista sci-fi epics with the warmth and depth of Black Jazz and Sunday morning soul, frosted with icy raps that evoke equal parts Elaine Brown, Ursula Rucker and Q-Tip. They met by what was clearly cosmic happenstance at the University of Washington and haven't stopped the flow since.
First principle: they're positive energy. Black energy, black women leaping oceans and continents at a single bound. With positive strength of purpose. Further, they're black purity. Hear that in their intonation. Without trickery. They know the gimmicks, scorn to use 'em. Rather, they'll face you and relate what's in their hearts, faithfully and incorruptibly.
Learn more on their website.
Las Cafeteras
Las Cafeteras create a vibrant musical fusion with a unique East LA sound and a community-focused message. Their Afro-Mexican rhythms, zapateado & inspiring lyrics tell stories of a dynamic community, looking for love and fighting for justice in the concrete jungle of Los Angeles.
Las Cafeteras sprouted in 2005 as students who enjoyed free Son Jarocho classes at the Eastside Cafe in El Sereno, Los Angeles and were inspired to utilize teachings of Son Jarocho as a tool to empower and build autonomy, community and solidarity while sharing the magic of this folk music from Southern Veracruz with the public. They've since become a favorite at LA community centers, churches, schools, parties, protests, youth conferences, and weddings.
Learn more on their website.
Passalacqua
Passalacqua came to fruition when Brent Smith, and Bryan Lackner met in the Detroit underground during the mid 2000s— Brent 'Blak' Smith as a spoken word artist and collaborator in the group 'Cold Men Yong,' and Bryan as a solo artist, rapping under the name 'Mister.' They introduced a theatrical element to the stage that was all together lacking in the stereotypical 'rap show' happening in Detroit at the time.
Their musical influences are as far ranging as hip hop activist Invincible, one-man performance artist Carjack, and electro-punk band Marco Polio and the Vaccines. In 2012 they were selected as Kresge Artist Fellows in the performing arts. In August 2014 Passalacqua released their second full-length album CHURCH.
"It's important to us that we do music at the same time giving something back to the community. When we travel, we want to do community-based work where some of our collaborators live. Sweat equity is a big part of what we do, on stage or in the neighborhoods." (Model D)
Learn more on their website.
DJ Stacey "Hotwaxx" Hale featuring Nyumba Muziki
The name "Hotwaxx" has been deeply embedded in Detroit's dance scene since 1989 in clubs such as Cheeks, The Warehouse, Heaven, Studio 54, TV, Grasshopper Underground. Stacey is more than just Detroit's first female House DJ, but a producer, re-mixer, community activist and supporter of the arts. As a way of giving back, she is preparing and teaching the next generation of grade school children how to be a DJ and produces a series of dance parties promoting upcoming artists.
Nyumba Muziki is comprised of females who play House music on classical instruments as Hotwaxx spins house classics as well as her own productions. Hotwaxx gathered this phenomenal group of professional teachers after witnessing their gifts while making appearances in and around the Metro Detroit area as a DJ and member of Black Women Rock and filming Girls Gone Vinyl.
Collectively these talented musicians incorporate classical tones and instruments, African rhythms, extraordinary vocals and a jazz infusion into deep house. In Swahili, NYUMBA MUZIKI translates to House Music.
Monty Luke
Monty Luke is a revolution in sound – a forever push towards forward thinking; a man unafraid to explore the space beyond the assumed boundaries of electronic dance music. What began in Brooklyn quickly spread, as Monty spun his way across the west coast, honing in on a raw, brain-pumping sound that would catapult him into the great unknown.
Monty Luke began producing in the early 2000s, and in mid 2008 it seemed fitting Monty would relocate to Detroit, the birthplace of techno music. He began work with his mentor, techno legend Carl Craig, and in 2011, Monty launched his own imprint, Black Catalogue. The label is focused on raw, underground electronic music talent and will primarily be a stage for him to release music on his own terms. You can also hear Luke monthly, on his Scion A/V show "Wave of the Future."
Monty Luke is determined to bring his outer-galactic, unapologetic, jack track music to our world and back again. The time is now.
Learn more about Monty Luke on Resident Advisor.