Apply to be a Delegation at AMC2018
Words by Allied Media Conference
Do you want to enrich your Allied Media Conference experience by attending with a group? Does your group share something important in common and do you want more visibility for your crew? Apply to attend the AMC together as an official "delegation"!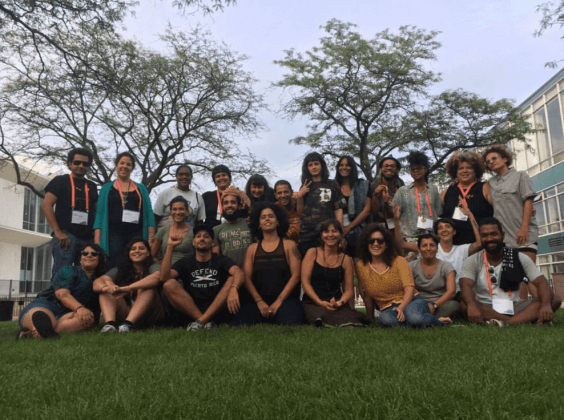 Delegations to the Allied Media Conference are groups who collectively fundraise to get to the conference, roll together during the conference, and reflect on the conference as a group after it's over. Attending the AMC as a delegation is a great way for you to build relationships amongst the members of your group. It's also a way to make the conference more accessible for folks who may not otherwise be able to attend.
A powerful example of a delegation to the AMC is the delegation of close to 80 organizers and cultural workers from the Puerto Rican diaspora, the island, and Detroit that attended AMC2017. Learn more about this inspiring and informative exchange from the official delegation report back.
In order to qualify as an officially recognized delegation to the AMC, you must:
Have a minimum of 5 participants in your delegation
Represent a common identity, practice, issue area, or place
Plan to collaboratively fundraise to attend AMC2018
Submit a post-AMC "report back," including a short video, audio or written summary and links to any media that you created or shared at the conference.
We are hoping for a diverse range of delegations to explore, experience, and share at this year's Allied Media Conference. Given the political climate, we will be giving priority support for delegations from communities who have been specifically targeted under the current administration.
To support selected delegations at AMC2018, the AMC will provide:
Eligibility to apply for a $500 mini-grant to support your delegation's fundraising efforts
Promotion of your delegation on the AMC website before and after the conference
Logistical and planning support offered through two info calls in the months leading up to the AMC
The deadline to apply to be an official delegation is April 30, 2018. Applicants will be contacted about the status of their application in the first week of May.