Detroit Narrative Agency's DNA 2.0 fellowship wraps with film screening and celebration
Words by Detroit Narrative Agency
Detroit Narrative Agency (DNA), a sponsored project of Allied Media Projects, is wrapping up its DNA 2.0 fellowship cohort with a celebration and film screening on Tuesday, October 30 at 6 pm at the BEL AIR LUXURY CINEMA. A director Q&A will follow the screenings of all five films as works-in-progress.
The five members of the DNA 2.0 cohort continued projects that germinated within the first DNA cohort of ten that launched in January of 2016. Their projects include Dangerous Times | Rebellious Responses, directed by Alicia Diaz; Riding with Aunt D. Dot, directed by Bree Gant; Femme Queen Chronicles, directed by Ahya Simone; Sidelots, directed by Atieno Nyar Kasagam; and Take Me Home, directed by Orlando Ford. Learn more about each of the DNA 2.0 projects here.
"This cohort of Black and Brown filmmakers were all able to direct their first films! It's important for people to know that this cohort worked diligently to ensure that they included their different communities in the full process, from start to finish," says paige watkins, DNA's associate director. "They have prioritized the ways that their films make it back to those communities for viewing, organizing and amplifying issues."
The event will present a unique, one-time-only opportunity to experience the DNA 2.0 films in totality.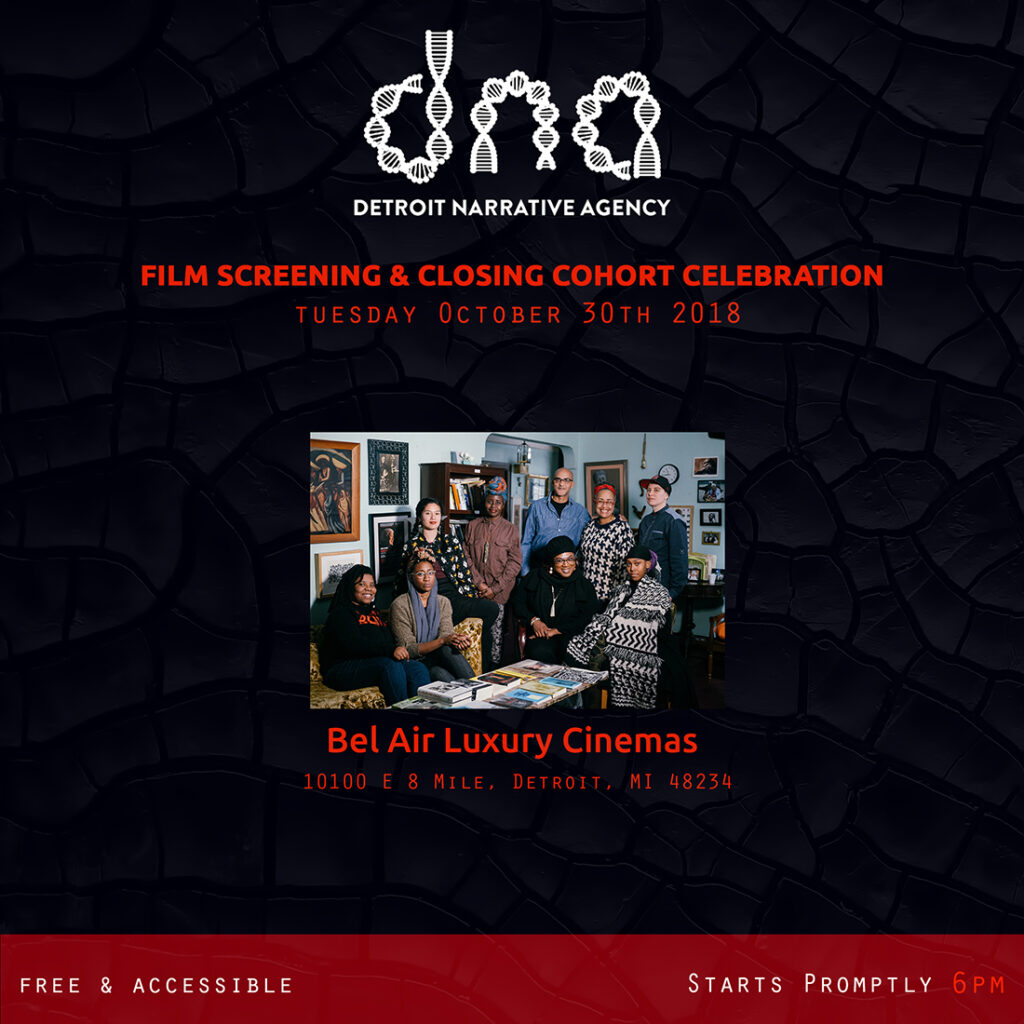 "Each film has their own distribution strategies, so after this fellowship ends, there will be limited opportunities to see them as a full shorts program," says watkins, who encourages people to attend to hear directly from the filmmakers about their plans for distribution, impact strategy and organizing campaigns, and other future opportunities that they are preparing for.
"Also, we will recognize all of the local crew and team members whose collaboration was able to make it all possible," watkins adds.
DNA seeks to shift narratives within Detroit while advancing social justice. Watkins believes the program benefited from working with the cohort as much as they benefited by participating in DNA.
"DNA learned from this brilliant fellowship cohort what it takes to make powerful and compelling media to Detroit shift narratives–dynamic teams that value collaboration across creative vision, media production, community storytelling, and movement building," says watkins.
You can attend the Detroit Narrative Agency Film Screening and Cohort Celebration on Tuesday, October 30 at 6 pm at the Bel Air Luxury Cinema, located at 10100 East Eight Mile Road, Detroit, MI 48234.
The event is free and accessible. PLEASE REGISTER HERE.