Orbiting New Suns: A Conversation Introducing MARS Marshall and Toni Moceri as AMP's New Co-Executive Directors
"There is nothing new under the sun but there are new suns." – Octavia Butler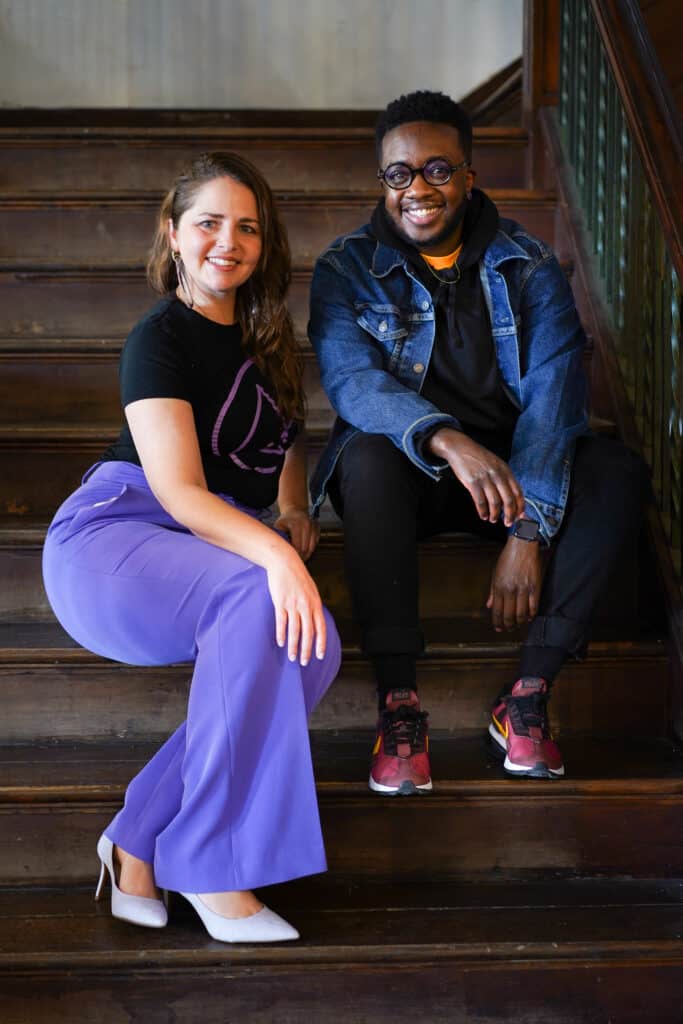 In true Aries fashion, Spring opens the way for new suns and new beginnings. As we shake off the frost of Detroit's long winter, we're asking ourselves: what do we need to decompose to make way for new growth? What seeds are we planting for the seasons ahead? And, what new suns can we orbit together?
AMP's Communications Manager, Molly, sat down for an interview with MARS and Toni to discuss what is bringing them life-affirming joy, what media is inspiring them right now, and their most liberatory visions for AMP.
Thank you so much for taking the time today! We are so excited to connect and hear from you both.
Please share with us a bit about yourselves and your life affirming joy outside of your work?
MARS. (they/he): I'm delighted to be sharing this space with you both. A little bit about myself without laboring you with a lengthy bio – I'm a Black Queer Trans person born and raised in Detroit. I joined Allied Media Projects in 2017 as the Content Coordinator for the AMC after completing a Master's Degree in Social Work at Wayne State University. What excited me about joining AMP then was the opportunity to give to a legacy of co-creating a convening rooted in care and intention.
My life affirming joy outside of work is rooted in my creative practices and community. When I'm not working, I'm busy writing and experimenting with film photography. I am a part of a brilliant community of artists of all kinds. These joys fill me up and remind me of how rich my life is.
Toni (she/her): As for me, I'm a cis woman of Arab and European descent. I grew up and live north of Detroit, in Warren, Michigan. I joined the staff of Allied Media Projects in 2016, as the Director of the Sponsored Projects Program after organizing the AMC @ Night events and providing additional operational support to AMP in 2015. I was previously doing some consulting and had served in elected office as a Macomb County Commissioner for three terms. I have been around AMP more peripherally since 2007—attending AMC sessions and opening ceremonies, supporting my dad when he hosted karaoke at the early AMC bowling parties, and participating in Detroit Future Media. In 2000, I took Jim Chaffers' Redevelopment and Social Justice course at the University of Michigan and Grace Lee Boggs joined one of our classes as a guest speaker. Looking back, that discussion with Grace over twenty years ago is really the source of how I ended up at AMP.
Most of what brings me joy has to do with being fully immersed in the present moment: just being, creating stillness, and connecting with myself and others. I love being in and around water. I love dancing. To be honest, I've been processing the grief and trauma of losing my brother last year. I'm still struggling with how to ground myself in this new reality and re-center joy. I think it's important to acknowledge that joy can sometimes feel elusive or inaccessible, especially in the context of the loss, violence, and trauma that we've experienced over the last two years alone.
Share with us a memory or moment in your early days of AMP that shaped you?
MARS. (they/he): One of the biggest moments in my early days at AMP that shaped me would be the AMC's Year in Chrysalis. I joined AMP at a key moment when the organization's programs were experiencing exponential growth and when we were still a relatively small crew of people. When we wrapped organizing the 20th year anniversary of the Allied Media Conference, we were facing the truth of what scale looks like. Asking ourselves: can critical connection and large scale exist at the same time?
Co-designing and facilitating the Year in Chrysalis led me toward having a Chrysalis of my own. As we moved through that year, I asked myself; how do I want to grow? I turned inward to reflect more deeply on how I could shape growth for myself as a creative and as a professional working to support an ecosystem of creatives making media for liberation.
Toni (she/her): At the same time as the Year in Chrysalis , the Sponsored Projects Program had also grown to fiscally sponsor over 100 projects making media for liberation. We began asking similar questions about critical connection and scale. Our growth was challenging the deep sense of community and trust that had originally drawn people to AMP for fiscal sponsorship. In 2019, we started being in closer dialogue and relationship with other fiscal sponsors and realized that we were all dealing with similar questions and challenges. Many of us struggled to balance a deep need for self care and care for our projects, with what can seem unabating and often mundane work. These conversations led to organizing the Fiscal Sponsor Network Gathering at AMC during which we sought to create a space to reimagine the culture of fiscal sponsorship and experiment with how we could infuse play, creativity, connection, care, and joy into our workday.
And this is something I'm still thinking about: How can our day-to-day work be liberatory? How can we tangibly realize AMP's vision to model an organization and an approach to work that:
Cares for ourselves, each other, other species, and the planet;
Dismantles supremacist systems as they operate upon us and within us;
Assumes responsibility for creating new liberatory ways of being, and;
Cultivates life affirming joy.
What do you envision as the next most liberatory chapter of AMP?
MARS. (they/he): One thing I love about working at AMP is how we approach our organizing from a visionary perspective. How we cast spells for our future and fortify ourselves spiritually to continue building the world anew. I'm always humbled by the brilliance of our network.
In this next most liberatory chapter of AMP, I'm interested in centering our internal heartspace – reflecting on how we deepen a culture of care for our staff and model a more human-centered way of working together to support a vast network of people and projects making media for liberation. With this, I'm asking: how will AMP lead from a practice of liberation – what does that look like? How do we shift our orientation from one of overwork in service to movements towards one that allows spaciousness for staff to live more freely in their fullness?
It's challenging to know where we'll land as we continue to live and work through such heavy times, but I'm convinced that when we tend to our heartspace we can only become greater resource weavers in service to our overarching vision.
Toni (she/her): That's a question that I don't have an answer for… I've been sitting in front of the computer for pretty much 15 hours straight at this point so liberation looks like not having to do that.
What wisdom is guiding your leadership at AMP into the next chapter?
MARS. (they/he): Today I'm thinking about an interview Ocean Vuong gave for the podcast On Being with Krista Tippett. In his interview Ocean Vuong offers to us this awespiring moment to remind us how we can shift our perspective of entering into our work. It's this piece of guidance I'm carrying with me into the next chapter, Vuong shares:
…in many Asian-American households, when you enter the house, you take off your shoes…I'm going to take off my shoes to enter something important; I'm going to give you my best self….When I read or give lectures or when I teach, I want to make my words deliberate; I want to enter — I want to take off the shoes of my voice so that I can enter a place with care so that I can do the work that I need to do.
I'm entering into the next chapter of working with AMP with the same deliberate care.
Toni (she/her): I'll do another On Being with Krista Tippett reference where she interviewed Pico Iyer about the "art of stillness" and "urgency of slowing down." In the interview, Pico Iyer talks about losing the ability to live at the speed of life. We're challenged not only by the pace of life but the ability to process it. He says, "I sometimes think we're living so close to our lives, we can't make sense of them." For me, the next chapter of working at AMP needs to include space for contemplation. AMC's Year in Chrysalis and the transition to a biennial conference is an example of this. What I'm most curious about now is how we pace ourselves in our day-to-day work to allow for deeper reflection, thought, and access to our own individual and collective wisdom.
Can you share with us a song, video, or poem you think we should know about?
MARS. (they/he): Sure! A poem I think everyone should know about is "Another Antipastoral" by Vivee Francis.
Toni (she/her): Definitely read "The Check In" by Nandi Comer and, of course, MARS' poetry.