Come through for the Final Bloom Event!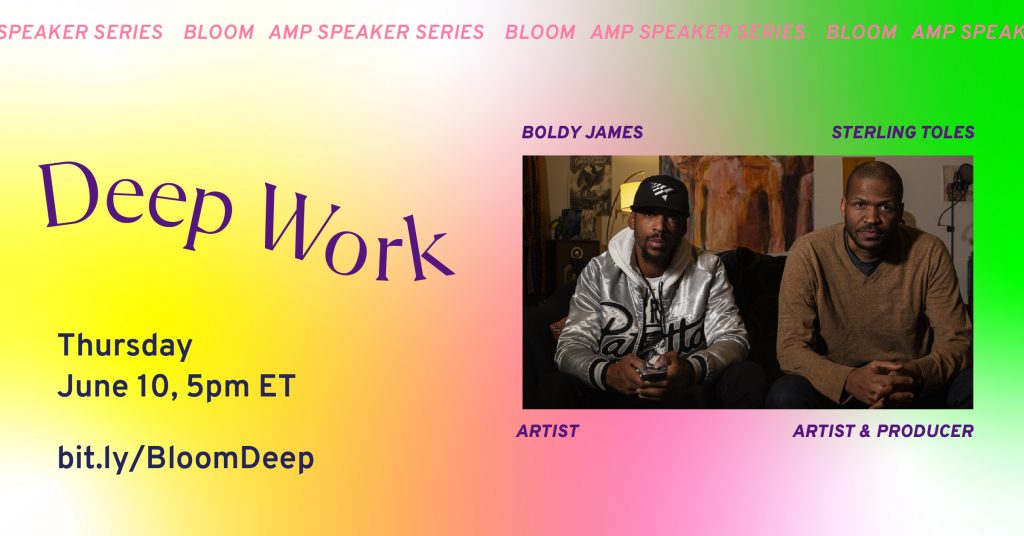 We've enjoyed sharing space with you for the last 6 weeks in the AMP Speaker Series, Bloom. If you want to check out any of the events you missed in English or in Spanish or share the love on social media, check out videos of those on our Youtube.
Deep Work, Thurs. June 10, 5pm ET
For many artists, transformation occurs during the process of making and not just in sharing the final product. This principle is evident in the collaboration, Manger on McNichols, an album resulting from 10 year exploration between musician and long time AMC participant, Sterling Toles and Detroit rapper Boldy James. What was an experiment in healing led to profound transformation for both of these artists. Join us at our closing event of the season for performance and intimate conversation about their artistic practice, how they forged relationships of trust and how they used their art as a tool for liberation. #AMPBloom
ASL, speech-to-text (English), and live Spanish translation available. Learn more or register today at: Bit.ly/BloomDeep 
Speakers:
Sterling Toles | Artist & Producer
Sterling Toles is a healer that uses sounds. A born and bred Detroiter, Sterling is a living legend whose sound art, illustrations and music production have earned him accolades across the globe. Sterling is 2016 Kresge Artist Fellow and his work has been released by Sector 7-G Recordings.
Boldy James | Artist
Boldy James is a Detroit-based rapper whose lyrical stylings have graced the hip hop world for over a decade. Boldly has collaborated with The Cool Kids, King Chips, J Dill, and The Alchemist. His 2020 highly-acclaimed release Manger on McNichols was produced by Sterling Toles.