Weaving Threads of Change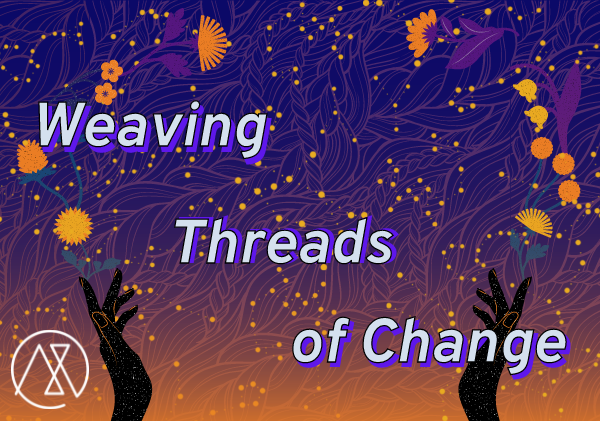 Dear beloved community,
This year, AMP opened its arms to accept the gifts and challenges of change as we transitioned into a new era of leadership. Together, Toni and I charted new horizons as we evolved our roles within the organization. We leaned deeply into Octavia's wisdom—All that you touch, you change / all that you change, changes you—and drew nutrients from the well of AMP's 20-year history to guide our path forward. There have been many lessons as we reflect on a year spent in deep transition, some organizational and others more personal.
These years have demanded much from all of us as we live through a time of great disruption. We've asked what it means to lead AMP during an era of global transformations that require us to center how we care for ourselves, each other, and the planet. The threads of change are many. From contending with internal challenges and gifts of growth to navigating the external forces impacting the global landscape of the nonprofit sector, Allied Media Projects spent the year in deep reflection and recalibration.
Celebrating our 2022 threads of change:
We leaned into care for ourselves and the network. As an organization, we collectively asked ourselves what is our medicine and reflected on our ancestral guides who carried us this far. We felt the joy of our work deepen as our staff reclaimed their time and rest due to piloting a 4-day workweek. We are pleased to implement an actionable step toward the well-being of our organization by permanently shifting to a 4-day workweek in 2023.
We fortified our internal capacity. We welcomed 7 people to Allied Media Projects—staffing up our Finance, HR, and Sponsored Projects Program teams to grow our capacity to serve our network and community. We look forward to welcoming additional staff in 2023.
We hosted over 2,000 people both virtually and in Detroit for AMC2022. The AMC convened nationally online and in-person for residents of Detroit and metro Detroit for our first-ever biennial, hybrid conference. We summoned all of our healing modalities and activated our collective imaginations to insist on our divinity, our healing, and our liberation. Catch our Plenaries and Ceremonies here. Available sessions from AMC2022 now also available for stream!
We expanded our network of media for liberation. Sponsored Projects Program kicked off the year by welcoming Sarah Gonzales as Director and continued to implement our Network Liaison model of support to our sponsored projects. Together we asked, how can we deepen our relationships to a vast network of projects and what does it take to ensure those projects are deeply resourced? For more info about our work reimagining fiscal sponsorship, check out our Fiscal Sponsors Network workbook.
AMP Seeds amplified and celebrated the genius and power of the AMP Network. AMP Seeds presenters shared their wisdom with a vast community of people including community and grassroots partners like YWCA Madison, Awake Network Foundation, Cranbrook and DePaul Art Museums, and Universidad Autónoma Metropolitana (Mexico). Our AMP Seeds Fall series brought together media makers, organizers and artists using storytelling as a tool for resistance and resilience. Take a look at our 2022 AMP Seeds Fall Series highlights video. You can watch all AMP Seeds event recordings here.
The art and craft of weaving have shaped our ability as humans to bring seemingly disparate entities into wholeness. We're humbled by the opportunity to continue nurturing the work of a thriving ecosystem of people and projects making media for liberation.
With an immense amount of gratitude to you, dear friend.
MARS + Toni
Donate to Support AMP's Work of Cultivating Media for Liberation