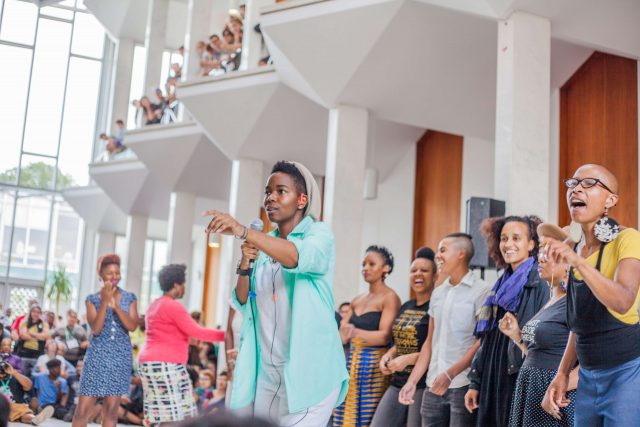 Details
Contract duration: Sept 1, 2021 – July 3, 2022 (flexible)
Location: Detroit-based organization, but the location is flexible and work can be done remotely.
Allied Media Projects
AMP's public-facing programming includes the biennial Allied Media Conference (AMC), a convening of thousands of media-makers from across the continent, and the AMP Seeds Program, which disseminates the skills, ideas, and media of our network to the wider public through events between conferences;
The AMC emerges out of 20 years of relationship-building across issues, identities, organizing practices, and creative mediums. The 22nd AMC convenes both online and in Detroit June 23rd – 26th, 2022. The conference explores emerging futures at the intersection of art, technology, education, and visionary resistance/organizing.
The AMP Seeds Program offers year-round booking services for a roster of 16 visionary artists and movement-builders and produces seasonal events that celebrate the genius and power of our network.
Role Overview
The Sponsorship Coordinator will work in collaboration with the Program Directors and staff of both the AMC and AMP Seeds, in addition to AMP's Development Team, from July 1st, 2021 – July 30th, 2022 to help shape and implement the strategy for sponsorship and fundraising for AMC2022 as well as the AMP Seeds Fall and Spring events. Our goal is to raise at least $60,000 in sponsorships to support these programs in 2022.
The Sponsorship Coordinator will do the following:
Support with the development of sponsorship and fundraising materials such as sponsorship decks and pitch materials
Attend bi-monthly meetings to review sponsorship and fundraising strategies
Lead efforts to research, identify and solicit sponsorship opportunities for AMC2022 and AMP Seeds seasonal events
Create and manage a sponsorship and fundraising database to track sponsorship outreach, revenue, and fulfillment
Collaborate with AMP staff from multiple departments to manage sponsorship assets and fulfillment
Manage email communications with acquired or potential sponsors
Design and distribute a sponsorship survey to gather feedback on sponsors experiences
Prepare and send sponsorship Thank You letters and other stewardship materials post-conference
Skills and Requirements
Demonstrated success in fundraising and securing event sponsorships
Strong verbal, organizational and written communication skills
Existing industry relationships with prospective sponsors and ability to forge new connections with prospective sponsors
Experience cultivating and stewarding relationships with sponsors
Excellent time management and organizational skills
Confident, friendly, professional and comfortable with cold calling
Deep familiarity with and passion for resourcing people and projects at the intersection of art, technology, education, and visionary organizing
How to Apply
Please send the following to sophia@alliedmedia.org with the subject line "Last Name, First Initial – Sponsorship Coordinator." Submit a resume/CV and a proposal for how you plan to help secure $60,000 in sponsorship dollars for AMP events in 2022.
In your proposal, be sure to include:
Any previous experience with this or any similar position.
Why you would be a great fit to support sponsorships at AMP and why you are attracted to AMP's mission
The number of work hours you estimate will be needed
Your rate or fee structure
BIPOC, LGBTQ+, and longtime Detroiters encouraged to apply. Deadline to apply is rolling with preference given to those who apply earlier.