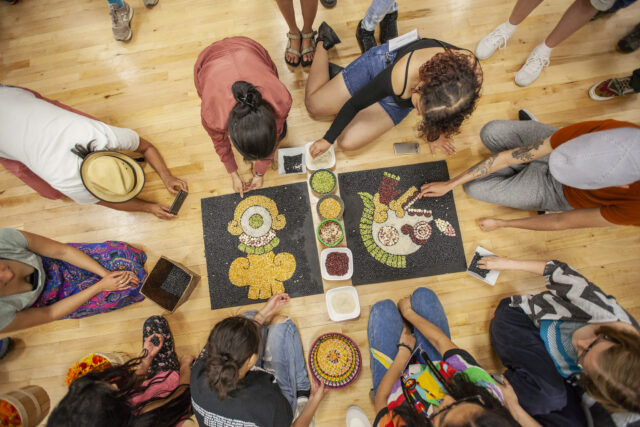 Request for Proposals
The Allied Media Conference (AMC) emerges out of 20 years of relationship-building across issues, identities, organizing practices, and creative mediums. The 22nd AMC convenes both online and in Detroit from June 30th – July 3rd, 2022. The conference explores emerging futures at the intersection of art, technology, education, and visionary resistance/organizing.
As we work to organize a hybrid conference, the AMC is seeking proposals from graphic design studios and event production companies to execute digital and printed design deliverables, manage design workflows, and coordinate printing. The selected firm would work closely with AMC staff and Allied Media Projects' communications team. They would also interface with AMC's accessibility coordinator, UX consultant, and web design team.
Our ideal team is based in Detroit, has experience designing for events, and has robust project management capacity.
Current Situation
The Allied Media Conference team recently announced the shape of AMC2022. The conference will convene nationally online and in-person for residents of Detroit, Metro Detroit, and communities throughout Michigan.
Each conference year, the AMC adopts a new look and feel (see AMC2020's look here and previous years' here). Allied Media Projects' design director is currently working in collaboration with Detroit artist DeAnn Wiley to create a look and feel for AMC2022. The kit of parts will be released in mid-November 2021. The graphic design team will use this kit of parts to execute AMC2022 design deliverables.
Currently, the AMC is using an interim look and feel until the 2022 kit of parts is complete.
Scope of Work
Design review
Reviewing and providing input on website mockups from AMC's web design team to ensure cohesive application of visual identity
Reviewing and providing input on live event graphics from AMC's video production team to ensure cohesive application of visual identity
Third Party Tools
Customize the look and feel of 3rd party platforms the AMC will use. This may include:

Submittable
Google Forms
AMC's selected registration platform
Virtual conference platform and mobile app
Online schedule platform

Conference Collateral
10-12 page Sponsorship Package (digital PDF)
Badge Insert templates (digital file)
Lanyards in 2 colors (printed)
Crew T-shirt (printed)
Coloring pages (printed and digital)
AMC themed "Privacy avatars," for people to download and use if they do not wish to show their faces (digital)
Promotion and Merchandise
Digital graphics

Approx. 10 social media templates
Approx. 5 social media stickers
Approx. 5 newsletter graphics
Approx. 5 website graphics

Printed items, which might include:

1 postcard
1 poster
1 sale T-shirt
1 water bottle / travel mug
1 baseball cap / other clothing article
1 tote bag
1 fanny pack
Wayfinding Design (Printed)
Schedule two walk-through meetings to brainstorm, identify and finalize AMCs signage needs
Make recommendations for wayfinding solutions and work with the AMC to implement wayfinding solutions
Large AMC area map, 40×30
AMC Signage and Wayfinding will be decided in consultation with the Design Team and dependent on the location(s) of the conference.
The AMC estimates the quantity of signage needed to be a range between 30-50 items. You can review a sample of the AMC's Signage and Wayfinding needs here.
Interior Signage Design (Printed)
Interior Square Banners
Large rectangular banner
Stanchion template (8×11) and (11×17)
"AMC Exhibition Area" poster
"AMC Registration" freestanding signage
Interior Flags
Van vinyl "AMC Shuttle"
Program Book & Schedule Matrix
80-120 page Program Book (printed and digital)

Collaboratively working with the AMC to develop the content strategy and design the conference's program book
Provide strategic input regarding the layout of the program book
Manage print vendors producing the program book
Ensure the timely delivery of the program book

Large format Schedule Matrix poster (digital)

Collaboratively work with the AMC to finalize the design of the schedule matrix
Collect conference schedule and content to be included on the matrix
Manage print vendors producing the schedule matrix
Ensure the timely delivery of the schedule matrix

Daily Schedule Matrix versions for each day of the conference (digital)

Will be printed and/or displayed on monitors at the conference site
Miscellaneous Items
At least 30 hours for emergent conference design needs
Budget
The budget for this work is $45,000-$55,000. We are interested in seeing what of the above fits in this range.
Applying
To apply, please submit the following to mars@alliedmedia.org by Dec. 13, 2021:

A letter of interest
A proposal detailing deliverables, process, timeline and budget
Samples of related work
Timeline
December 13, 2021: Deadline to receive proposals 
January 2022: Graphic design team hired, project kickoff
February–June 2022: Graphic design deliverables completed
June 30th–July 3rd, 2022: AMC2022