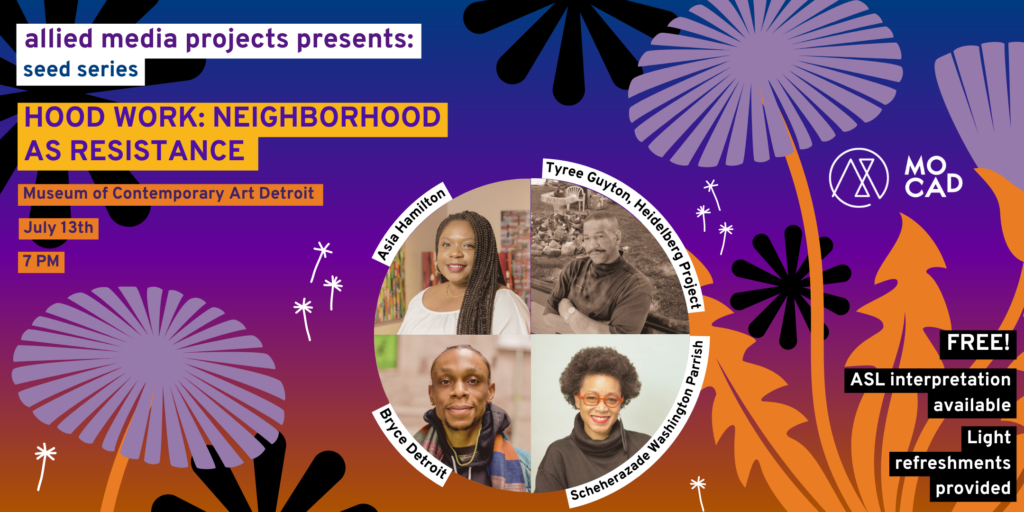 From Southwest to 7 mile, the hood is driving Detroit's cultural renaissance while carrying the heavy burdens of community disinvestment, trauma, and violence. How can we center and uplift neighborhood-rooted artists in Detroit and redistribute the resources needed for these communities to thrive? Hear from Asia Hamilton of Norwest Gallery, Bryce Detroit of Detroit Recordings, and Tyree Guyton of the Heidelberg Project as they discuss how they're proudly creating from the hoods of our city while resisting gentrification and erasure with creativity, innovation, and community care. The conversation will be moderated by artist Scheherazade Washington Parrish.
View our access statement here.
Asia Hamilton (she/her)
Within the Detroit community, Asia advocates for women and non-binary artists of color, and her northwest Detroit community, through her gallery and her work as a commissioner on the City of Detroit Entertainment Commission. As a native of the Crary/St Mary's neighborhood, Asia has witnessed first-hand how revitalization efforts in Detroit have largely overlooked the northwest side. And as a woman artist of color, Asia has experienced the barriers that women of color face in gaining exposure and recognition in the art world. These experiences inspired her founding of Norwest Gallery of Art in 2018, her creation of WOMXNHOUSE Detroit at her childhood home, and her advocacy on Detroit's Entertainment Commission. Her experiences as an accomplished international artist, a woman of color, and a longtime resident of Detroit's northwest side make her uniquely qualified to lead this initiative. Through her work, Asia seeks to build up BIPOC womxn artists, bring exposure and investment to the community where she grew up, and make the northwest side a hub for international artistic expression and collaboration. Asia opened the Norwest Gallery of Art, a community-based contemporary art gallery focusing on African Diaspora art. Asia has participated in many community arts projects and won the 2018 and 2021 Knight Arts Challenge.
Tyree Guyton (he/his)
Tyree Guyton was born and raised in Detroit on the street that gives its name to his most famous work, the Heidelberg Project, and has been creating art for over 45 years. An essential component of Guyton's work is his commitment to social change, and he has leveraged his art on Heidelberg Street to redress the inequities caused by racism, economic disparity, politics, and the systematic inability of the government and other support agencies to help Detroit's poorest citizens. Thirty-five years later, the Heidelberg Project is recognized as one of the most influential art environments in the world and has become a Detroit Landmark. In 2020 it was awarded Best Cultural Activation by Leading Cultural Destinations (Berlin), coined the Oscars of the Museum world.
A retrospective of Guyton's 30 plus year journey was celebrated at the Museum of Contemporary Art Detroit in 2018 and included Guyton's beloved grandfather, Sam Mackey. The exhibition also included a catalog, Process which provides a glimpse into Guyton's prolific creativity. Guyton receives commissions from around the world and his work is widely collected including the Detroit Institute of Arts, the University of Michigan Museum of Art, the Eli and Edythe Broad Museum, the Perez Museum, the Studio Museum of Harlem, the Schaulager (Basel) and many others. He has earned over twenty-two awards and fellowships, including a prestigious one-year residency at the Lorenz Haus in Basel, Switzerland.
Guyton is the focus of many scholarly journals and books in the United States and Europe, and a book dedicated solely to his work, Connecting the Dots: Tyree Guyton's Heidelberg Project (Wayne State University Press, 2007) has become a collector's item. In 2009, the College of Creative Studies awarded Guyton an Honorary Doctorate Fine Art and in 2016, the Ecumenical Theological Seminary awarded Guyton with an Honorary Doctorate of Humane Letters, the first ever given to an artist. Guyton is currently represented by Martos Gallery in NY.
Bryce Detroit (he/his)
Bryce Detroit is the multimodal Afrofuturist artist, activist, griot, designer, and pioneer of Entertainment Justice. As a national award-winning music producer and curator, Bryce Detroit utilizes his social practice to demonstrate the power of using music entertainment arts, sociocultural iconography, and native legacies to preserve, produce, and promote new Diasporic Afrikan narratives, cultural literacies, and cooperative neighborhood-based economies.
Bryce Detroit is a 2023 Planetary Self artist-in-residence, a 2020 Harvard University Council of the Arts award recipient, 2019 New Museum Ideas Cities Fellow, a 2018 Race Forward – Rinku Sen Innovation Awardee, as well as a 2017 Knight Arts Challenge award winner. Bryce Detroit was also selected as music curator and lead performer for the 10th St Etienne International Design Biennale, representing Detroit as a UNESCO City of Design. Bryce Detroit curated and produced all live music programming for the event's two-week opening, becoming the first music curator in the Biennale's twenty-year history.
A prominent activist and community advocate, Bryce Detroit grows intersectional self-determined communities as a founding member of Oakland Avenue Artists Coalition, founding organizer of Detroit Community Wealth Fund, consultant at Center for Community Based Enterprises (C2BE), board member for East Michigan Environmental Action Council, and founding member of the art-activism collective Frontline Detroit.