2020 Visions
Words by Allied Media Projects
How we're grounding in our work this new year
This time in January can feel like a kind of liminal zone — a time between what was of the past year, but not fully of the new one.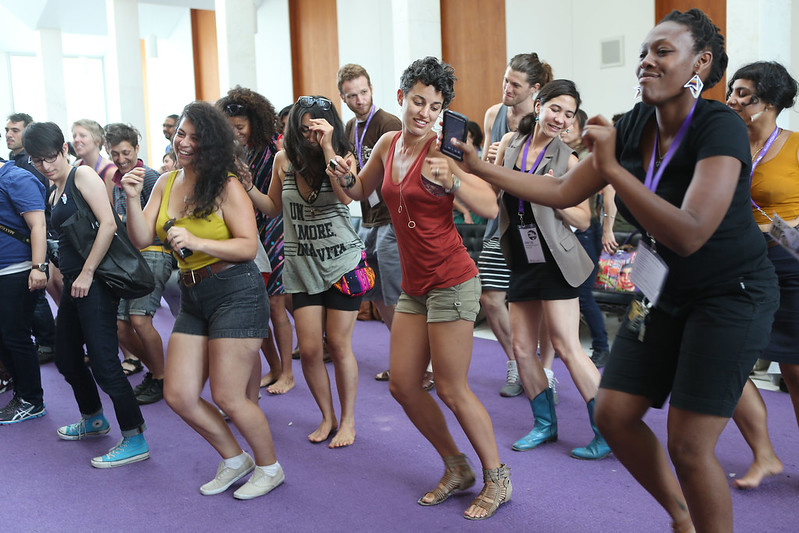 To ground ourselves in the meaning of our work here at Allied Media Projects, we kicked off 2020 with an organization-wide retreat that included a panel discussion exploring "media for liberation," the center of our revised mission.
We invited three long-time AMP co-conspirators who have profoundly shaped what media for liberation means to us, here in Detroit: poet, activist, and educator Dr. Gloria House (Aneb Kgositsile); activist, writer, and co-founder of Detroit Summer Shea Howell; and musician and visual artist Sterling Toles.
At AMP, we define media as all the ways we communicate with the world. We define liberation as an ongoing process of personal, collective, and systemic transformation.
We asked our panelists what it meant to each of them:
"It should be truth telling, truth speaking," Aneb said. Media for liberation are "forms of communication that help us build relationships, authentic relationships; not just one on one, but in a community, across a community, nationally and internationally."
Shea talked about how we as media makers can tell stories framed with "liberation in sight." "Part of that is to help people see that their personal story is connected to a larger critique of state power and also to a larger vision of what we can do today, and where we are headed tomorrow." She told us that our media should not simply be used in the service of movement-building. We need media that cracks open new creative possibilities.
And Sterling delivered a reality check. "What's happening in the world is a very honest reflection of our relationships to each other," he said. "And we're so busy trying to change the mirror, we don't realize all it's doing is reflecting our relationships."
There is no denying the urgency of the interlocking issues of our time — in Shea's words, "climate disaster, incredible disparities among the life capacities and choices for people, and the destruction of any methods of democratic decision making." Nor is it possible to deny that these crises are evidence that "the world built upon white supremacy is coming to an end," as Aneb reminded us.
How can we balance our sense of urgency and fear with a deep, ancestor-level trust that our communities have what we need, even in the face of disaster? At a time when there is so much pressure to put our attention outward in terms of all of the pain of the world, how will we remember to prioritize care and healing for our internal worlds? How will we remember to prioritize each other? Making it through to the other side of systems collapse with our humanity and creativity intact requires this.
For 20 years, the Allied Media Conference has been a place where we practice remembering. It's where we come to exchange skills and stories of resilience and possibility. At the AMC, we understand, viscerally, that we have what we need in our communities and in each other.
We hope you'll join us June 25 – 28, 2020 in Detroit.