About the LOVE Building
Words by Allied Media Projects
At the intersection of Grand River Ave. and 15th Street in Detroit's Core City neighborhood, there is a four-story brick building covered in murals. The most prominent one, spanning the top half of the front facade, is of four hands shaping the letters L-O-V-E. For nearly 20 years, this building was a home for artists and small businesses. Through low-cost studio space, gallery space, and community, it nurtured a kind of creative love, the impact of which is visible along Grand River, and will be felt for many more decades.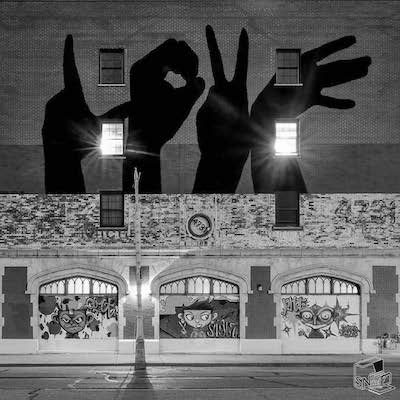 In 2020, Allied Media Projects, the Detroit Community Technology Project, Detroit Narrative Agency, Detroit Justice Center, Detroit Disability Power, and Paradise Natural Foods will make the LOVE Building our new home. By combining forces under one roof, our goal is to build upon this building's legacy and activate love's potential as a force for justice, transformation, healing, and liberation. This kind of love runs deep in Detroit. It circulates in the work of activists, artists, and everyday people. It feeds our most audacious visions for a beloved community in which no one is disposable and every person can live with dignity and power.
The work of making this building our new home, while thrilling, has also forced us to grapple with hard contradictions. It challenges us to embody our values of making and preserving space for the most marginalized communities while existing in an unjust economic system that would pit our organizations against artists who need and deserve affordable studio spaces.
AMP has taken steps to minimize the harm of displacement — allowing tenants to stay as long as possible without raising rents, providing several months advance notice and flexible timelines for move-out, and offering referrals to other studio spaces and realtors.
But this doesn't change the painful fact that people have to leave a place they love. Our organizations are committed to doing the work of transforming the systemic forces that make it so difficult to model the world in which we want to live.
Detroit's current environment presents a maze of blockages: gentrification and displacement, criminalization and mass incarceration, savior narratives, and exclusionary practices of all kinds that limit who can access the resources they need to shape their own lives and the future of their communities.
The LOVE Building will help alleviate these barriers by providing convening space that is centrally located, accessible, and wildly beautiful. This space will be a resource to the surrounding community. It will support artists and activists from across the city who are creating works of art to shift dominant narratives, advancing policies of equitable development, resisting the expansion of prisons and related surveillance technologies, dreaming new systems of safety and education, and otherwise getting free.
The LOVE Building will provide long-term office space to organizations dedicated to removing specific barriers faced by: people with disabilities, people returning from prison or facing legal obstacles, and people using media, art, and technology for social justice. It will support the brick and mortar operations of Paradise Natural Foods, a deeply-rooted food business that has been expanding access to healthy, affordable, delicious food in the Detroit community for nearly a decade. It will distribute fast, low-cost Internet connectivity to the surrounding neighborhood.
We have many incisive critiques of the way development plays out in our communities but few models for what equitable, community-centered, deeply accessible development looks like. Our organizations do not presume that we will deliver the answer. We will be imperfect and we will learn through trial and error. But we think it is better to attempt this than to resign ourselves and the communities we serve to the margins.
Our best hope is that despite the perils of this journey, the LOVE Building becomes worthy of its name. That it connects people, ideas, and resources, serving as both a conduit for love, and a generator of transformative social justice movements. That it nurtures the best possibilities of who we are and what we can become.
We commit to remaining in conversation with the communities we are accountable to, and to continue applying lessons through action as this journey progresses.
Jenny Lee, Executive Director, Allied Media Projects
Katie Hearn, Director, Detroit Community Technology Project
Dessa Cosma, Executive Director, Detroit Disability Power
Amanda Alexander, Executive Director, Detroit Justice Center
Chef Nezaa Bandele, CEO, Paradise Natural Foods
ill weaver, Director, Detroit Narrative Agency