The Allied Media Conference is Changing
Words by Morgan Willis
Media is changing. Our communities are changing. Our collective and individual approaches to storytelling are changing. The Allied Media Conference is right in the mix – serving as a hub for people and ideas that are at the forefront of media-based organizing, art, technology, community activism and social change. As we begin organizing our 19th annual Allied Media Conference in Detroit, we are excited to continue our growth and evolution.
One of the great perks of serving as Program Director of the AMC is that I get to lean into and learn from so many beautiful examples from our network to help ground my journey of facilitating on such a large scale. While facing some pretty big shifts with the AMC (see below), I am emboldened by projects such as Octavia's Brood and Complex Movements, which were born of the AMC community and reflect the evolving and iterative nature of the conference itself. These collectives of brilliant media-based organizers build inside/around/with "change" as a concept and a reality.
As with most of the work developed and shared at the conference, Complex Movements and Octavia's Brood are not a one-off experiment – they are moments in a long story of media-making as transformation. This is the work of the Allied Media Conference; to reflect and embody the ongoing work of principled, community-centered progression towards a more just, creative, and collaborative world. Impending shifts in space, leadership and content mean that now more than ever, it's time for the AMC to live its principles in action.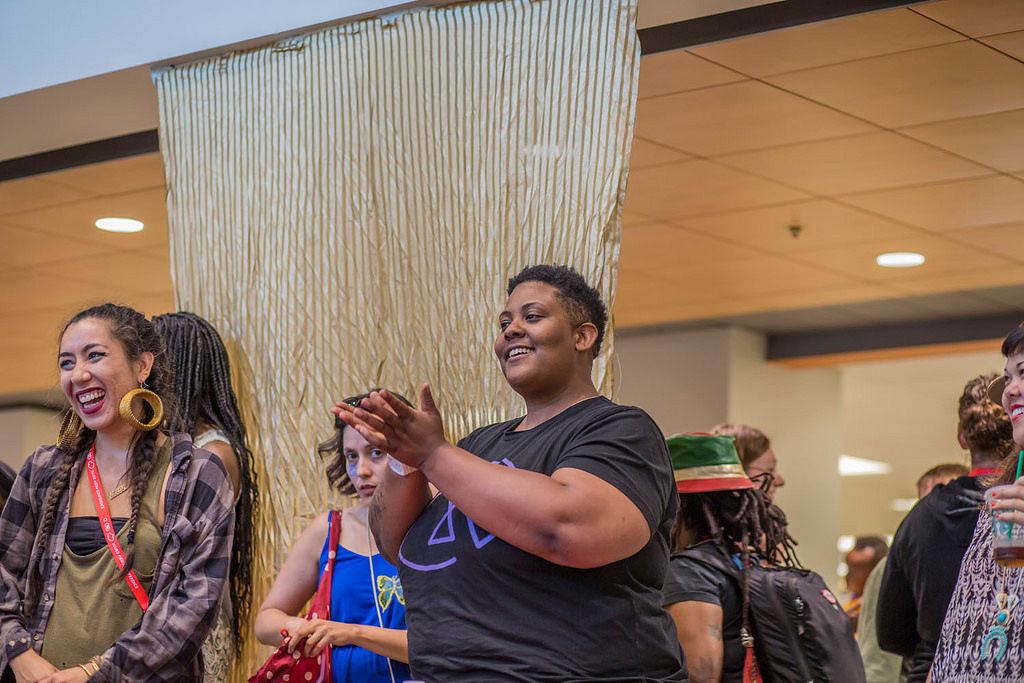 Changes for AMC2017: Off-Campus Housing, AMC Leadership and Content
Off-Campus Housing
For 2017, we do not have access to Wayne State University dorm housing as we usually do. We will be using alternative housing options such as area hotels, hostels, and community housing.
We will work hard to ensure that everyone headed our way from out of town will have access to a housing option that works for them, with transportation to campus each day. Otherwise, our presence on the Wayne State campus, both inside and outside campus buildings will be pronounced and we'll offer you ways to stay engaged on site throughout the day. We are working to make sure you have access yummy food options, closer parking, napping spaces and work lounges on campus.
The shift to off-campus options is also an opportunity to encourage AMCers to explore Detroit's various gems and resources. We're excited to offer up more of the city as a part of the AMC's experience for all participants. If you think you'll need a resource that Wayne State dorm housing normally provides, let us know and we'll help you find it!
Program Director Role
Since January 2012, I have served first as the Content Coordinator and then as the Program Director for the Allied Media Conference. AMC2017 will be my sixth and final conference. I'll save my tears for later in the summer. For now, this means we've posted the position of Program Director and are looking for a Unicorn-wrangler-in-training. Is it you? Applications are being accepted until November 27th.
With this transition, we are looking towards our AMC Advisory Board, long-time advisors and our network to share good candidates and support our new hire as they take on this big endeavor. If you have questions about the application, position or working at AMP, please contact us.
The Content
At AMC2017, expect to see more hands-on media making, more of a focus on Detroit, and more collaborations with our network's incredible people, places and projects. We are expanding our partnership with local community spaces, museums, bars, and other venues to create nighttime events that are as dynamic as our daytime content.
This year we will also host open "plenary" sessions in the mornings before workshops begin, Friday through Sunday. These plenaries will feature dynamic conversations with some of our network's thought leaders in media, art, and technology. We hope these plenary sessions will present AMCers with some big questions around media-based organizing that we can all carry with us through the weekend.
Have an idea or want to help shape the content of AMC2017? We are accepting proposals for tracks, practice spaces, and network gatherings through November 7th.
AMP is energized by the challenge that some of these questions, shifts and renewed commitments bring up. We are excited to jump in and begin evolving the shape of a conference that has left an indelible mark on our lives and work as media-based organizers.
Start planning your trip now. AMC2017 will be a journey worth taking.