AMC2015: Tracks, Practice Spaces, Network Gatherings
Words by AMC
Every summer at the Allied Media Conference we bring together media-makers, artists, and technologists of all ages, backgrounds and skill-levels for four days of media-based organizing in Detroit. We can't wait for another AMC filled with critical and creative thinking, hands-on activities, network building, and dance parties!
The AMC is organized into tracks, practice spaces and network gatherings.
A track is a series of sessions connected by a shared theme.
A practice space is a hands-on open studio space dedicated to a creative practice such as dance, screen-printing, or technology-building that spans the four days of the conference.
A network gathering is a day-long mini-conference convened by a local or national network on the Thursday of the AMC. A network gathering is an opportunity to convene a network for focused work and strategy development within the AMC. A typical Network Gathering is between 20 and 75 people, however some are larger.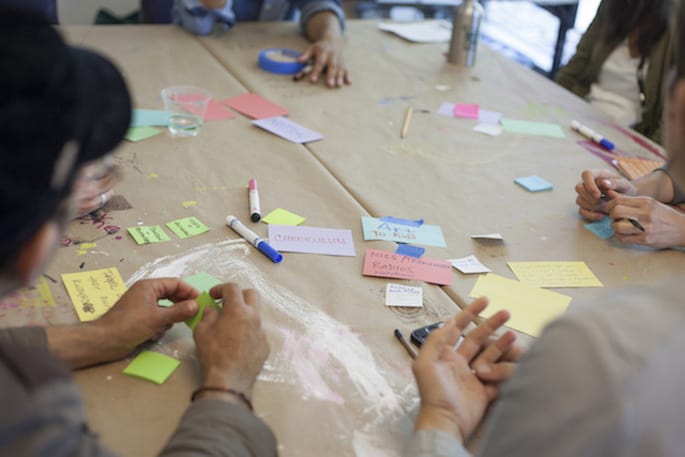 This year's tracks, practice spaces, and network gatherings range from returning favorites like Future Design Lab and Research Justice to new and visionary tracks such as Creative Coping & Grieving Arts and practice spaces such as Wage Love. Read below for the full list of all of the participant-designed tracks, practice spaces, and network gatherings!
You are invited to propose a session for AMC2015. Session proposals can be presented as part of one of the tracks or practice spaces below, or can stand on their own as part of the "general" track. In the coming week, the coordinators of each track and practice space will release a "call for participation" that will outline the types of sessions and workshops they seek to hold.
View descriptions of the 2015 tracks, practice spaces, and network gatherings »