Announcing AMC2017 Plenaries and Opening Ceremony!
Words by Allied Media Conference
Alongside the 250+ sessions at the 19th annual Allied Media Conference, we are excited to bring you a series of plenaries each morning of the conference. A plenary is a lecture or panel for a large audience featuring critical conversations with some of our network's most dynamic media-based organizers.
Read on for details of this year's plenaries, as well as the Opening Ceremony on Friday, June 16th, which will bring together the AMC community for a dynamic conversation connecting media-based organizing to local and global movements.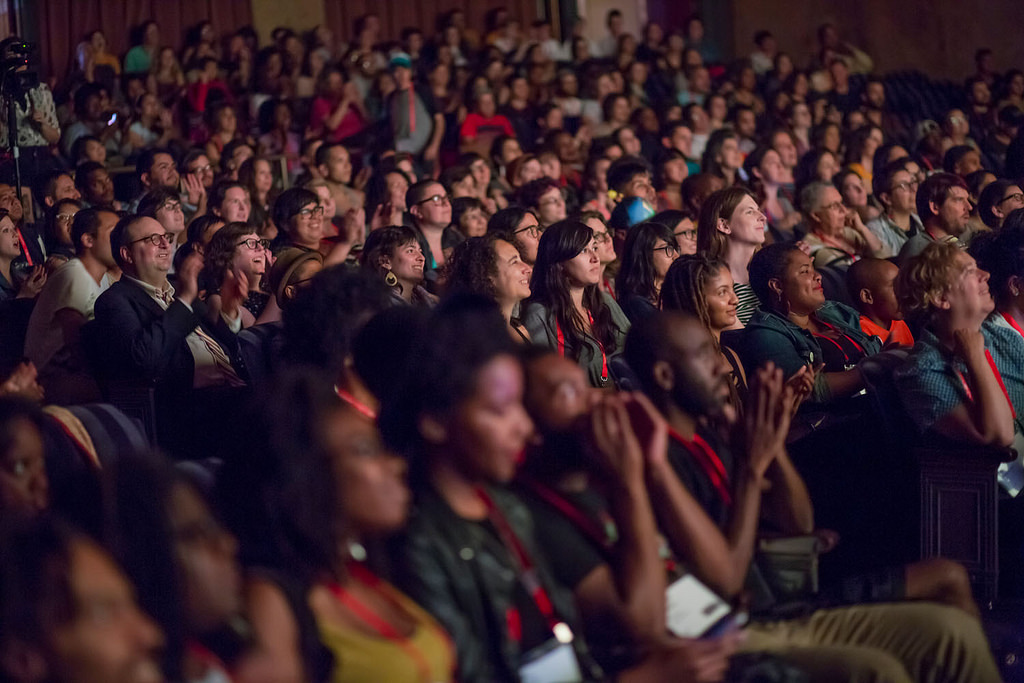 Welcome Plenary: Past, Present, Futurism
Thursday, June 15, 6:00 p.m. – 9:00 p.m.
Jam Handy (2900 E Grand Blvd.)
For many places, including Detroit, the year 1967 has become a symbol of uprising and violence, of possibilities for transformation, but rarely of healing. In Detroit, the absence of healing, truth and reconciliation around the events of 1967 is a defining feature of our cultural and political landscape, constricting what we can become. Drawing on the wisdom of Detroit movement elder Shea Howell, sonic healer Sterling Toles, and time-traveler poet Dr. Alexis Pauline Gumbs, this plenary will chart visions of a future that are grounded in the complexity of the present and the past.
Live performance by Bandelero and light refreshments will be offered. Directly following, head over to the One Mile x AMC2017 after party hosted by the Detroit Culture Council. Shuttles will be offered from WSU campus and hotels to the plenary and after party.
Panelists include:
Tawana Petty (moderator)
Dr. Alexis Pauline Gumbs
Shea Howell
Sterling Toles
For full panelist bios visit amc2017.sched.com
Friday Plenary: Stories Become Movements, Become Stories
Friday, June 16, 9:00 a.m. – 10:30 a.m.
[DeRoy Auditorium]
A moment of uprising can become a story that lights up whole movements for social transformation; those movements in turn become stories passed across generations and continents, fueling the belief that reality is shapeable. A story from one place and time may be enough to lead one or two, or a million people to act in another place and time, sparking new uprisings, which in turn, become new stories. Rebecca Solnit describes this cyclical, yet unpredictable relationship between movements and stories as grounds for hope. She writes, "Hope locates itself in the premises that we don't know what will happen. And in that spaciousness of uncertainty there is room to act." This plenary will explore how stories became movements, then became stories in the context of Standing Rock, the Movement for Black Lives, the movement to end caste-based sexual violence in India, and why we need to save the Internet to keep our stories alive and circulating.
Panelists include:
Jenny Lee (moderator)
Malkia Cyril
Thenmozhi Soundararajan
Jenni Monet
Paige Watkins
For full panelist bios visit amc2017.sched.com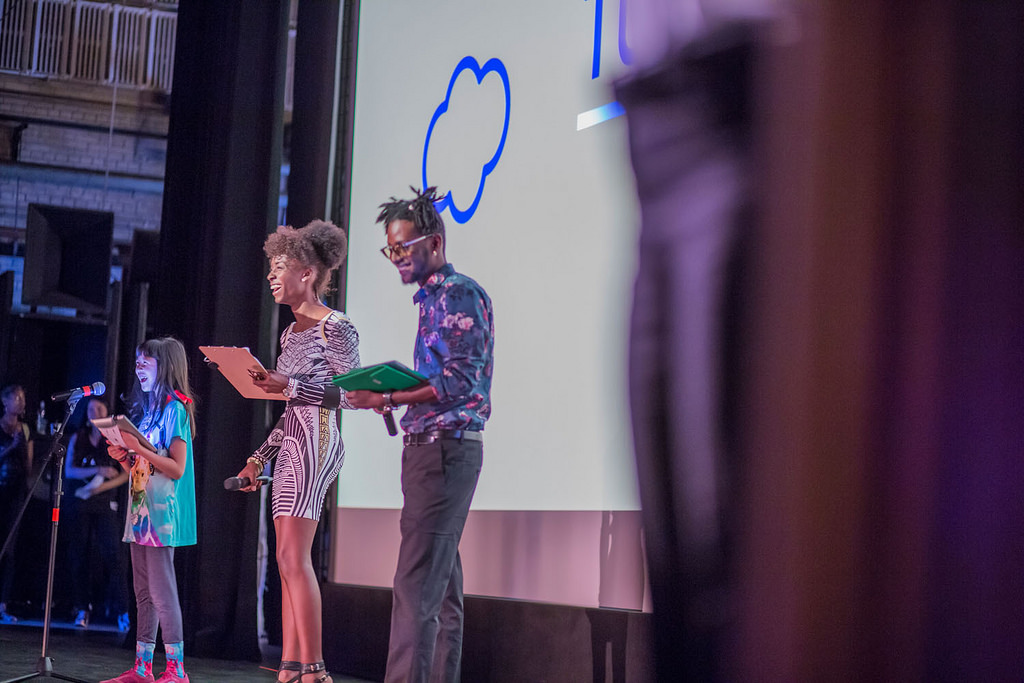 AMC2017 Opening Ceremony
Friday, June 16, 6:00 p.m. – 7:30 p.m.
Detroit Film Theater (5200 Woodward Ave.)
"If there was ever a time to activate our organizer super powers, this is it" wrote Alicia Garza, one week after the 2017 inauguration, in a Mic article titled "Our cynicism will not build a movement. Collaboration will." As we gather in Detroit for the 19th annual Allied Media Conference, we are recharging our trusted super powers and synthesizing new ones. We are drawing power from movement histories and ancestral technologies. We are laying mesh networks between movements, issues, and identities. We are learning our way into emergent strategies, trusting uncertainty and seeing the large-scale implications of our smallest-scale relationships.
The AMC2017 Opening Ceremony will reflect all of this. Alicia Garza of the National Domestic Workers Alliance and co-founder of #BlackLivesMatter will give a keynote, sharing her perspectives on the power of media, art, and technology in our movements today. Scott Kurashige, author of The Fifty Year Rebellion, will ground the work of AMC in the context of Detroit as an international model for survival, resistance, and solidarity. Mona Haydar, Syrian-American Flint native, will perform her viral hit "Hijabi" live for the first time alongside Al Taw'am, the twin sisters and choreographers featured in the "Hijabi" video. The opening ceremony will also feature Kristy la rAt (co-founder of DJ collectives Maracuyeah and Anthology of Booty), and will be co-hosted by adrienne maree brown, author of Emergent Strategy and co-editor of Octavia's Brood: Science Fiction from Social Justice Movements.
The Opening Ceremony is produced by Tunde Olaniran.
Presenters include:
Alicia Garza
Kristy la rAt
Sacramento Knoxx
Scott Kurashige
adrienne maree brown
Mona Haydar
Al Ta'wam
Jenny Lee
Morgan Willis
Saturday Plenary: Data and Power
Saturday, June 17, 9:00 a.m. – 10:30 a.m.
[DeRoy Auditorium]
State surveillance, biometrics, racist algorithms, and more – it is easy to become fearful and overwhelmed when it comes to data. And yet, our communities are resilient and full of genius. Beyond the many hands-on tools of circumvention and protection we share at the AMC, we need creativity and inspiration when it comes to data too. This plenary will highlight the work of three artists who transform the fear of data and surveillance into power and healing: instagram poetry that makes security culture accessible and compelling; a father's FBI file reclaimed and transformed into art; an open source software for surveilling the surveyors and fostering cross-movement collaborations.
Panelists include:
Sasha Costanza-Chock (moderator)
Sadie Barnette
Burak Arikan
Micha Cárdenas
Frances Lee
For full panelist bios visit amc2017.sched.com
Sunday Plenary: Popular Cultures for New Worlds
Sunday, June 18th, 3:00 p.m. – 4:30 p.m.
[DeRoy Auditorium]
Pop culture is often code for mainstream media's representation of the status quo. In many cases, it intentionally omits our voices, identities, bodies, ideas, art, media and cultural organizing. It also relies on our brilliance to function. Our closing AMC plenary brings together some of the most dynamic leaders of culture and creativity to explore what it means to use avenues of popular culture to build new worlds. These panelists continue to subvert, critique, make noise and challenge spaces and institutions to rethink their definitions of who pop culture is created by and for, and what it can do. (Shuttles will be offered from WSU campus and hotels to closing plenary.)
Panelists include:
Morgan Willis (moderator)
Kimberly Drew
Sameer Gardezi
Crissle West
For full panelist bios visit amc2017.sched.com