Announcing AMC2018 Delegations
Delegations are groups who share something important in common such as identity, practice, issue area, or geography. They collectively fundraise to get to the conference, attend sessions together during it, and reflect on their experiences as a group after it's over. The AMC provides delegations with mini-grants to seed their fundraising efforts.
We are excited to announce the 21 delegations to this year's Allied Media Conference! This year we have delegations from New York, Chicago, Seattle, Baltimore, Indianapolis, and more. After the AMC, we will publish stories from the delegations sharing their experience at the conference.
Meet the Delegations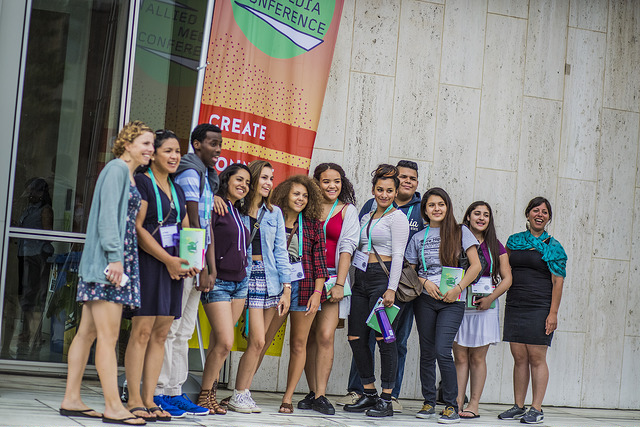 BaltiMedia for Digital Equity
Baltimore-based cultural workers, media makers, social designers, and digital equity advocates hoping to create the conditions in which all residents have the information technology capacity needed for full civic and cultural participation.
Brave Bridges
Twelve feminist organizers of color working across movements in NYC and operating with expansive ideas of what it means to be both a feminist and an organizer. We are committed to breaking the silos that have kept women of color separated and in competition with one another in order to create a stronger ecosystem of feminist organizing in NYC. We are eager to participate in the lively exchange of ideas, tools, and resources that the AMC will provide us and hope to document our journey so that we can bring much of it home to our peoples.
The National Conference for Womxn in Cannabis
A group of organizers trying to build one of the leading inclusive spaces in cannabis to support, celebrate, and educate people with multiple intersectionalities in their identity on their roles in cannabis.
Asheville Community Media Collaborative
An Asheville-based delegation seeking ideas and inspiration to deepen our impact by using media and events to work towards collective liberation.
Network of Artists
We are a pool of talented entertainment artists who have come together to inspire any and all talented artists within the entertainment industry to collectively support one another.
ChiResists
A group of Latinx womxn water protectors, artists, educators, healers, and community workers living in Chicago and focused on gentrification.
Black Lives of Unitarian Universalism (BLUU)
A group of Black Unitarian Universalists and UU-adjacent community members working to expand the power and capacity of Black UUs, provide support, info and resources for Black UUs and grow justice-making and liberation through Unitarian Universalism.
Regular Degular Bronx Baddies x Detroit!
A collective of dope, uptown NYC-born and raised social justice facilitators, educators, healers, and artists dedicated to creating safe community healing spaces for Black and Brown folks in the Bronx and northern Manhattan. At AMC, we hope to engage in unique dialogue about the healing power of community in our hoods.
Indy10 BlackLivesMatter Core
Core organizers of Indy10, the BLM chapter of Indianapolis. We hope to network, share, listen, learn/unlearn, and build relationships.
Healing Justice Media Makers
A group of media and healing justice practitioners passionate about democratizing access to politicized healing supports via media organizing. We are attending the AMC as a delegation in hopes of strengthening our relationships and interdependence because we are nationally dispersed and have never had the opportunity to all build, learn, and create together in person.
We are All Connected
An Urban / Rural project at Educational Video Center where youth from NYC work with youth from Tennessee to create a film and website about common issues in their communities.
Native Roots Network
A hub for Native community members in the far Northern California Valley helping their community to maximize and multiply efforts and impacts through youth leadership development, cultural exchanges, traditional and contemporary Native arts, community wellness. We look forward to participating in the AMC and learning from others about successful strategies in food production, media uses, education models, and the use of the arts to build and support movements.
The Frogtownians
Programmers from WFNU-LP Frogtown Community Radio, based out of the Frogtown neighborhood in Saint Paul, MN, one of the most diverse and vibrant communities in the Twin Cities. They work to challenge unfairly negative perceptions of the neighborhood. Attending the AMC will allow our programmers to learn and share new strategies for organizing using their media skills to fight major gentrifying projects that are tearing down the community.
Ethnocine Collective
A feminist filmmaking collective founded by women of color and queer-identified scholar-artists-activists whose work mounts a challenge to the universalization of perspectives of straight, able-bodied, upper class, white, cisgender men. We hope to be both inspired and rejuvenated by AMC participants working across disciplines and to build new networks of mentors, peers, and possible collaborators.
DOPE Collective
DOPE Collective is rooted in creating space for people of color and LGBTQIA individuals in the arts. We combine music and visual art events with sexual health outreach efforts to ensure that our community is linked to the resources they need. At the AMC, we aim to network with other organizations to do joint workshops and host artists from outside our local footprint.
Puerto Rico Healing Justice Delegation
Post-Maria relief workers exploring the idea of critical allyship and building a stronger sense of support for those doing organizing work that prioritizes healing and community care.
Queer The Land
A collaborative project grounded in the self-determination of queer and trans people of color (QTPOC) and the vision of collectively owning our land and labor.
The California Cross-Pollinators
A group of activists and artists in California mobilizing around the Global Climate Action Summit as a focal point to uplift narratives of inter-sectional justice and international solidarity. At the AMC, we hope to make connections that can support decentralized action across the nation for a shared vision of climate justice, and learn media-based organizing praxis.
Brownsville Community Justice Center
A group of people, including young people from Brooklyn's Brownsville Community Justice Center (BCJC), working on youth-led, project-focused technology education, and building a free community wireless network. The AMC will expose our group of young people to countless forms of media, technology, and organizing, and can serve as inspiration and motivation.
Creators for Corazon, Crayons, and Comunidad
A group of Chicago-based artists, activists, organizers (writers, musicians, photographers, videographers) who believe art should not only be accessible, but connected to social and systemic change. At the AMC, we are interested in further exploring restorative justice, storytelling, self-love and healing techniques to bring back to our community and encourage our youth to use their voices to tell their own stories.
SPNN Youth Action Committee
A youth leadership group from SPNN in Saint Paul, MN, taking action on social justice issues, creating media projects, and teaching others about how to use media to make change in their communities.