Announcing Featured Speakers and Performers for the 20th Annual Allied Media Conference
Words by Allied Media Conference
The Allied Media Conference has become the most important national convening for exploring how grassroots communities can harness the power of media and communications to affect social change. As the AMC embarks on its third decade, more than 2,500 artists, activists, technologists, and educators are expected to attend the participant-designed event. The 20th Annual Allied Media Conference, the twelfth held in Detroit, will take place June 14-17 at Wayne State University.
The AMC's Opening Ceremony, produced by Tunde Olaniran, will explore our roots, create space to dream our future. It will feature a conversation with Tarana Burke, founder of the #MeToo movement, in conversation with Mariame Kaba, founder and director of Project NIA. With performances by Detroit's RV Mendoza, The Aadizookaan and other guests, the AMC's Opening Ceremony will fuel our hearts and minds as we enter a third decade of media-based organizing for a more just and creative world.
"This year, we celebrate 20 years of exploring the imaginative strategies we need for joyful and sustainable activism," says Nadine Marshall, content coordinator for the AMC. "Through the lens of media-based organizing, we'll share skills and lessons for reclaiming our stories, reimagining technology, and building the meaningful connections necessary for a more creative and just world."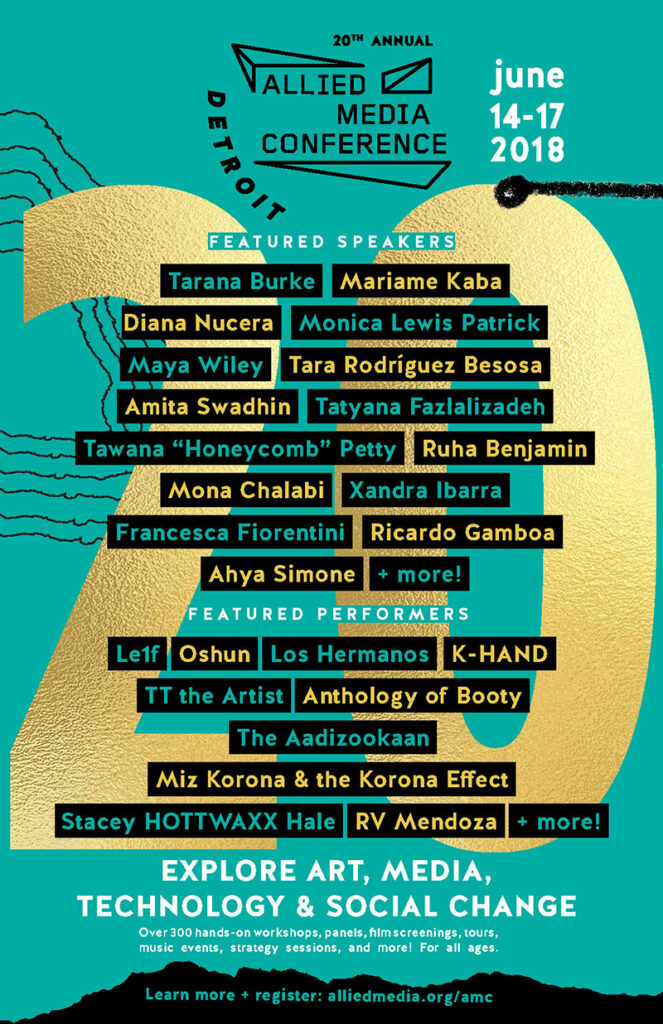 Plenaries
The conference will host a series of daily plenaries featuring leading local and national voices in critical conversation on topics such as storytelling, data and digital security, and pop culture. Featured panelists include:
AMC @ Night
"AMC @ Night" is music showcase covering the four evenings of the conference weekend at venues such as MOCAD, Marble Bar, and New Center Park. Featured performers include L1ef, Oshun, TT the Artist, K-Hand, Los Hermanos, and Miz Korona with the Korona Effect. Other nighttime events include karaoke and bowling at the Garden Bowl, a comedy night, and a "Cumbia Kids Party".
Sessions
AMC2018 offers over 300 sessions including hands-on workshops covering a diverse range of topics such as:
"Building Consentful Technology"
"Recipes of Resilience: Transforming Trauma with Food"
"Coding for Community"
"Radical Grandparents! An Intergenerational Conversation"
"Indigenous Storytelling: Indigenous rights as climate action"
"Where is Vincent Chin?: Asian American Tour of Detroit"
"Black Kid's Lit Story Time"
The full conference schedule is coming soon!
Registration
Registration for the conference is offered on a sliding scale rate, from $75 – $500. Visit our Housing and Registration page for more information.
Register Now
The Allied Media Conference is a project of Allied Media Projects, with support from The Nathan Cummings Foundation, the Ford Foundation, Open Society Foundations, National Endowment for the Arts, and the MacArthur Foundation. Allied Media Projects' mission is to cultivate media strategies for a more just, creative, and collaborative world.