"Changing the Conversation" Report Aims to Bridge the Gap Between Foundations & Community Organizers
Words by Allied Media Projects
Allied Media Projects (AMP) and Detroit People's Platform (DPP) have published a new collaborative research report: "Changing the Conversation: Philanthropic Funding and Community Organizing in Detroit". The report is the culmination of a two-year project to develop recommendations for how philanthropists might better serve grassroots communities.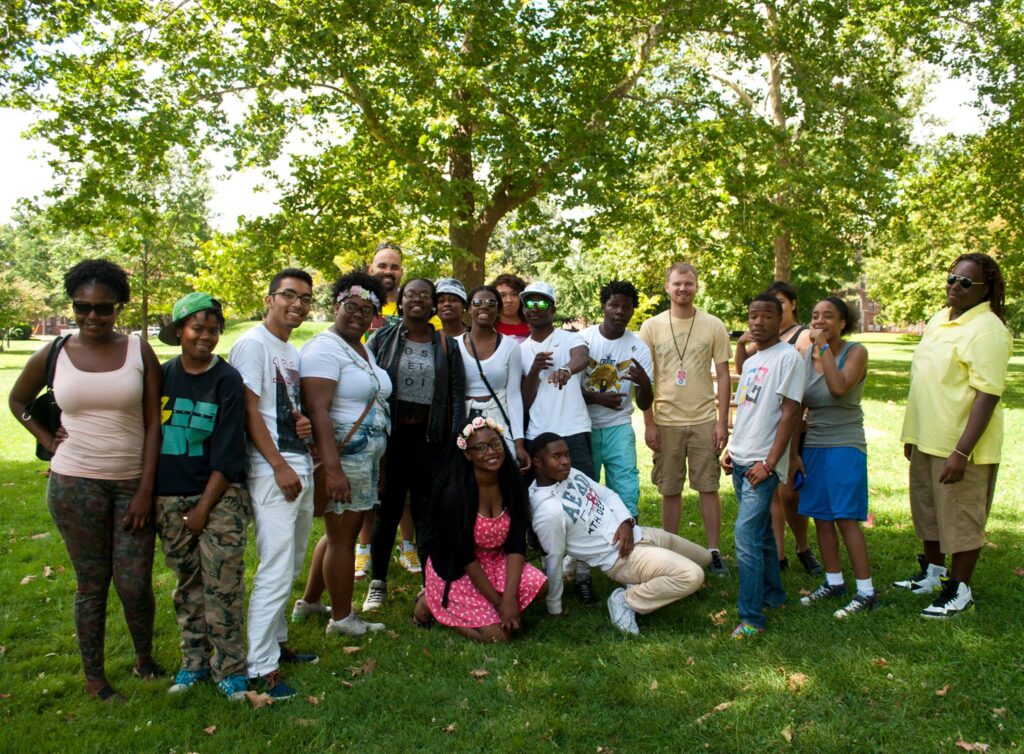 Between April 2015 and March 2016, AMP and DPP convened dozens of Detroit's community organizers through 20 group interview sessions and four listening sessions. The result was "12 Recommendations for Detroit Funders," a document developed through a process of collaborative editing between the partners and community stakeholders.
In the process of developing the 12 Recommendations, AMP and DPP collected a wealth of information about the current landscape of community organizing in Detroit and ideas for how that landscape could be healthier and more collaborative. In this report you will find a variety of perspectives and ideas, not only for for how philanthropy can better serve the grassroots community, but also for how community organizers can improve their work.
This work represents the start of what we hope will be a long-term dialogue between funders and organizers to bridge understanding and identify paths for us to better work together in building a just and equitable Detroit.
In addition to fostering continuing dialogue between community organizers and funders, the goal of this report is also to specifically lead to the creation of a new fund for community organizing in Detroit. This fund would provide resources to grassroots and people-of-color-led organizations that are working to address systemic racial inequality as it intersects with other systems of inequality in Detroit. It would model more accountable and democratic practices for the distribution of foundation funding and a more collaborative relationship between funders and grantees.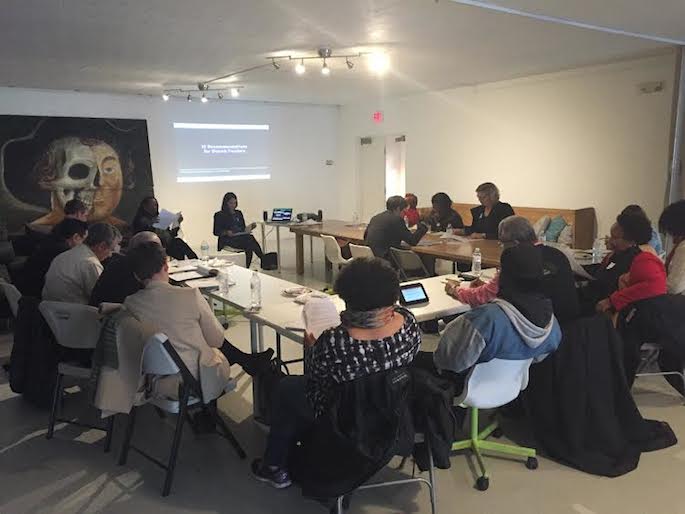 Interview with Jeanette Lee and Linda Campbell
Learn more about the collaborative process of creating this report in our interview with AMP's executive director Jeanette Lee, and Linda Campbell of Detroit People's Platform.
Why did you want to start this conversation between funders and grassroots organizations?
Linda: We found a huge disconnect between the philanthropic community and the incredible work that's going on in Detroit to tackle systemic issues around race, inequality, displacement, gentrification.
Post-bankruptcy, post-emergency management, there is both a need and a desire to revitalize our democracy here in the city. One way to do that is an investment by funders in grassroots solutions that are rooted in democratic processes and indigenous leadership – leadership that is community-centered and community-focused.
What is "collaborative" about this research report?
Jenny: By building multiple points of participation into the process we were able to weave together a lot of different voices and perspectives. That process began with about 20 audio interviews, which we coded and edited for common themes. We invited a wider community of people to then listen to and discuss those recordings. The transcripts of those discussions formed the initial outline of the report itself. After several rounds of feedback on the outline we contracted a freelance journalist, Nina Ignaczak, to write the thing, which involved conducting more interviews to build out the case studies that you'll find the report. All of that has taken two years. The result is something we can all be very proud of – it has more depth than any one of us could have achieved as a single entity.
Linda: Not only was it collaborative but it was also inclusive. We had folks working on youth issues out of Southwest Detroit, people working on water affordability and water shutoffs, progressive work around land and food security, and Detroit People's Platform's work around equitable development – these issues represent a diverse spectrum of voices. People sometimes see the activist community as a monolith, but it's really a diverse ecosystem. Our research process was also cross-generational – we had senior leaders like me, Monica Lewis-Patrick, and Gloria Rivera, as well as young people at the table – thinking about not only what works now, but what young leaders can live into in the future.
What was the initial response to the 12 recommendations for Detroit funders? Have there been new developments since the release of those recommendations back in late 2015?
Jenny: Nationally, there's been a lot of excitement from people I talked to when I presented the recommendations at the Allied Media Conference, and locally from the people that Linda has talked to in the Building Movement community. Locally, funders have been challenged by it, but there's been a productive conversation and some tangible changes that have been implemented in practice. For example, the Kellogg Foundation told us that they used the 12 Recommendations as the cornerstone of their staff retreat last Summer, and that the recommendations contributed to their decision to expand their Community Connections grant program (which provides funds to smaller grassroots organizations).
We also held three dialogues where we brought together funders and grassroots organizers to discuss the 12 Recommendations in-depth. For each of those dialogues, community organizers prepared case studies from other cities to guide conversation about what these recommendations could look like in practice. The most valuable thing to emerge from that was the opening of more channels of communication and relationship-building. It helped demystify what's happening on both ends – organizers got to see the internal challenges and dynamics that are at play within foundations and the program officers got to see the nuance of who the activist-organizer community – all of the different issues, approaches, grievances, and solutions too.
Linda: As a result of the funder dialogues, one of our committee members who is doing water justice work was able to connect with a major funder that supports environmental issues. Our committee member helped build awareness with that funder around water affordability and how that connects to issues of water conservation. They are collaborating on new solutions that will hopefully show up in the grantmaking, and they're at a national conference together now. The 12 Recommendations helped shift the dialogue to be focused around issues of water and water affordability in tandem with water conservation and Great Lakes sustainability.
Jenny: The Ford Foundation should be mentioned as well in the way that this work has impacted their practices. They recently made a grant to Allied Media Projects and Detroit People's Platform to fund a planning process towards the creation of a new fund that they want to invest in. The purpose of this new fund will be to put the 12 Recommendations into practice and support the kinds of work described in this report. We know that major foundations aren't going to change their practices overnight. But our hope is that this new fund will offer a proof of concept that can have a transformative effect on larger institutions over time. A committee of grassroots organizers including We the People of Detroit, the Community Connections grant program, Bioneers Detroit, the North End Woodward Community Coalition, Economic Justice Alliance of Michigan, along with AMP and DPP, are now co-leading the planning for the new fund.
Read The Report
The full report, designed by The Work Department, is available for download here. We have a limited number of print copies available for purchase on the AMP store.
The production of the "Changing the Conversation" report is made possible through a grant from the Ford Foundation. Patti Aaron, AJ Aaron, Jackson Koeppel, and Kate Levy each also donated to make the publication of this report possible.