A Chrysalis Year
Words by Allied Media Conference
We are taking a one year break from producing the AMC. The conference returns in 2020.
We did it. For 20 years, we have come together to explore and grow our vision and practice of media-based organizing. It has been glorious, world-shaping, life-changing.
Thank you to every single person who attended, presented, coordinated, volunteered, funded, and otherwise offered your magic to the 20th annual Allied Media Conference. You made the AMC what it was – epic, experimental, flawed, and fabulous.
You also made the 20th AMC larger than ever (1,000 more people attended in 2018 than in 2017). The scale of the AMC in 2018 was breathtaking, and also challenging. Thank you to everyone who gave us feedback, in person and through the recent feedback survey. Your insights and reflections are fueling expansive conversations here at Allied Media Projects about the future of the AMC.
We have been deeply considering this question: how do we want to grow? Is it more like an oak tree, like mushrooms, like moss? We have said that the AMC is about critical connections, not critical mass. Is it possible to have both?
We know we have a responsibility to grow with intention rather than to simply let growth happen. We have a responsibility to make the AMC ever-more accessible, liberating, and transformative. We have a responsibility to work at a pace that is humane and that allows for spacious thinking.
For these reasons and more, we are excited to share that we will take a one year break from producing the Allied Media Conference.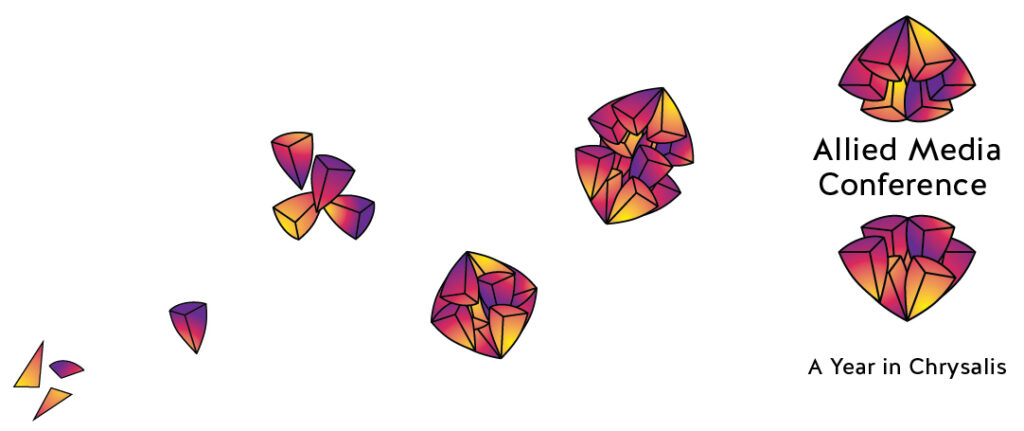 The AMC has been a phenomenal caterpillar, hungry and growing for two decades, but what is the butterfly that we can become? We think it will take a year in chrysalis to figure it out. This will be a year of reflection, deep-dive evaluation, research, and development – a year that includes your voice – as we plan for the return of the AMC.
What Does This Mean?
There will be no AMC in 2019, but the conference will return. Save the date for the next AMC: June 25 – 28, 2020.
This is a difficult decision to make, especially when we know that the life-affirming, movement-building power of the AMC is more necessary than ever. But trust and believe that the AMC is not going anywhere. The chrysalis year is a way of presuming our power to shape what the AMC becomes, in collaboration with our vast network. It's a way of investing deeply in the long-term health and potential of the space we've built together.
We anticipate that our community will find other opportunities to gather and meet-up throughout 2019. Allied Media Projects will stay available to do what we can to support and promote as our network gathers in other ways during this year off.
What Happens Next?
We want to work with you to digest the caterpillar body of the AMC and dream of our new form. We will be hosting lots of virtual and in-person conversations focused on the big questions above and more. We will be visiting other conferences and large-scale events to learn from best practices in event production. We will be engaging with our local community in Detroit, exploring how the AMC can deepen its local relevance and impact. We will be taking everything apart, laying it out on the table, cleaning, fixing, and then putting it back together.
What Can I Do?
Stay tuned for upcoming invitations to participate. But first, we know you may just have questions and feelings and thoughts you want to share with us. We will be hosting a webinar on Wednesday, October 17th at 3:00 p.m. EST to hear you out. If you can't join us that day, or if you prefer a one-on-one conversation, email us at amc@alliedmedia.org. Beginning September 26th, Nadine Marshall, AMC Content Coordinator, will be hosting "office hours" from 2:00 p.m. EST to 4:30 p.m. EST on Wednesdays and Fridays for the next four weeks. We can't wait to chat with you!
Lastly, we ask for your patience and your support. We ask for your continued investment of love and ideas into what the AMC will become.
Onward to our next, most elegant form.