Coordinators convene in Detroit to plan the Allied Media Conference
Words by Allied Media Projects
60 coordinators. 29 tracks, practice spaces, and network gatherings. One icy January weekend in Detroit to plan the Allied Media Conference.
Through an open proposal process in the early Fall of each year, we select the thematic focus areas of the following year's AMC. These focus areas take the form of tracks, practice spaces, or network gatherings (TPSNG). Over the weekend of January 16-18, representatives from each of the selected TPSNG coordination teams came together in Detroit for a planning meeting to lay the foundation for the next six months of AMC organizing. We developed "calls for participation" for each TPSNG. We designed logos. We set fundraising goals and action plans. And we went bowling too.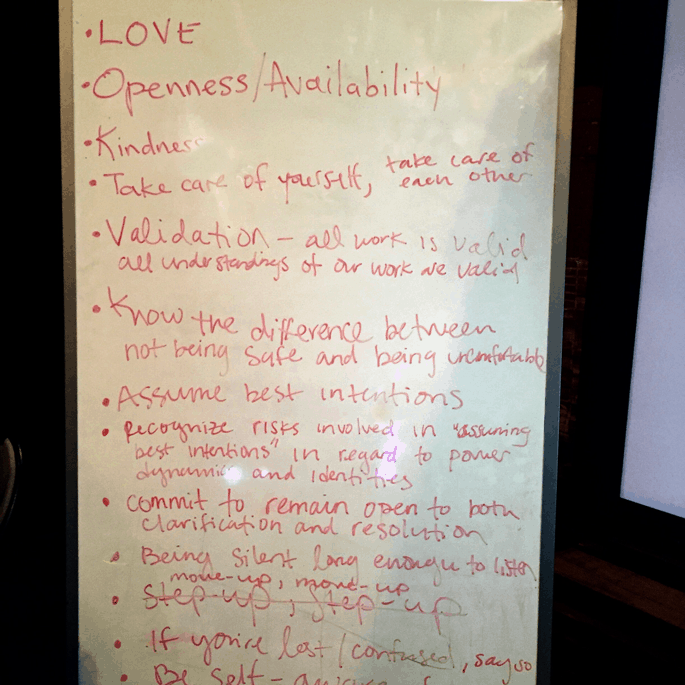 The weekend began with setting collective intentions, which gave us a chance to reflect on the type of space we wanted to create and the values we hoped to practice as a group. Next we launched into a group discussion about what makes for great media-based organizing? We talked about the importance of collaboration, inclusivity, shared leadership, self-transformation, and the value of process. Then we broke for dinner and headed off to the Garden Bowl bowling alley to roll a few.
On Saturday coordinators broke out into groups of track coordinators, practice space coordinators, and network gathering coordinators. The groups each rotated through a set of three workshops: grassroots fundraising, logo design, and drafting "calls for participation." As AMP staff presented each workshop, we attempted to model our workshop presentation best practices of "preparation", "time management", "accessibility", and "strong facilitation." (You can read about our top 10 workshop facilitation best practices in our Presenter Guidelines zine).
In the fundraising workshop we offered coordinators ideas on how to develop and implement grassroots fundraising campaigns for their respective tracks, practice spaces or network gatherings. We shared success stories of how TPSNG coordinators have raised thousands of dollars to cover their participants' travel, housing, and other costs, increasing the accessibility of the AMC to more people who would not otherwise be able to participate. Coordinators drafted up fundraising plans and then we shared our plans with one another and collected feedback.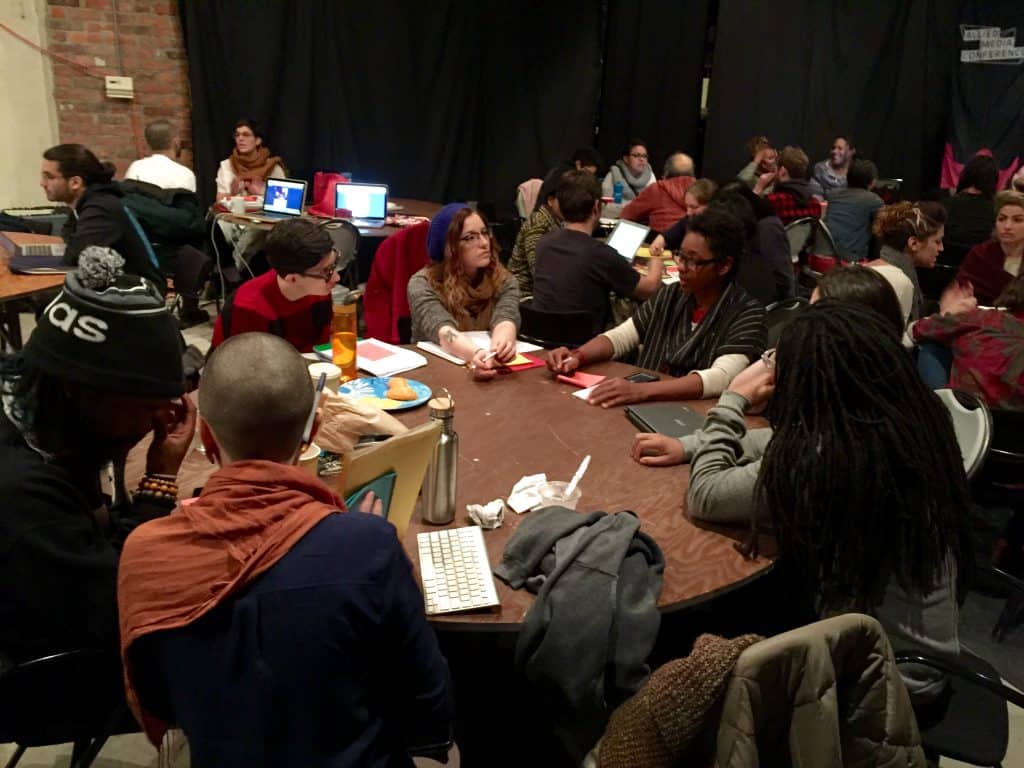 In the logo design workshop, participants got a crash course in Adobe Illustrator and used the AMC2015 design toolkit to develop original logos to visually represent their tracks, practice spaces, or network gatherings. The logos are totally wild and wonderful! They will be used for fundraising and promotions, and can all be viewed on the tracks, practice spaces, and network gatherings pages of the AMP website.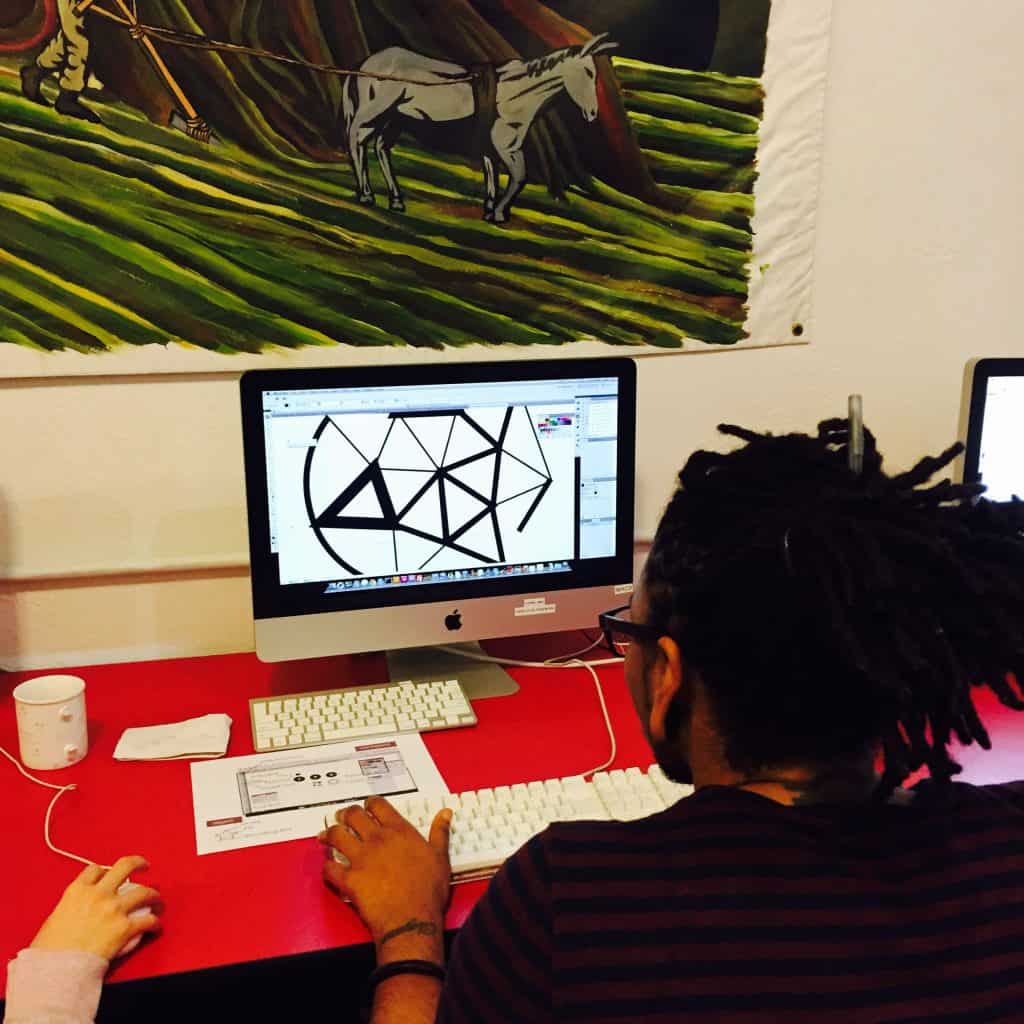 In the writing workshop, coordinators learned how to effectively communicate their ideas to the public through clear and concise language. Through collective writing and wordsmithing, we edited TPSNG descriptions and drafted "calls for participation" to recruit session proposals and volunteers for the various tracks, practice spaces, and network gatherings.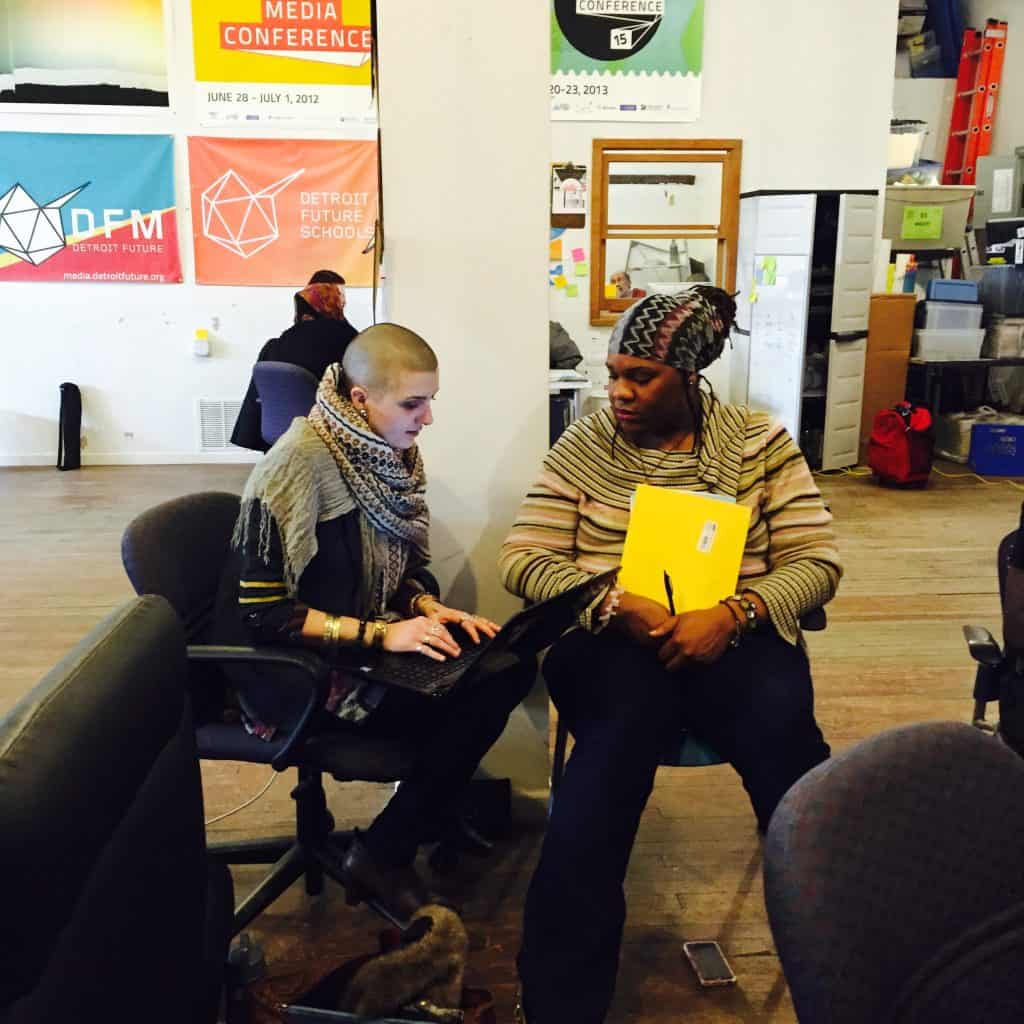 Throughout each of these workshops we had in our hands our How We Organize the AMC zines filled with helpful chapters on the AMC's content-development process, our organizing calendar, fundraising tips, and conference logistics. You can grab a copy for yourself here.
As the weekend came to a close, coordinators left feeling inspired, refreshed, and ready to make AMC2015 the best AMC ever.
Now for the next step in our organizing process: propose a session for the AMC by March 2!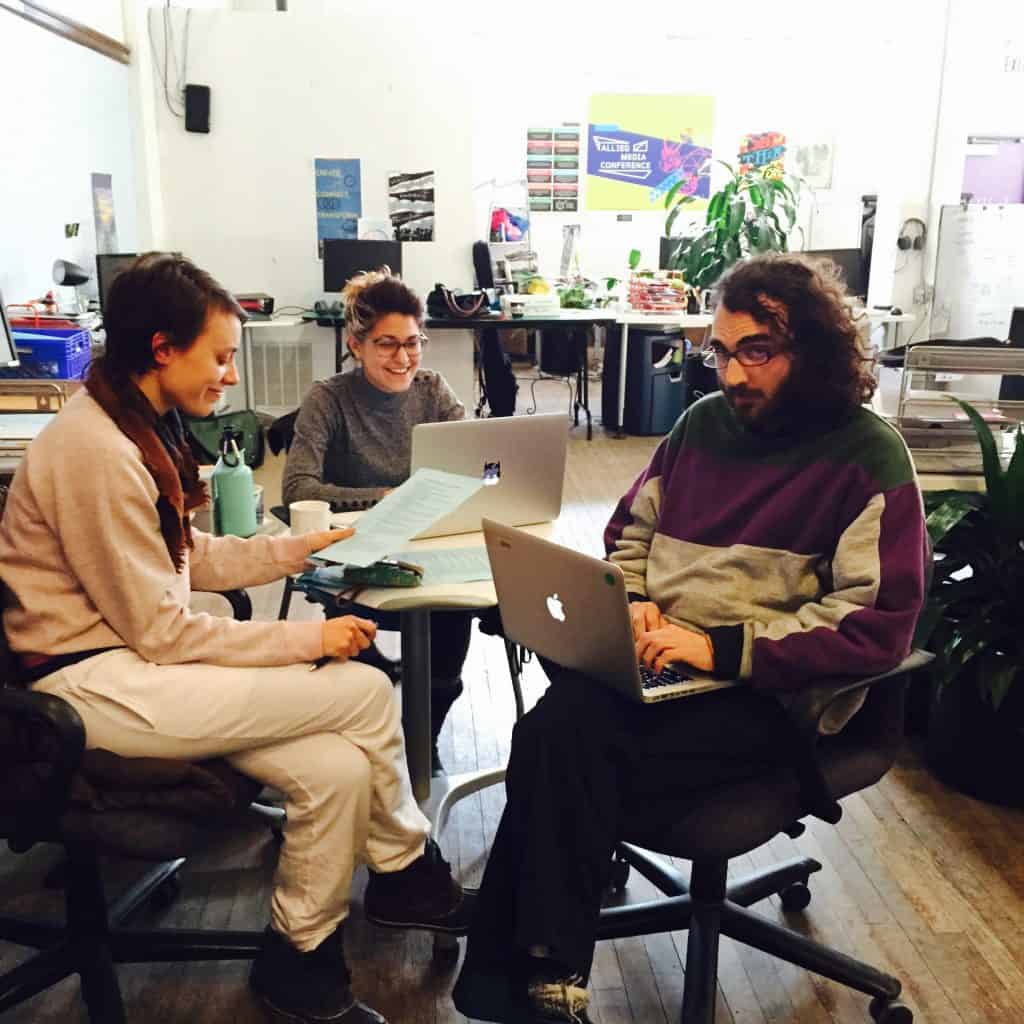 Why are you coordinating an AMC track, practice space, or network gathering?
There are few opportunities to practice building the world we want to live in. As a coordinator at the AMC it allows me the opportunity to think deeply about that – how my values and vision for the world are played out in this small microcosm called the AMC. It's a space to bring your whole self and not just your work.
Sage Crump, Complex Movements Network Gathering
We wanted to root our work in media-based organizing, which is more visionary and less reactive. Being an active member of that process at the AMC is really exciting. In our network gathering we hope to broaden the idea of oral history to something that is more inclusive, place-based, and helps build community.
Shane Bernardo, Groundswell Network Gathering
AMP's definition of media as "the ways that you interact with the world" changed the way I engage in activism and how I communicate about my work to others. I try to be more inclusive and consider the interconnectivity of these varying definitions of 'media.' In the Future Design Lab we consider the tools we need to do any kind of organizing work, and then ask how they can be both beautiful and useful – emphasizing the process of design rather than just the outcome.
Victoria Barnett, Future Design Lab Practice Space
One unique aspect of the AMC is that kids are fully integrated into the conference as a whole. The AMC is a convergence of people doing childcare work in lots of places – it's a time to be reflective and to share these tools. That's part of what brings me back – learning what other people are doing and gaining perspective.
Jacob Klippenstein, Intergalactic Intergenerational Justice Practice Space