DCTP Launches the Equitable Internet Initiative
Words by Detroit Community Technology Project
The Equitable Internet Initiative will accelerate outreach, training and wireless broadband Internet sharing on the neighborhood level in Detroit. Led by the Detroit Community Technology project of Allied Media Projects, the Equitable Internet Initiative will ensure that more Detroit residents have the ability to leverage online access and digital technology for social and economic development.
Detroit has one of the lowest rates of Internet access in the U.S., with 40% of residents lacking broadband access. In recent years, we have seen new companies offering high speed 1-gigabit Internet options in Detroit, often at a higher price than standard connections. While this is an exciting development, it has the potential to exacerbate the digital divide, by equipping the already-connected with even faster connections, while leaving those without access even further behind.
Online access is essential for participation in the new economy, especially in high-tech industries. If we fail to equitably expand access then we will see new economic opportunity become more limited and exclusive – we cannot assume that the benefits will "trickle down".
Digital Stewards + Next Gen Apps
The Equitable Internet Initiative aims to address this concern head-on by working to support neighborhood-based organizations to utilize these high-speed gigabit connections for the benefit of their communities.
To this end, DCTP has secured access to several wholesale, carrier grade gigabit connections. Through the Equitable Internet Initiative, DCTP will redistribute these connections to underserved communities while training community leaders to become "Digital Stewards", proficient in the technical and community organizing skills necessary to deploy and manage wireless networks powered by the high-speed gigabit connections.
Since 2012, DCTP has trained community technology leaders in seven Detroit neighborhoods to become Digital Stewards, and the Project has supported eleven community groups internationally to adopt and modify this training for their local contexts.
For the Equitable Internet Initiative, DCTP is adding a new program component called "Next Gen Apps". Next Gen Apps is developed in collaboration with partners Grace in Action, a network of youth-run collectives and worker-owned cooperatives in Southwest Detroit, and U.S. Ignite, a nonprofit organization that fosters the development and deployment of next-generation technology applications. Over the next six months, Next Gen Apps will train high school and middle school students in the neighborhoods served by EII to develop custom web applications that can take advantage of the high-speed gigabit environment.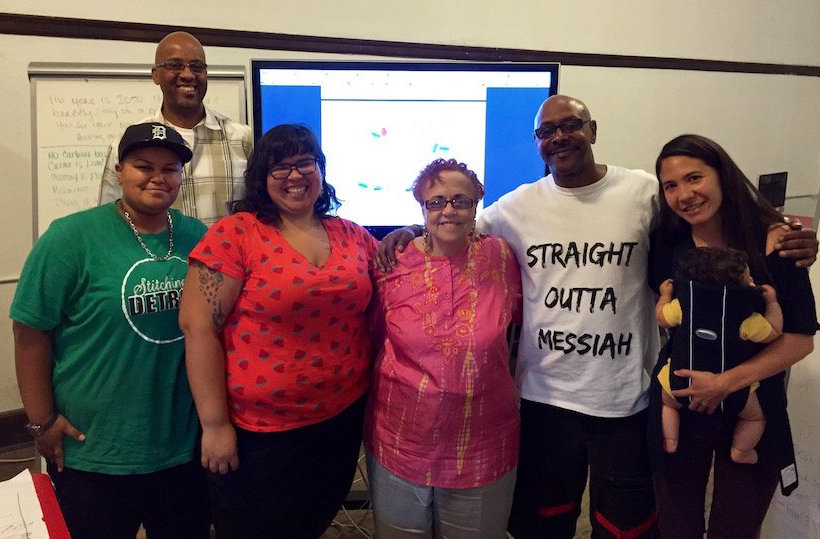 EII Neighborhoods
The Equitable Internet Initiative will bring high speed gigabit connections along with the Digital Stewards and Next Gen Apps trainings to these neighborhoods:
Vernor/Lawndale in Southwest Detroit, in partnership with Grace in Action
Islandview in Southeast Detroit, in partnership with Church of the Messiah
North End, in partnership with WNUC Community Radio
Each of the community partners have strong track records of community engagement, youth leadership, and digital literacy programming. The EII will build upon existing community technology programs at each site, which currently include a community makerspace at the Church of the Messiah, a youth-run technology collective at Grace in Action, and a community radio station in the North End that focuses on developing local storytelling and journalism.
We look forward to building healthy partnerships, functional networks, and meaningful adoption where community members are invested in the ongoing stewardship of their neighborhoods' digital resources. Upon the successful implementation of the EII in these three neighborhoods, DCTP aims to expand the initiative to other parts of the city. We will share best practices and lessons learned through publications such as the forthcoming Guide to Equitable Gigabit Adoption and Teaching Community Technology Handbook so that this initiative can be replicated in other cities.
EII Program Coordinator
DCTP is excited to announce our EII Program Coordinator, Janice Gates. In her role as Program Coordinator, Janice will support the three neighborhood anchor organizations to implement the Digital Stewards and Next Gen Apps trainings over an 18 month period. Janice comes to EII with an extensive background in directing public programming and "train the trainer" models of facilitation. Her commitment to establishing strong partnerships between organizations and community members along with her ability to guide non-profits in capacity building makes her an ideal candidate to coordinate the Equitable Internet Initiative.
About the Detroit Community Technology Project
The Detroit Community Technology Project's (DCTP) mission is to use and develop technology rooted in community needs that strengthens human connections to each other and the planet.
We work towards demystifying technology and expanding digital knowledge in our communities. DCTP is a sponsored project of Allied Media Projects' (AMP), developed out of the organization's extensive experience of digital media education and community technology building in Detroit.