DCTP Launches the Equitable Internet Initiative Digital Stewards Training Program
Words by Detroit Community Technology Project
The Detroit Community Technology Project is excited to welcome its newest digital stewards into the Equitable Internet Initiative Digital Stewards Training Program.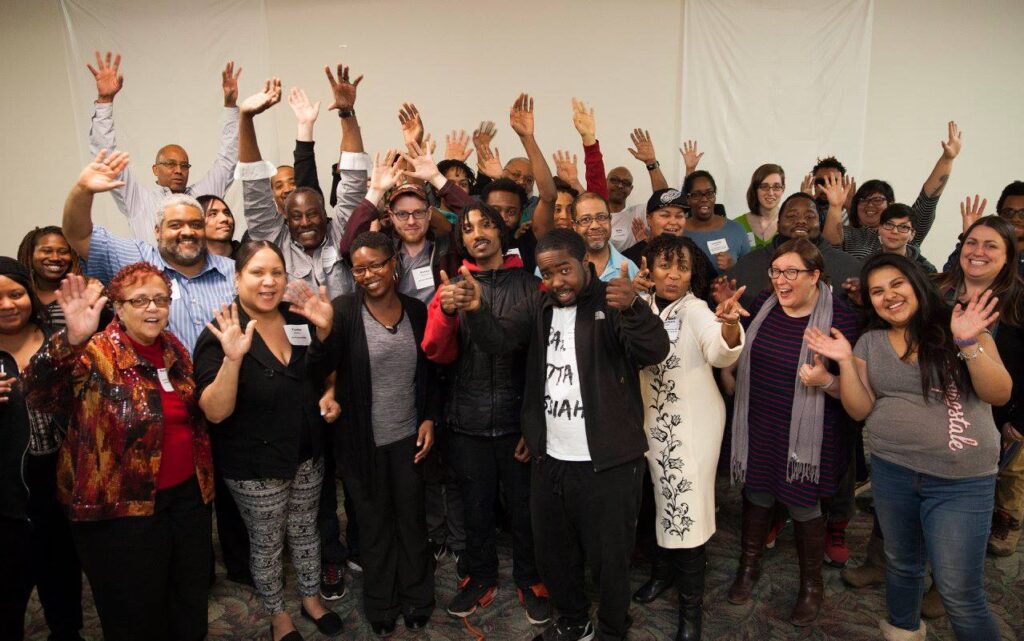 The Equitable Internet Initiative (EII) accelerates outreach, training and wireless broadband Internet sharing on the neighborhood level in Detroit. The EII Digital Stewards Training Program is being implemented by three community anchor organizations in their respective neighborhoods:
Grace in Action (Vernor/Lawndale in Southwest Detroit)
Church of the Messiah (Islandview in Southeast Detroit)
WNUC Radio (North End)
Twenty-eight new EII digital stewards attended an orientation on February 23, 2017 and are now participating in a 16-week training with the anchor organizations listed above.
The EII Digital Stewards Training Program prepares teams of community organizers, people with construction skills, and techies to design and deploy communications infrastructure with a commitment to the Equitable Internet Initiative working principles. The digital stewards learn community wireless, which allows neighbors to form their own local network and share an Internet connection. The skills learned will also transfer to anyone that is looking to startup or work for a wireless internet service provider. Graduates of the digital stewards training will be eligible to apply for employment in the build-out of and adoption of wireless networks in their neighborhoods.
The training brings together both technologists and community organizers, which is important, because EII believes that digital literacy programs thrive through intergenerational relationships within the classroom.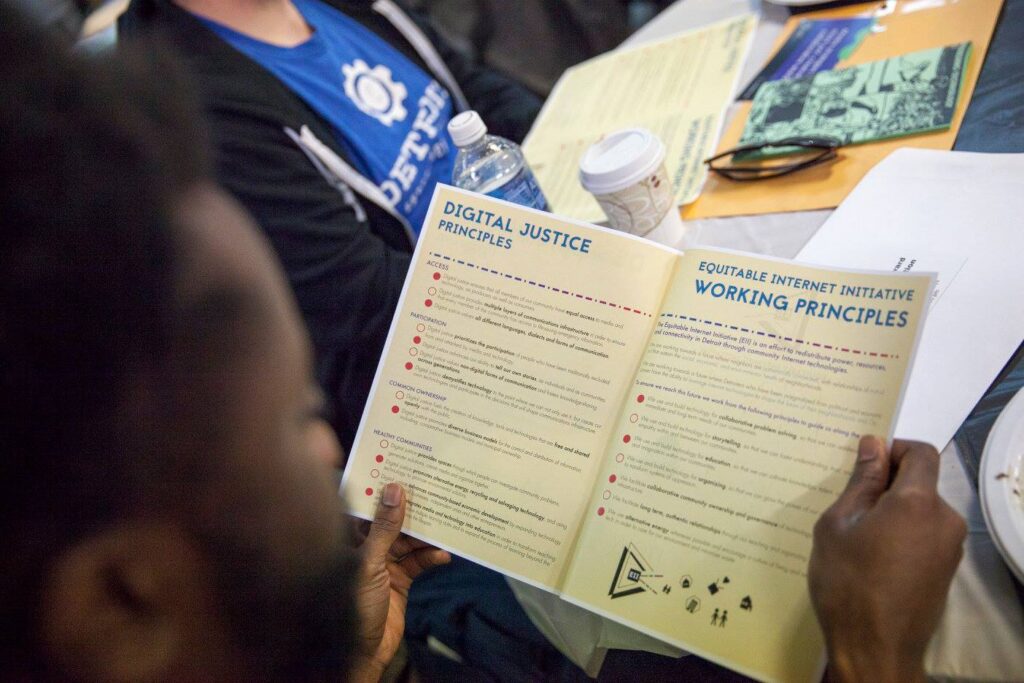 The Digital Stewards Curriculum
DCTP has already trained over 30 Detroit neighborhood leaders to build their own community wireless networks. In this iteration of the program with the Equitable Internet Initiative, digital stewards will learn new wireless technologies that increase speed, reliability and monitoring capabilities along with neighborhood resilience planning, and participatory community organizing.
Our curriculum facilitates ordinary people in rediscovering and validating their own capacity for becoming producers, creators, educators, and leaders, rather than relying on "experts" to pass on knowledge. Within the digital stewards model, collaborative media & hands-on technology education gives people the opportunity to engage, on their own terms, in a learning process where they use all available resources, including each other, to transform themselves as well as empower their own communities.
This time around, the digital stewards training is more decentralized – rooted in the neighborhood anchor organizations – because of DCTP's new Teaching Community Technology Handbook, released in November 2016. The 100+ page handbook takes the trainees through the history of popular education while offering a step-by-step guide to developing community rooted technology workshops and curricula.
Digital Stewards Trainer Ocie is hopeful that through the program, work that is already happening in his neighborhood can be expanded upon as well as provide greater financial opportunities. "I would like to see the digital stewards be able to set-up or integrate the technology into the efforts that are already underway to redevelop and reinvigorate Island View. To some degree they are not well connected, so I would like to see the stewards figure that out in a way that uses the technology as well as helps them to make money."
Nyasia, Digital Stewards Trainer in Southwest Detroit, is excited to build upon the community organizing aspect of the training. "There are some people in the neighborhood that know technology, but didn't know how to use it or activate particular parts of it for community benefit."
Get Involved
If you live in Southwest Detroit, Southeast Detroit, or the North End, you can host a community wireless router in your home or get involved at our upcoming community meetings. Email communitytech@alliedmedia.org to find out more.
Follow the conversation using #gigabitDetroit on Twitter, Instagram and Facebook and look for opportunities to join a neighborhood advisory board in one of the three neighborhoods.
Sign-up for DCTP's newsletter for updates on how to get involved with the EII Digital Stewards Training Program.