Delegations Reflect on their Experiences at AMC2016
Words by Allied Media Conference
At AMC2016 we hosted "delegations" from across the country including Chicago, Pittsburgh, Bloomington and New York.
Delegations are groups who collectively fundraise to get to the conference, attend sessions together during the conference, and reflect on the conference as a group after it's over. Delegations share something important in common such as identity, practice, issue area, or geography. Through an open application process, the AMC selects delegations who will be publicly acknowledged and supported with mini-grants to seed their fundraising efforts to attend the AMC. Thirteen delegations were selected for AMC2016.
Participants from these delegations presented sessions on topics such as youth leadership, hip-hop and social change, and using hashtags in activist campaigns. They also sold their art in the exhibition area, hosted a pop-up library, and organized an Iraqi educational community dinner. Read on for some reflections from delegations at AMC2016!
TUFF x 1HOOD (Pittsburgh, PA)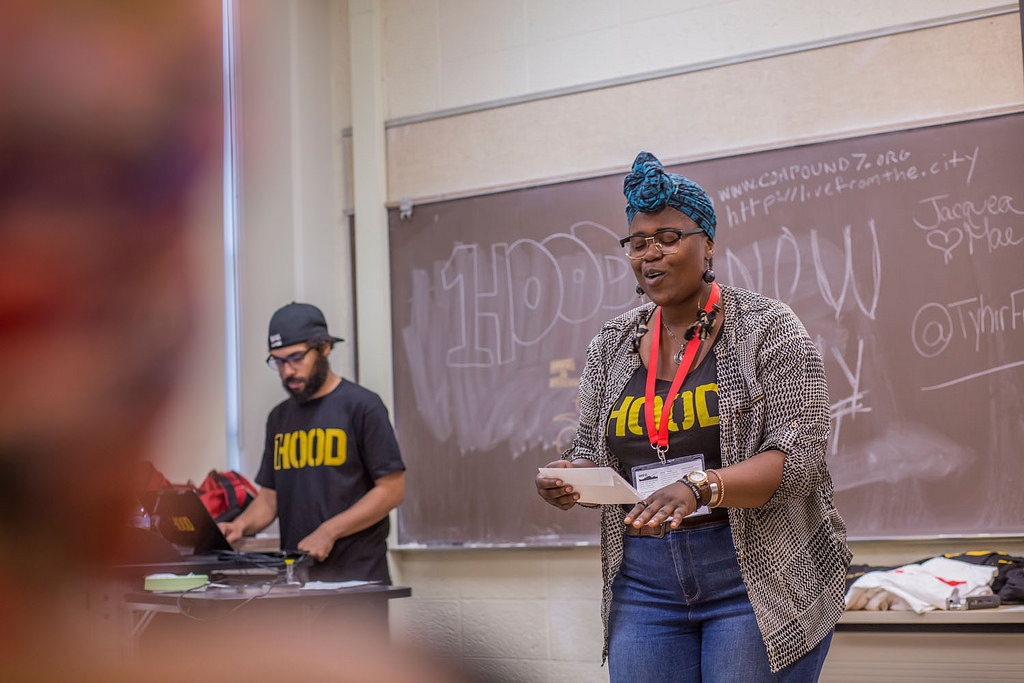 Allied Media Conference was a holistic experience. Outside of sessions, the Turn Up For Freedom (TUFF) x 1Hood delegation got to interact with people, organizations, and material that we couldn't imagine finding anywhere else.
TUFF activists are innovating youth activism and youth-led spaces in Pittsburgh. For us, "youth-led" is the ability to be supported by the entire community to raise our voices against the injustices that we experience as black youth. Our delegation explored restorative spaces and what they look like in our communities. We began that conversation with a session facilitated by TUFF activists, where we urged participants to pull from their experiences advocating for radical youth leadership. In this session, we were able to address issues such as intergenerational hierarchy, racism and develop strategies for youth spaces. In another session presented by 1Hood Media, we were able to show participants how hip-hop can be a vehicle for social justice and social change.
This delegation was supported by Sprout Fund and an AMC mini grant.
For the People CHI (Chicago, IL)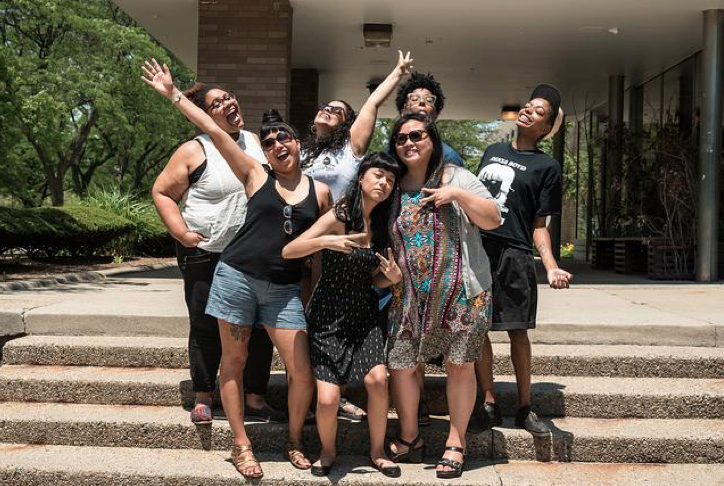 For the People Artists Collective! is a radical squad of Black artists and artists of color based in Chicago. As a newly-formed collective just shy of 9 months old, we were thrilled to coordinate a delegation to attend this year's AMC2016. Our delegation featured artists, activists, cultural workers, and organizers Sarah-Ji (Love & Protect), Tesh Silver, Melisa Stephen, Tita Thomas (Assata's Daughters) and Monica Trinidad (Brown & Proud Press).
Our artists tabled their work, attended a session on Black-led, direct action strategies in the Bay Area presented by the black.seed collective, met and learned from migrant, queer poet/artist Sonia Guinansaca (CultureStrike) on the "Power of Arts", attended the screening of Bars4Justice, a documentary highlighting Hip-Hop activism and police brutality in Ferguson, hosted by Jasiri X, and networked with so many radical, queer, and trans Black artists and artists of color – especially in the exhibition room!
Thank you AMC for curating inspiring, thought-provoking workshops for our artists to learn new skills to bring back home (we love CultureStrike and Design Action Collective!).
BOOM Concepts (Pittsburgh, PA)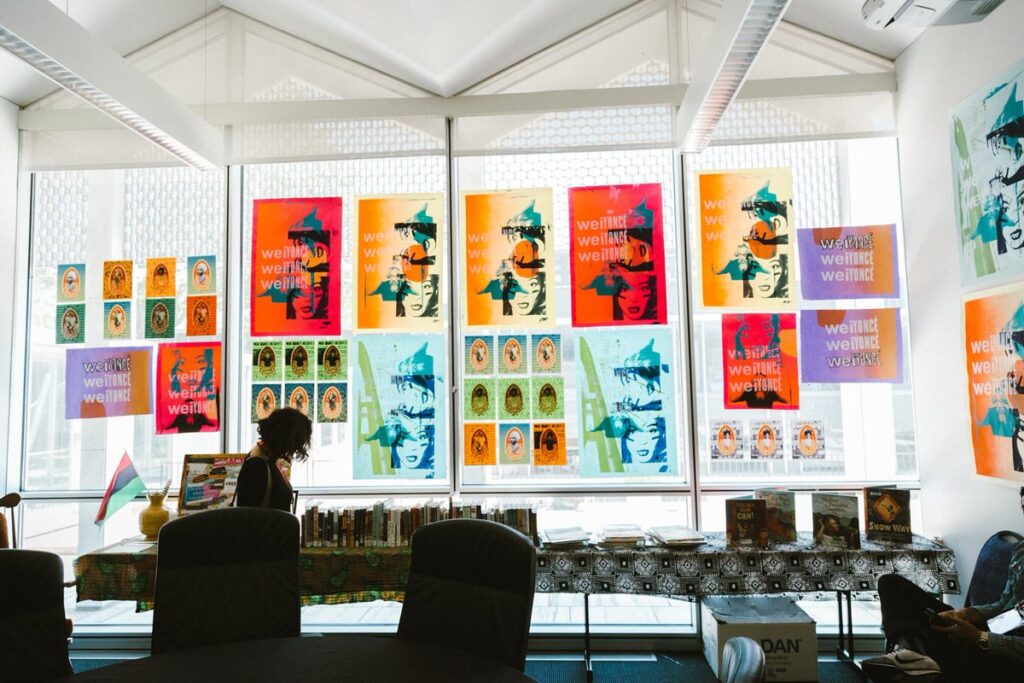 The Boom Concepts delegation to AMC2016 was a culmination of three years of work towards bringing more artists, thinkers and activists to the Allied Media Conference. The AMC reflects the values of Boom Concepts as a creative hub and space for marginalized artists to thrive and grow. Being able to travel with creative partners and present our work as part of the Black Unicorn Pop-up Library was an invaluable opportunity.
Housed in McGregor Hall, the pop-up library was a space for different groups, including Librarians and Archivists with Palestine and Pro-Literacy Detroit, to hold meetings. Through the pop-up library we formed partnerships with Ypsilanti Public Library and the organizers of the Radical Librarianship Track.
Hashtags are the New Protest Signs was a very successful workshop led by Darrell Kinsel and Julie Mallis of BOOM Concepts. Participants walked away understanding the power of creating our own forms of media, how to use the hashtag for different purposes such as advocacy campaigns, and how hashtags can be used to amplify the voices of marginalized groups.
Read our Storify about AMC2016.
New Voices Pittsburgh / SistahSpeak! Youth Project (Pittsburgh, PA)
Pittsburgh has been home to New Voices Pittsburgh: Women of Color for Reproductive Justice (NVP) for over 10 years. NVP is led by black and queer femmes of color who are organizing through the lens of reproductive justice for black women, femmes and girls in Pittsburgh, Cleveland, and Philadelphia. SistahSpeak! Youth Project is a leadership development program that exposes young women and girls to community organizing through the undeniable right that black women and girls should have access to complete and total reproductive freedom.
The AMC is a space that exemplifies the community we aim to create in Pittsburgh. At AMC our leaders were able to participate in many sessions and practice spaces where we came home with something to share and build upon. Our leaders from SYP! connected with Detroit beyond our common struggles, and came to understand our cities' shared resilience in fighting for our communities.
Reflecting on our time together, our leaders said:
"The best part of the trip was meeting new people and building relationships with youth from other cities"
"Pittsburgh and Detroit are different, but we have so much in common, and so much to learn from the organizers I met at AMC"
"The most inspiring part, was seeing that we can create resistance and healing spaces in more than just one way"
Bloomington Queer Youth Delegation (Bloomington, IN)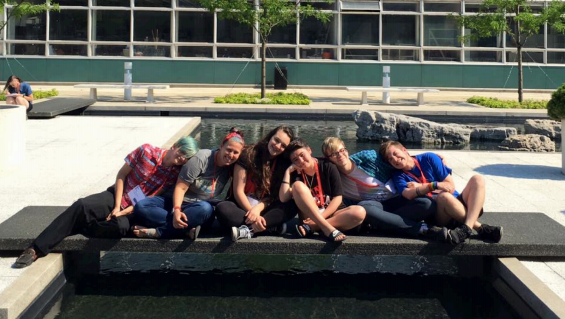 Organizers in Bloomington, Indiana organized a delegation of 7 individuals from Prism Youth Community to AMC2016. Prism Youth Community is a community-based organization that serves LGBTQ+ and allied youth ages 12-20.
This was the our first AMC and it was an incredibly rich experience. In addition to attending the conference, youth from our delegation presented on youth-led advocacy. This workshop centered on encouraging youth and youth-workers to elevate the youth voice and the importance of having not just youth serving, but youth-led organizations. Our delegation raised additional funding to attend the AMC from the community in Bloomington, IN, where over 20 people contributed.
Here is what our youth leaders had to say about their experiences at the AMC:
"The AMC changed the way I view and interact with the world. I feel I have gained an abundance of tools to help promote social justice, navigate conflict and facilitation, and even offer meaningful and sometimes hard reflection for myself and others. It is a unique and important space to escape the world and also deeply focus on it."
"Being at the AMC was an eye-opening and inspiring experience. Meeting so many people who had the same interests and passions as myself was great, and getting to see other youth-led organizations doing cool work all around the country and the world gave us some great ideas for the future."
Iraqi Transnational Collective (NY / Iraq)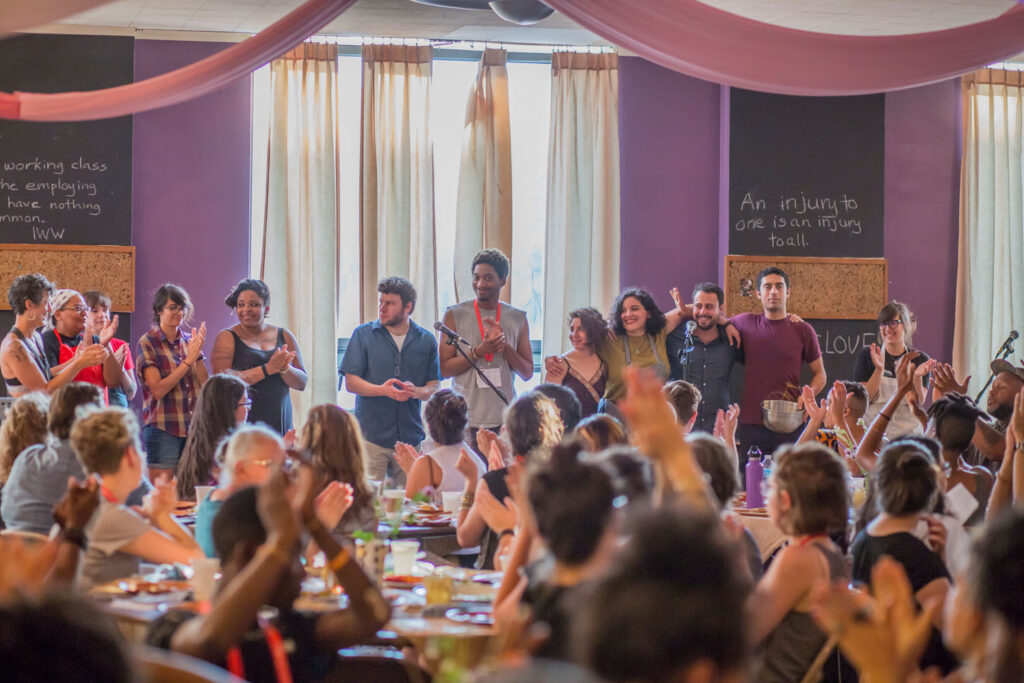 The Iraqi Transnational Collective had the opportunity to attend the Allied Media Conference as a delegation for the first time. Our newly formed organization is the first of its kind: a transnational movement of Iraqis connecting our communities, working towards an equal and just Iraq and a world free of oppression. Many of our members from across the United States gathered at the AMC, attending workshops and getting to know one another on a more personal level. We finally had the opportunity to meet and discuss our goals and projects in person rather than on Skype or Google Chat.
Our culminating delegation project for the AMC was to produce an Iraqi educational community dinner that took place on Saturday, June 18th. Our dinner, "Bil Afiya: A Community Feast", included an all-Iraqi menu, along with educational and cultural segments that helped us share more about our organization and work with the AMC community. Based on donations collected at the event, we were able to raise and deliver nearly $300 to support an important grassroots organization in Iraq – the Organization of Women's Freedom in Iraq – which creates safe spaces and political education programs all over Iraq for women who have experienced various forms of violence.
---
We are excited to host groups from all over interested in enriching their AMC experience by navigating it together as a delegation. We strongly encourage groups to plan well in advance to make the best experience for their group. Stay tuned for the launch of the AMC delegations application in Spring 2017. Make sure you're subscribed to our newsletter and follow us on Twitter and Facebook for updates.