The Detroit Future Media Guide to Digital Literacy
The Detroit Future Media Guide to Digital Literacy is out! This beautifully designed guide presents reflections and resources from three years of media-based organizing for community revitalization through the Detroit Future Media program.
The 72-page guidebook introduces the concept of "digital literacy" and its role in community revitalization. It provides a history of the Detroit Future Media program and its impact, core ideas, program structure, and curriculum samples for you to use and adapt.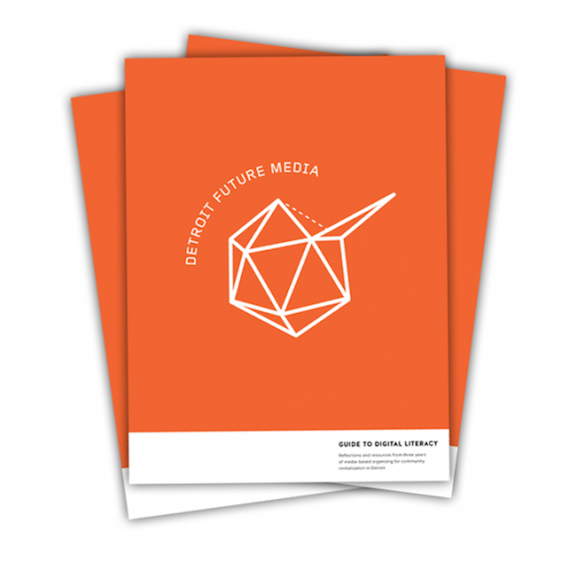 CLICK HERE TO PURCHASE THE DFM GUIDE!
From 2011 – 2013, Allied Media Projects produced Detroit Future Media (DFM), an intensive digital literacy training program to support Detroit's revitalization. Supported by a federal broadband adoption grant, the DFM program was presented in three 20-week "rounds" of training, each of which were preceded by curriculum planning and followed by a period of evaluation. Through program evaluation during and following each DFM round, we were able to make modifications to the training approach to meet the needs of as many students as possible and maximize the impact of DFM on Detroit's revitalization.
The goal of the Detroit Future Media Guide to Digital Literacy is to make DFM's approach to digital literacy "open source" for other communities to use and adapt. The guide presents a history of Detroit Future Media, the theory and vision behind the program, program structure and selected curriculum, and documentation of program outcomes. Profiles of our extraordinary DFM students and instructors are presented throughout the guide.
Click here for a free download of the guide. To purchase printed copies, click here.
We appreciate your support!
Detroit Future Media flips the dominant paradigm of media and technology on its head: rather than foster isolated, individual consumers, we use media and technology as pathways for communities to connect with each other.
The purpose of digital literacy within the context of Detroit Future Media was to support revitalization of Detroit communities. Towards this end, the DFM curriculum taught digital media skills alongside entrepreneurship, education, and community organizing skills. The program prioritized relationship-building and intensive media training for community leaders who then brought their new knowledge and expertise back to their communities, creating ripple effects that reached thousands of Detroiters.
The DFM program graduated more than 100 "Detroit Futurists" – people who are committed to using media to foster a more just, creative and collaborative city, and who have the skills to do so. Some built websites for their community organizations, which previously had no online presence. Some made documentaries about long-overlooked issues of injustice in their neighborhoods. Others created websites and logos for their brand new businesses. A few groups have begun building wireless networks to expand Internet access in their neighborhoods. One DFM graduate, Raquel Castaneda-Lopez, ran for Detroit City Council and won, becoming Detroit's first Latina council member.
Digital literacy is the ability to effectively and critically navigate, evaluate, and create information using a range of digital technologies. Our grant through the Broadband Technology Opportunities Program of the National Telecommunications Information Agency (NTIA) mandated that we expand broadband Internet adoption in underserved communities. We found that by anchoring the purpose of digital literacy in community revitalization, we were able to address one of the three most significant barriers to broadband adoption, as defined by the NTIA: relevance. By training small cohorts of people who were already active in their communities, we generated ripple effects that traveled far beyond the individuals we trained. By prioritizing relationship-building alongside the development of technical skills we successfully strengthened and expanded a network of small-scale community-based activities, which together, are creating a large-scale city-wide impact. Profiles of our Detroit Futurists, scattered throughout the guide, help convey the breadth and depth of this impact.
Alongside the leaders and media products to have come out of DFM, AMP has honed a modular curriculum and program structure that can be replicated in whole or broken into parts to meet the specific needs of a community. We are thrilled to be able to share the story of the DFM program the curriculum and the theories and practices that shaped it, and the outcomes it generated. We invite you to purchase a print copy here.

★ ★ ★ ★ ★ ★ ★ ★ ★

Keep us going and growing: Sign-up to be an AMP sustainer!