Guidelines for Equitable Open Data
Words by Jessica McInchak, Detroit Community Technology Project
Since the City of Detroit launched the Open Data Portal and GO DATA policy initiative in 2015, the Detroit Digital Justice Coalition (DDJC) and Detroit Community Technology Project (DCTP) have been exploring how to advance equitable practices for collecting, disseminating and using open data. By equitable practices, we mean accountable, ethical uses of public information for social good that actively resists the criminalization and surveillance of low income communities, people of color and other targeted communities.
In order to understand what equitable open data practices could look like in the City of Detroit, we asked a broad spectrum of Detroit residents to consider the potential benefits and harms of various data sets currently available on the City's Open Data Portal, a website that offers access to data and information concerning City government operations and service delivery. From there, we assessed what actions can be taken by the City to maximize benefits and minimize harms, and investigated open data policies and tools in place in other cities that model our vision for data justice.
The guidelines we offer below are the outcome of our research and outline how the City of Detroit's Department of Innovation and Technology (DoIT) and other stewards of public information, in Detroit and beyond, can adopt and implement equitable open data practices.
We hope the guidelines will:
Prompt critical conversations and questions
Guide feature enhancements to Detroit's data portal
Inform policy provisions to improve how institutions collect, disseminate and use open data
We anticipate that our guidelines, and the research that has shaped them, will continue to grow and evolve as we continue organizing around equitable open data. We welcome feedback and your ideas at communitytech@alliedmedia.org.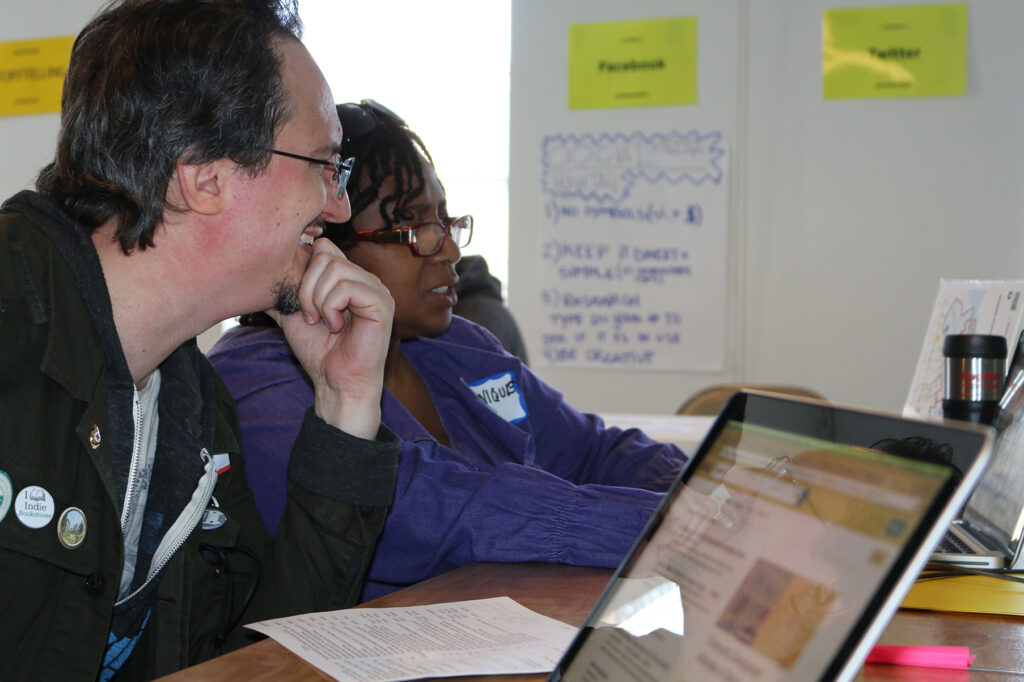 Guidelines for Equitable Open Data in Detroit
Our recommended Guidelines for Equitable Open Data in Detroit include the following:
Protect the people represented by the numbers
Do not retain personal information tied to accessing City services
Publish data about all City services, even for privatized "public" services
Prioritize the release of new datasets based on community interest
Increase transparency around how data sets are defined and processed
Engage residents offline about open data
Give the public a head's up about plans for new data set releases and portal improvements so that we can be prepared to engage
Read the Full Report
You can read a detailed presentation of the Guidelines in the full Data Justice Report available on GitHub. The report includes key takeaways from our research, an overview of our research strategies, and access to resources for adapting our strategies.
The report explores the following questions:
What should Detroit residents be aware of when it comes to open data?
What are the perceived benefits and harms of open data to residents?
How can we inform all residents and educate our communities about open data?
What can we learn from other cities? What types of open data policies, portals and practices do they have in place?
What does participatory and democratic governance of open data look like, and how can we help to facilitate it here in Detroit?
Our Data Bodies
This past year, DCTP launched a local data justice campaign as part of a two-year participatory national research project, "Our Data Bodies," supported by the New America Foundation. Similar to the Guidelines for Equitable Open Data, our research with Our Data Bodies poses the question: How do we minimize the potential harms of our interactions with data and technology?
In 2017 we will gather takeaways from our own research in Detroit, and our community partners' research in Charlotte, NC and Los Angeles, CA, to produce a popular education guide about the challenges and opportunities associated with open data in low to moderate income communities. We will also host ongoing Data DiscoTechs and focus groups in Detroit to examine the interactions between data and community issues such as water shutoffs and housing. Learn more about this work on our website and follow us on Facebook, Twitter, and Instagram for information about upcoming Data DiscoTechs!