Help sustain our work through 2020!
Words by Allied Media Projects
To our beautiful community,
In 2019, you were a part of the most significant growth in our organization's history.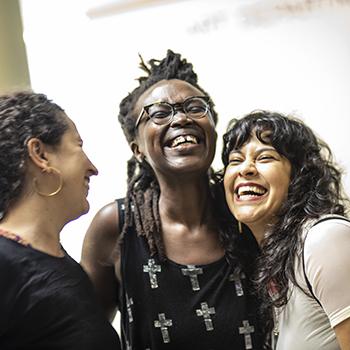 After our largest conference ever in 2018, you cheered when the AMC emerged from a Year in Chrysalis with a new shape and clarified purpose. 
You supported our garden of Sponsored Projects – brilliant people using media, art, and technology for social justice all over the country – as it blossomed into a network of nearly 140 projects through word of mouth alone.
You offered accountability and encouragement when we announced plans to make the LOVE Building our new home, with dreams of providing space that is centrally located, accessible, and wildly beautiful to Detroit artists and activists. We can't wait to announce more in 2020.
By inviting artists, writers and facilitators into your schools and communities, you supported major development of the AMP Speakers Bureau, which features artists, authors and facilitators doing transformative workshops, speeches, and engagements in locations all around the world.
With the growth AMP has experienced, there is tremendous opportunity and risk. To ensure that we grow strategically, sustainably and in alignment with mission and principles, AMP needs dedicated time and resources for institutional strengthening. You can ensure a sustainable future for AMP in 2020 and beyond.
Your support allows us to continue the work of our Sponsored Projects Program, Speakers Bureau, Allied Media Conference, and more.
Your gift of $5, $20, or $100 amplifies the power of people and projects engaging in personal, collective, and systemic transformation to create the world we need.
Donate
The convening space, training, resources, and back-end infrastructure AMP provides has contributed to an international and thriving media ecosystem over the past 20 years. Ensuring the health, security, and durability of that ecosystem remains vital.
Before the year is over, please give as generously as you can, so that in 2020 we can continue making the radical, practical.
In gratitude and in solidarity,
Allied Media Projects
---
Donate to Allied Media Projects