Hiring: Co-Director for Detroit Narrative Agency (DNA)
Words by Detroit Narrative Agency
About Us
The stories we tell about a place form a kind of DNA– shaping what that place is and what it can become. The Detroit Narrative Agency (DNA) incubates quality and compelling stories with an ecosystem of community members, storytellers, mediamakers, and organizers, that shift the dominant narratives about Detroit towards liberation and justice.
Detroit Narrative Agency is re-shaping its fellowship program and is seeking a collaborative, experienced, and visionary Co-Director to help design the framework and programming for the next 3-5 years of DNA. Additionally, the co-director will help shape the DNA Advisory Board, support the new program's day-to-day operations, and hire and manage additional staff.
DNA's purpose is to:
Support the creation of stories by Detroit communities* that advance liberation and justice. (*Prioritizing Black, Brown, Indigenous, Lifelong/Longtime, Immigrant, Disabled, Poor/Working Class, Trans*, Non-Binary, Women and Femme Detroiters.)
Grow a local and national ecosystem of community organizers, storytellers, and film/media makers working in tandem to tell Detroit stories that address systemic inequities and build power.
Offer storytellers opportunities to cultivate the craft of storytelling.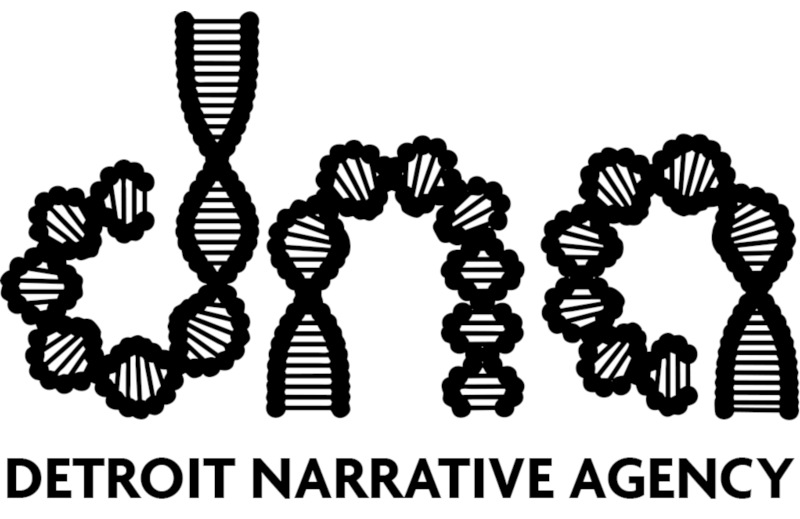 About the Co-Director Role
The ideal co-director for DNA is confident in their leadership experience managing successful arts/media programs grounded in community justice. They are ready to jump in, ask questions and make suggestions. They listen well. They bring their network and passions into the work they do. They take care of their health and well-being in such a way that allows them the best opportunity to be present for the work. They treasure other people's stories. While we appreciate all applicant capabilities, experience in administrative leadership is a requirement of the position.
Core Functions
Help design and implement DNA's structure and programming for the next 3-5 years.
Working closely with DNA's current director, and selected community advisors, participate in the DNA 2019 learning journey which will review information from partners, fellows and community members following the completion of the first round of projects.
Distill insights that emerge from the learning journey into programmatic plans for the future of DNA.
Co-lead strategic planning to ensure that DNA can successfully fulfill its Mission and Vision into the future.
Engage in ongoing program evaluation and professional development to ensure success and growth of DNA programming.
Implement DNA's programs that carry out the organization's mission.
Shape and support the DNA Advisory BoardDevelop, maintain, and support a strong DNA Advisory Board.
Work with the DNA Advisory Board to ensure that the mission and vision is fulfilled through programs, partnerships, strategic planning, and critical community connections.
Communicate effectively with the Advisory Board and provide, in a timely and accurate manner, all information necessary for the Advisory Board to function properly and to make informed decisions.
Build processes for DNA's day-to-day operations
Co-design and implement appropriate structure, processes, practices, systems and resources to ensure effective operations of the organization.
Oversee hiring, management, coaching, development, and retention of competent, qualified staff, temporary staff, and vendors.
Develop systems for the organization of DNA data, including program documentation, partnership, ecosystem database, participant information, etc.
Develop a healthy work culture that models these attributes:
Safety – ensuring physical and emotional safety of all persons
Trustworthiness – maintaining appropriate boundaries and making tasks clear
Choice – prioritizing choice and agency
Collaboration – modeling a participative,collaborative leadership approach
Reliability – setting expectations for following through on commitments
Oversee DNA Fiscal Management
Develop an annual DNA budget in partnership with the current DNA Director and AMP staff.
Develop resources sufficient to ensure the financial health of the organization along with the current DNA Director and AMP Development Staff. This includes building relationship with funders, donors, and developing earned revenue strategies.
Oversee daily income and expenses, operating within the approved budget, ensuring maximum resource utilization, and maintaining a positive financial position.
Developing Community and Field Relationships
Develop strong relationships with community organizations, field organizations, and others integral to the success of DNA's mission.
Maintain DNA's reliability and credibility by being active and visible in the community and by working closely with community partners.
Represent DNA locally and nationally at conferences, convenings, and other public engagement opportunities.
Qualifications
Strong organizational abilities including planning, delegating, and program development
Facilitative, transparent, collaborative and high integrity leadership
An extensive understanding and commitment to learn and practice Social Justice values (Including Racial Justice, Gender Justice, Disability Justice, Decolonization, etc.)
Demonstrated experience with organizing systems, practices and processes that make a healthy work culture and production of excellence possible.
Good facilitation, group skills and comfort with public speaking.
Adept interpersonal skills to support working with a wide array of participants and partners of DNA.
Solid, hands-on, budget management skills, including budget preparation, analysis, decision-making, data management, both qualitative and quantitative and reporting for maintaining organizational fiscal health.
Ability to convey a vision of DNA's strategic future to staff, Advisory Board, volunteers, partners, community members, and donors.
Knowledge of fundraising strategies and donor relations unique to arts and social justice nonprofits.
Strong written and oral communication skills.
Experience with designing and facilitating effective workshops and meetings.
Clear, concise, dynamic communication skills.
In-depth familiarity with Google applications (forms, drive, docs, sheets) and Microsoft Office.
Familiarity with grant-writing and administration of grants.
A passion to steward the guiding values of Detroit Narrative Agency (above).
A working knowledge of Detroit, and a a great love for Detroit communities!
The salary range for this full-time position is between $55,000 – $75,000, commensurate with qualifications and experience. AMP employees enjoy a generous benefits package that includes full medical benefits with dental and vision, an employer-matching retirement plan, and technology stipend. The position is based at DNA's offices in Detroit, housed at DNA's fiscal sponsor, Allied Media Projects.
If you think this position is for you, please apply by submitting a resume and cover letter to work@alliedmedia.org no later than 11:59 PM Sunday, April 21st, 2019.
DNA encourages applicants who are Black, Brown, Indigenous, Lifelong/Longtime, Immigrant, Disabled, Poor/Working Class, Trans*, Non-Binary, Women and Femme Detroiters. If this is you, know that your contributions and leadership are especially valuable at DNA.
Allied Media Projects is an Equal Opportunity Employer and does not discriminate on the basis of race, creed, color, gender, gender identity, gender expression, age, ethnicity, national origin, immigration status, sexual orientation, religion, HIV serostatus, disability, height, weight, veteran status or marital status.