How to Convince Your Employer to Send You to the AMC
Words by Allied Media Conference
Many people who attend the Allied Media Conference are funded by their employers to cover the costs of conference registration, housing, travel, and incidental expenses. At the AMC you will learn new skills, increase the visibility of your organization, and establish partnerships that will continue beyond the conference.
If you work at a non-profit, a for-profit, a university, or anywhere that provides resources for your professional development and networking, these talking points may help you make the case for the AMC. Please feel welcome to contact us at amc@alliedmedia.org if you need more details on what the AMC has to offer.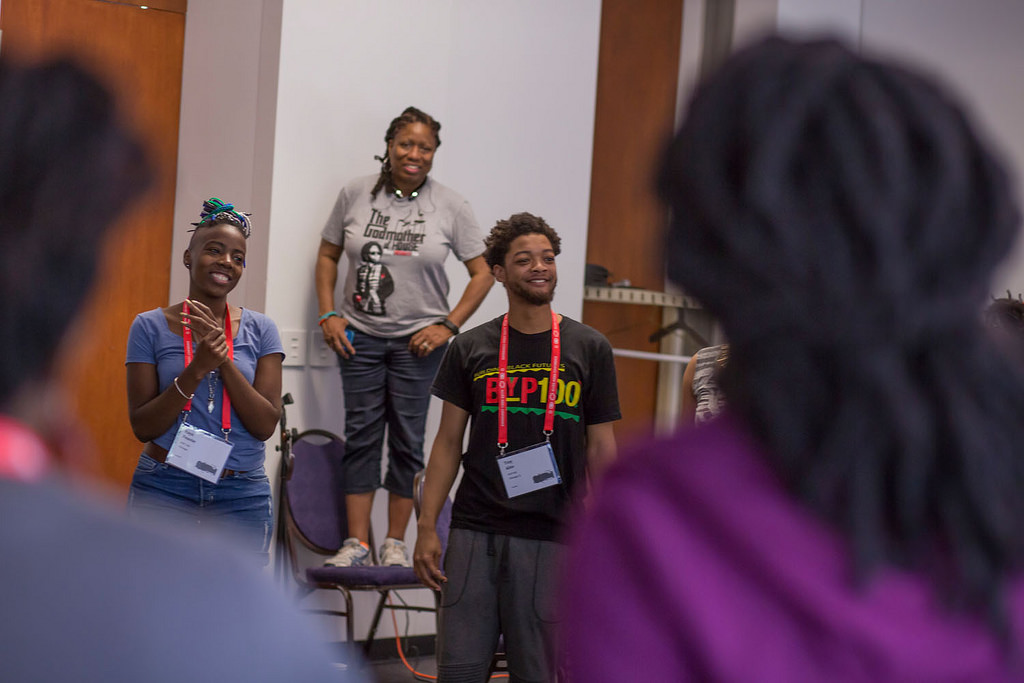 WHAT ARE SOME BENEFITS OF ATTENDING THE AMC?
Develop Your Leadership
The AMC offers the opportunity to build knowledge and expertise in:
group facilitation
youth leadership programming
collaborative design process
work planning and time management
asset-based leadership development
emergent strategy
cooperative leadership models
Improve Your Fundraising Skills
The AMC brings together fundraisers to share strategies and best practices. This year the "Resourcing and Sustaining Our Movements" track is dedicated to sharing grassroots fundraising and resource organizing strategies. Learn about:
donor relations
grant writing
sustainer campaigns
crowdfunding that builds community
saving circles
Learn the Practice of "Media-based Organizing"
The AMC teaches the practice of "media-based organizing" and brings these ideas to life, connecting participants with examples, projects and tools to apply to their own work. "Media-based organizing" is any collaborative process that uses media, art, or technology to address the roots of problems and advance holistic solutions towards a more just and creative world. Learn about:
community asset mapping
transmedia and interactive storytelling
integrating media into policy advocacy and research
pop-ed tools for engaging people across diverse backgrounds
participatory action research
collage-making
dance and DJing for social movements
Develop New Perspectives on Diversity and Inclusion
The AMC is a space to learn about the strategies and creative solutions emerging from underrepresented and marginalized communities. Learn about:
transgender oral history
youth empowerment through media
abundant bodies and fat activism
multilingual organizing
femme visibility and survival in the workplace
exploring dis/ability within community work
…and many other topics.
Understand Current Movements for Social Change
Each year the AMC is the convergence point of the most important organizing campaigns of the day. Connect with a dynamic range of creative change-makers confronting sexual violence and police brutality; advocating prison reform, abolition and decarceration; shifting narratives toward inclusion and justice; and leading the fight for online communication rights and access.
Improve Technical Skills
AMC participants gain hands-on experience in using new technologies for creative grassroots communications. At the AMC, learn about:
open-source web development
online organizing and project management tools
film/audio/visual production
how to create a video PSA or a podcast
survey design
data visualization in storytelling
creating a community digital archive
social media as a tool for activism
digital game development
Promote Your Work
Share and showcase your work to a network of over 2,500 technologists, artists, and activists. AMC participants are diverse, curious, and passionate about media that supports more just, creative, and collaborative communities. Promote your organization by tabling at the AMC.
To get a feel for what makes the AMC one of the most dynamic conferences in the country, check out this video:
RESOURCES
Need help drafting a request letter to your employer? Use our sample letter as a starting point. This letter includes language for making the case for the AMC and helps you calculate your estimated costs.
Some employers require letters of invitation from the AMC to confirm their employee's attendance. Please ask us for a personalized letter of invitation by emailing amc@alliedmedia.org. See a sample letter of invitation here.
Learn more about registration rates here.
Read our AMC2017 social media recap and browse last year's program book for an idea of the broad range of workshops offered and presenters who come to the AMC.
TESTIMONIALS
"Rather than the typical transactional networking space, participants were ready to dig in, get vulnerable, and make lasting connections. AMC seems to prioritize relationships – ensuring everyone is seen and included over emphasizing status, who you know, and what you have to offer."
"As a first-time AMC-goer, I was blown away: an activist gathering where being young, queer, left, gender nonconforming disabled, of color, of size, and a geek are all seen as forms of expertise rather than limitations."
"My favorite sessions were the ones that went in depth with an issue we are almost all very familiar with instead of just scratching the surface. My favorite sessions also imparted concrete tools and examples of their practices."
"I learned to make stop motion videos and how to facilitate storytelling gatherings as a tool for visionary organizing."
"The AMC's definition of media as 'all the ways that you interact with the world' changed the way I engage in activism and how I communicate about my work to others. I try to be more inclusive and consider the interconnectivity of these varying definitions of 'media.'"