How We Organize the AMC zine (2015 Edition)
Words by AMC
Wondering how the Allied Media Conference comes together every year?
Get a behind the scenes look with the How We Organize the AMC (2015 Edition) zine.
The AMC began as the Midwest Zine Conference in 1999 and is now in its 17th year, with almost 2000 participants and growing!
The freshly updated How We Organize zine was first introduced in 2013 to tell the unique story of the conference's participatory organizing process. You are invited to use and reference the AMC organizing process and practices described in this zine when producing your own events. If you do adopt one of our practices, please make sure to attribute their origination to the Allied Media Conference.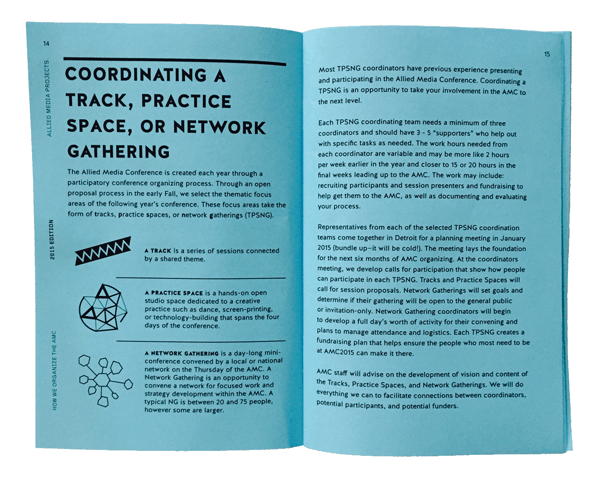 The 2015 edition of the zine, designed by The Work Dept, includes updated tools for coordinating sessions, working with presenters, conference logistics, and fundraising – all the things that make the AMC come alive every summer. The zine showcases how the AMC is organized through "tracks, practice spaces, and network gatherings" and includes practical tips, best practices, and informative diagrams on the conference organizing cycle.
We hope the collective wisdom contained within this zine strengthens our ability to keep producing the best AMC ever, every year.
Purchase a print copy of the zine.