Introducing the "Teaching Community Technology Handbook"
Words by Detroit Community Technology Project
The Detroit Community Technology Project (DCTP) is excited to present the "Teaching Community Technology Handbook". This 100+ page handbook will take you through the history of popular education while offering a step-by-step guide to developing community rooted technology workshops and curricula. The handbook introduces Community Technology as a series of educational practices, combining theories and methods by Paulo Freire, Myles Horton, Grace Lee Boggs, Bernice McCarthy, Susan Morris, Grant P Wiggins, and Jay McTighe.
Community technology is a method of teaching and learning about technology with the goal of restoring relationships and healing neighborhoods. Community technologists are those who have the desire to build, design and facilitate a healthy integration of technology into people's lives and communities.
DCTP was commissioned to produce the book by New America's Resilient Communities Program in partnership with New York Economic Development Corporation's RISE NYC Program. DCTP launched the Teaching Community Technology Handbook for public use internationally at the Mozilla Festival in Ravensbourne College, London in October.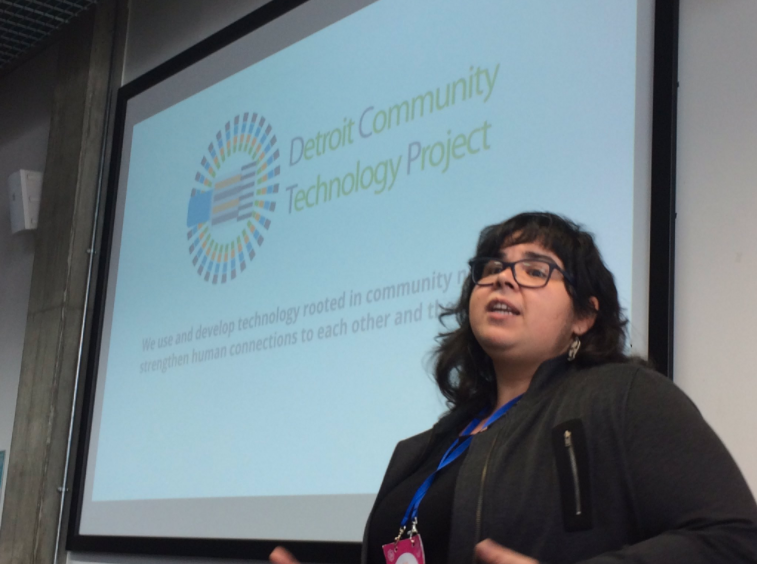 Why Teach Community Technology?
"We never know how our small activities will affect others through the invisible fabric of our connectedness. In this exquisitely connected world, it's never a question of 'critical mass.' It's always about critical connections."

Grace Lee Boggs
We produced this handbook because we recognized that having a particular skill doesn't necessarily mean you are equipped to teach it to others. Community Technology focuses on teaching strategies that can be employed to make the process of learning how to use and create technology more accessible and relevant. We believe sharing these teaching practices has the potential to diversify and shape technology fields to be more community-oriented.
We've learned from Boggs, Horton and Freire that the way in which we teach, along with who is teaching, has a great impact on how people learn. The roots of teaching and learning with communities traces back to the citizenship schools of the Civil Rights Movement. In the 1960s, racist policies targeting marginalized communities in the South, such as voter literacy tests, prevented Black people from voting in order to shape the future they wanted to see. Through citizenship "schools" thousands of African Americans in the South trained thousands of others to read and write. In this context, the purpose of literacy was to build the power of disenfranchised communities to fundamentally transform the power structures of the country.
Today, we live in an era where technology is interwoven with government, healthcare, social services and education. Yet digital literacy inequality is high – Detroit has one of the lowest rates of Internet access with 40% of households lacking Internet. Digital literacy is essential for people to access basic life needs. As cities shift towards data-driven development and wireless infrastructures, it is important to build the digital capacity of neighborhoods. The more that people know about the technology around them, the more they will be able to participate in shaping their environment.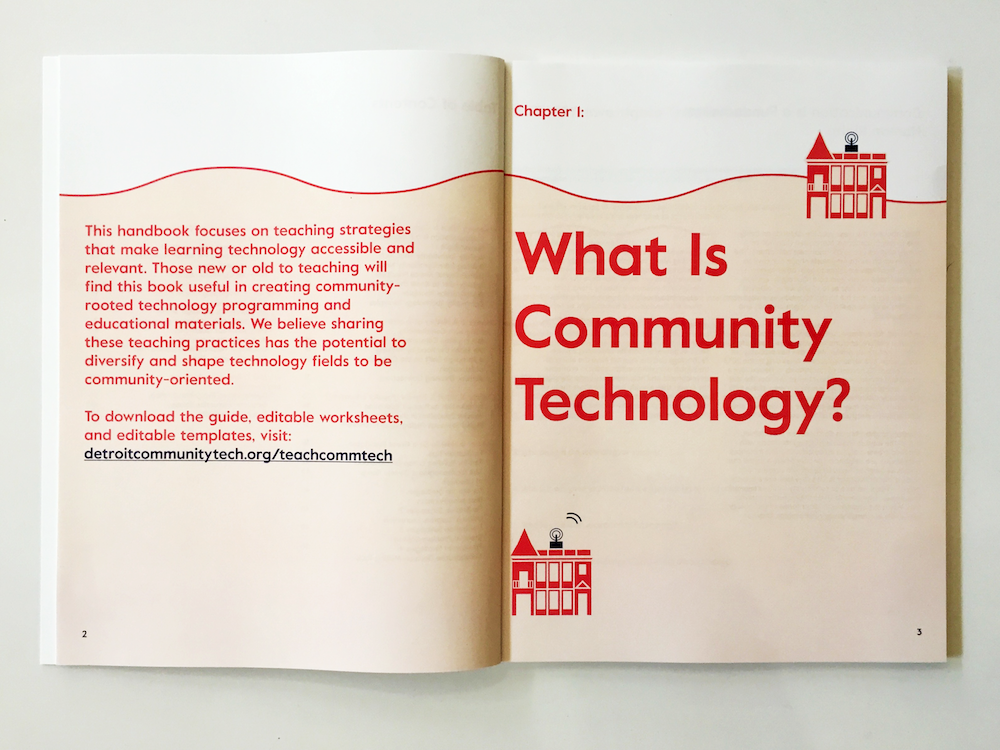 How to Use the Handbook
Whether you're a novice technology user who is interested in facilitating sessions on how to use a smartphone, an intermediate technology user who wants to teach people how to use hashtags, or an advanced technology user who is interested in designing interactive maps for community empowerment, this handbook provides tools, strategies and hands-on activities to support you in facilitating accessible workshops and programming.
DCTP has used the handbook to help grow digital stewards programming in Detroit through the Equitable Internet Initiative, and in New York with the RISE – NYC Resilient Communities program. Through customized trainings with community partners, we use the handbook to help build capacity in neighborhoods for others to be able to teach the digital stewards program.
Read and Share What You Learn!
You can download the Teaching Community Technology handbook here.
We have a limited number of printed handbooks available for those interested in learning about our community technology pedagogy, or educational practices. Visit our website and fill out the form, telling us how you plan to use the handbook and we will mail a copy to you!
Once you have had the opportunity to read and apply the techniques in this handbook, don't forget to share what you've learned on social media. Tell us about your favorite activities and lessons using the hashtag #TeachCommTech and tagging our @DetCommTech pages on Instagram, Facebook and Twitter.