News and updates from Detroit Community Technology Project
Words by Detroit Community Technology Project
Detroit Community Technology Project — one of AMP's founding Sponsored Projects — has undergone much growth and change over the last several months. Leadership transitions include Katie Hearn taking on the director position for DCTP overall; Tawana Petty becoming the director of Data Justice Programming, and Janice Gates becoming the director of EII Programming.
Through this organizational change, DCTP continues to work at the forefront of digital media education and community technology building. Detroit Community Technology Project — one of AMP's founding Sponsored Projects — has undergone much growth and change over the last several months.
Most recently, DCTP has been helping shape the public conversation around governmental use of mass surveillance and facial recognition technologies. It is an issue that is highly contested across the world, and more recently in Detroit.
Over the last three years, the city of Detroit has rapidly expanded its controversial Project Green Light program, which installs real-time camera connections at private businesses, streaming back to police department headquarters; there are now over 550 Project Greenlight partners, including gas stations, schools, churches, health centers, and various other types of institutions.
The most popular criticism is that this is not "real-time crime fighting" but surveillance. Such sentiment only increased when the city recently attempted to pass a formal policy to integrate facial-recognition technology into the program – technology that has been tested to have high rates of inaccuracy, especially for darker-skinned people, women and children. Going beyond issues of privacy, these inaccuracies increase the chances of racial profiling and the potential for rights violations.
Facial recognition technology has already been banned in Somerville, Massachusetts; and San Francisco and Oakland, California. What place does it have in a majority black city like Detroit?
We are proud to share DCTP's recently published critical summary of Project Greenlight, and its context in the wider conversation on surveillance and all people's right to privacy and due process in an increasingly surveilled world. This report was one of the first to make the connection between Project Green Light and facial recognition technology.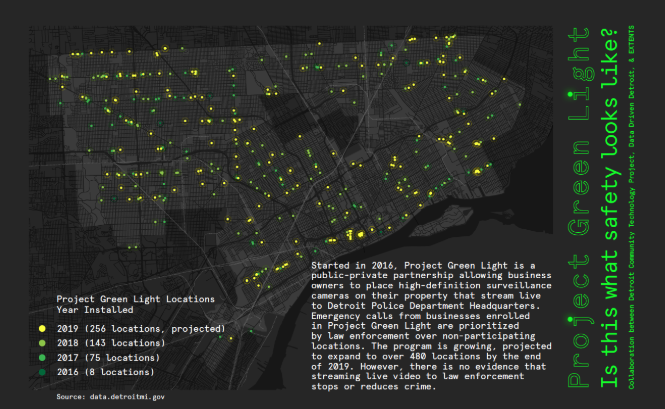 Get ready, stay ready
Want to stay informed on the issue?
DCTP has been involved in data justice and safety work for several years, notably co-leading the Our Data Bodies project. For further reading, beyond the recent report, we recommend the Our Data Bodies Playbook for activities, tools, tip sheets, and reflection pieces, to help you understand and address the impact of data-based technologies.
For more on Project Greenlight and facial recognition technology, check out Joy Buolamwimi's research at Gender Shades; and the Georgetown Law School reports Perpetual Line Up: Unregulated Police Face Recognition in America, and Garbage In, Garbage Out: Face Recognition on Flawed Data. Beyond Detroit, see Fight for the Future's interactive map that shows where surveillance is happening all over the United States.
Want to get involved?
In Michigan, you can support bipartisan efforts to ban this technology. Senators Stephanie Chang and Peter Lucido have called for a statewide ban. State Representatives Isaac Robinson, Sherry Gay Dagnogo, and Jewell Jones have called for a five year moratorium on police use of facial recognition technology.
This weeks, Representatives Yvette Clarke, Ayanna Pressley, and Rashida Tlaib have introduced the No Biometric Barriers to Housing Act.
Contact your legislators through house.michigan.gov/ and senate.mi.gov/.
You can also sign the DCTP-drafted petition to support these bills, here.
To stay updated on DCTP's work on this issue and much more, sign up for the project's mailing list and follow on social media via detroitcommunitytech.org.