Performance Art to Sustain our Movements: Tunde Olaniran Produces the AMC Opening Ceremony
Words by Nina Ignaczak
Flint native Tunde Olaniran has been a regular performer at the Allied Media Conference since 2014, and has produced AMC's Opening Ceremony since 2016. Over this time Olaniran's notoriety has grown, from his critically lauded and musically multifaceted album, Transgressor (2015), to a recent op-ed for the Washington Post on his hometown's ongoing water crisis. Tunde Olaniran will release his sophomore album this year.
Tunde's approach to the AMC Opening Ceremony brings forth an inspiring mix of conversations, performances, and visual art to welcome in the weekend. We caught up with Tunde to discuss his thoughts on producing this special event, the role of performance art in movement making, and his current inspirations.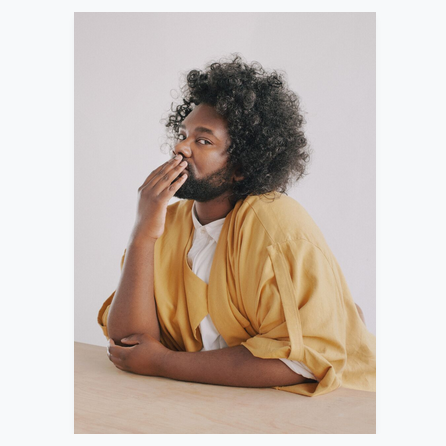 Congratulations on your success and your forthcoming new album. What can fans expect?
I will have a new single out right around the Allied Media Conference. The song is called, "I'm Here." And it's another lead-in to the album; it's a single that'll be out in June.
The new album itself is called Stranger. I love it; I think it builds on Transgressor, which is my last album. I think it takes a few steps into even more songwriting. A lot of the songs I feel like I wanted to be able to perform them, if I had to, with just a piano and vocals, and so I approached them like that, and then there are some cool production elements in the album. I think it works well as a full piece. We just got the final test print and it sounds great.
What inspires you to work with the Allied Media Conference?
You know, it was a really good step, because I left my full-time job in 2016, and I've wanted to pursue art full time. This kind of work is stuff that I want to continue to do – creative direction, art direction, and production, and to continue to explore choreography and photography. I co-directed and edited our next video for "I'm Here."
So, I'm just trying to expand the range of stuff that I can do as a creative. Because I want to be the 80-year-old who comes in with a cane and is producing a huge opera, I want to be that. I want to grow into that career and collect a lot of diverse production experiences, so the work on the AMC Opening Ceremony fits with my goals.
What goes into producing the opening ceremony for the AMC? What is your goal? What kind of experience are you trying to create for people?
You know, it's evolved. As a first year, I had no idea what I was doing. I hadn't been to an opening ceremony, and I think that they asked me to produce it because I like putting on a visually tight show. I think they wanted a very performative polished aspect to it.
I'm trying just to have a really happy, joyful, exciting, energizing experience for people as they come to the AMC. Everyone's here, everyone's been working on different issues, some for years, so maybe this is their moment to enjoy the work that they've done but also just capture the energy as you go into the rest of the weekend.
I just want people to be smiling and happy. And, maybe recognize things they're passionate about happening on stage. I like to have some surprises for people.
This year, since it's the 20th anniversary, we are trying to look back at the history of the AMC and also look forward to the future of AMC. So, hopefully, people see a lot of themselves in our look-back and get excited about perspectives on the future of AMC.
What are your thoughts about the role of performance art in AMP's mission of media-based organizing?
I think a lot of people attending AMC are performance artists. So, it's important to recognize the work that they do as being a part of movement building.
Performance art is a way to disrupt and interrogate existing social conditions, institutions, and power structures. But I also feel like it's a way for the people that create it, and the audience, or people that see it or watch it, to explore and then celebrate narratives that have been oversimplified, or marginalized, or erased.
I think people that are creating performance art often have been told that their experiences and perspectives aren't needed. The act of developing performance art is liberating and healing. Things come out in the performance that you didn't even intend for.
Who are some of the artists today that inspire you as performers using their platform to advance a social cause?
Honestly, I don't personally seek out art just because of advancing a specific social cause. I seek it out if it touches something inside of me, or teaches me something new about the world or myself, or makes me think about something that happened before. I think that's really powerful.
Sometimes, I think people who are doing a performance don't have a specific goal of advancing a social cause, but they do anyway.
I am obsessed with this artist named SOPHIE. She's this producer who was mysterious for a long time, like you kind of had no idea what she looked like.
But the music and production – it just slaps you in the face. It really inspired me. I'm like, "Wow, who is this person?" The way that they're tearing apart pop music genre, was really, really wild to me.
Now she's doing her own music and showing her face, and it's like, "Wow, this person doesn't look anything like anyone thought they would." And, I'll be like, "Is this a trans woman?"
She just came out with such a good song called, "Face Shopping" and the lyrics are, "My face is the front of shop. My face is the real shop front. My shop is the face I front. I'm real when I shop my face."
And it's just so cool to know that in a world where we're kind of obsessed with Kanye, we have so many artists that are breaking boundaries in terms of genres and performance and visuals that you can support and engage with that are amazing. I just feel like, "Cheer up, if you don't feel like you can rap with Kanye at this point in time, there's a ton of artists out there."
There are so many people out there, and if we uplift them, I think you'll have a lot more fun. So when you come to AMC, seek out the things that are really inspiring, I think you'll have an amazing time while you're here.
---
Free and open to the public, the AMC2018 Opening Ceremony won't be one to miss. It will feature a conversation with Tarana Burke, founder of the 'me too.' Movement, in conversation with Mariame Kaba, founder and director of Project NIA. Performances by Detroit's RV Mendoza, The Aadizookaan and other guests, the AMC's Opening Ceremony will fuel our hearts and minds as we enter a third decade of media-based organizing for a more just and creative world. The event takes place at the Detroit Film Theatre inside the Detroit Institute of Arts on
Friday, June 15, at 6:30 PM.