Propose a Session for AMC2015
Words by Allied Media Projects
It's that time of year again! We're coming up on the 17th annual Allied Media Conference, June 18 – 22 in Detroit, and we need your ideas to make this year's conference the best yet. Artists, designers, technologists, policy advocates, media enthusiasts: we encourage you to submit a session proposal!
Submit your session proposal by filling out this form. The deadline to submit your idea is March 2, 2015 March 5, 2015.
Sessions may be proposed under one of the conference's 19 unique "tracks" and "practice spaces". An AMC track is a series of sessions connected by a shared theme. An AMC practice space is a hands-on open studio space dedicated to a creative practice such as dance, screen-printing, or technology-building that spans the four days of the conference.
If you have questions about the track and practices spaces and which might be a best fit for your session, please reach out to amc@alliedmedia.org. The themes and practices covered by this year's tracks and practice spaces are wide ranging, if however you do not think your session proposal fits with any of these, you can propose a session under or can be included in the "General Track."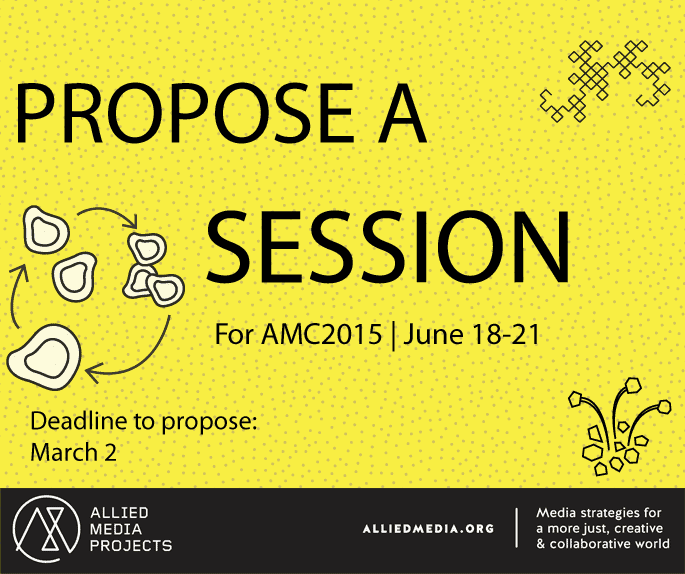 So what makes a good AMC session?
A clear connection to media-based organizing. "Media-based organizing" is any collaborative process that uses media, art, or technology to address the roots of problems and advance holistic solutions towards a more just and creative world.
Explores solutions that span the internal, interpersonal, and systemic dimensions of a problem.Hands-on, creative, imaginative, and fun.
Result in tangible resources and strategic next steps.
Values the expertise of people most impacted by a problem to solve that problem.
Creates collaboration and connection. We love AMC sessions designed by multiple organizations or individuals, and that connect to an ongoing organizing process that extends beyond the conference. While collaboration is encouraged, we also welcome workshops from individuals and groups.
Accessibility for people of diverse abilities, experiences, ages, and backgrounds. Uses clear language and activities that are accessible to people of all abilities.
Offers a range of learning opportunities: from beginner to advanced.
Never presented at a conference before?
We still want to hear from you! We encourage proposals from groups who don't often attend conferences and we are prepared to support you to lead an awesome session. Please feel free to review our presenter guidelines zine for a general overview of what we are looking for. We invite you to contact us to discuss your session idea.
We will be hosting two information sessions on "Proposing AMC Sessions" on February 3 at 5:00 p.m. EST; and March 1 at 6:00 p.m. EST. Follow us on Twitter, Facebook, or sign-up for our newsletter to get updates!
Please share this call for AMC session with your networks! We can't wait to hear your ideas for making this year's AMC a transformative experience for all.