Thank you, Diana!
Words by Allied Media Projects
A celebration of Diana Nucera and her work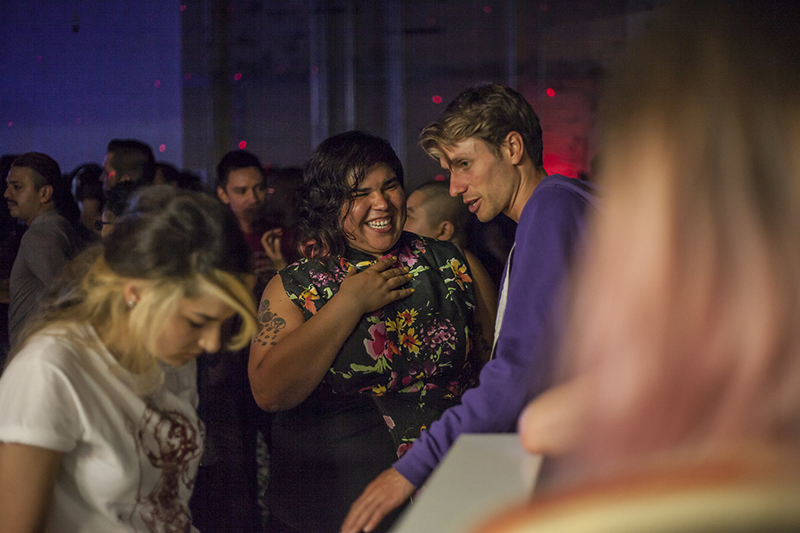 Diana Nucera — founder and former director of the Detroit Community Technology Project (DCTP), former co-director of Allied Media Projects, and a transformative leader with deep history in our organization — is moving on from her work at AMP.
Diana has played many pivotal roles inside AMP, touching nearly every aspect of the organization. We will miss her keen insight and generosity of spirit, her badassery and her brains. We say goodbye with deep love and good luck energy for her future endeavors.
Diana founded DCTP in 2014 to incubate community technology: technology that is responsive to community need and that strengthens human connections to each other and the planet. Through the development of teaching materials and organizing models, she helped incubate dozens of community wireless networks in Detroit and globally. The Teaching Community Technology Handbook, (Re)Building Technology Zines Volumes 1 & 2, and Opening Data Zine are just a few of the publications she authored, co-authored, and edited. Most recently, she was recognized with a prestigious Kresge Arts fellowship in the literary arts category to further pursue tech zine publishing.
Diana led the formation of the Equitable Internet Initiative, which has become a national model for how neighborhood-based Internet Service Providers can counter digital redlining and grow community power, while prioritizing digital safety and consent.
Diana's history with AMP runs all the way to the beginning of the Allied Media Conference. As a teenager, she attended the very first AMC (then the Midwest Zine Conference) in Bowling Green, OH in 1999; and later founded the AMC Media Lab and "How-To" Track, while serving on the first advisory board for the conference from 2006 – 2009. As a founding member of the Detroit Digital Justice Coalition, she co-developed the DiscoTech (Discovering Technology fair) model of digital media education and engagement that has since been replicated in dozens of communities across the globe.
She was a co-director of Allied Media Projects during the height of the organization's expansion from 2010 to 2013, following the award of a multi-million dollar federal grant. During that period she was responsible for designing and leading the digital media arts training program, Detroit Future Media, which graduated over 100 community media makers with advanced skills and a deep network of relationships.
Diana's other claims to fame over the course of her tenure at AMP include: curating AMC@Night showcases; pioneering the "baby rave" aka Kids Party; leading pre-AMC Seancés to cast spells of good vibes and protection; and hard-wiring a love for karaoke into AMP's organizational culture.
Diana's unique scientist-artist-organizer mind and her great capacity for fostering joy will be deeply missed at AMP. We wish her the best in her next journeys of work with her artist alter-ego Mother Cyborg and her AMP sponsored project, The Peoples Guide to AI. As a tribute to Diana, AMP staff and some of her longtime collaborators have created this playlist, mixed by DJ Mike Medow.
Thank you for your magic, Diana. We hope to see you in your abundant garden or on a liberatory dancefloor, soon.
Please stay tuned for more about the new leadership at DCTP, and upcoming announcements as they embark on the next chapter of advancing the human right to communication.