Wisdom from Morgan Willis
At the end of July, the inimitable Morgan Mann Willis celebrated their last day as the Associate Director of Allied Media Projects. Morgan began in 2012 as the Allied Media Conference Content Coordinator.
Morgan, you singular unicorn! We will miss your presence in our day to day, but cheer your next steps.
Given Mo's singular voice, we thought it most fitting to share their goodbye letter, excerpted below:
If there is anything that I feel inspired to say on my way out of the door, it is this: AMP's media-based organizers are already creating solutions to problems we currently face in Detroit, this country and the world. (This is a version of my favorite Network Principle.) Let me say that again: our community is already hard at work. We are not in a moment where we need to start from scratch. We are not stuck in rhetoric, theory or hopelessness. We have clear ideas. We have practices that create demonstrable shifts. We have principles and approaches that yield beautiful, essential tools and unyielding resistance. We can create the world we need and we are doing it now. Our stories belong to us and we can use them to fuel our movements, oppose destructive forces and offer new ways of being. At AMP, our actions are making that possible through the conference, our Sponsored Projects program and in the vision of the Love Building. It's hard to individualize accomplishments within this mold – I am honored to be a builder among builders.

Working at AMP has offered me evidence that my wildest dreams don't have to live in silos. It has allowed me to become a better version of myself personally and professionally. It has turned me into a razor sharp organizational strategist, big picture producer and more effective leader. It has asked me to build my weaknesses into proficiencies and my strengths into commitments. I am leaving far better than I arrived, more inspired and most importantly, with a clear vision of what community-driven power can inspire. The people who are AMP's heart and soul — especially Detroiters, queer and trans folks, Black, brown and Indigenous folks, im/migrants, parents, youth, diy techies, dancers, disability justice organizers, water warriors, chefs, archivists, space makers, healers, artists (and on) are unshakeable proof that we will find brilliant ways to survive over and over again.

In my next act, the bulk of my time will go to writing, creative collaborations, continuing to build with bklyn boihood and starting a family. I will continue supporting organizations and projects as an independent consultant. My focus will be on developing resilient programs and strong teams using gatherings, trainings and multi-media toolkits. I am looking forward to it all and can't wait to share updates with my beloved community.

It has been an honor to build bridges with you and to voyage into the glittery depths (and heights!) of Unicornville.

Infinite thanks for your role in this powerful ecosystem."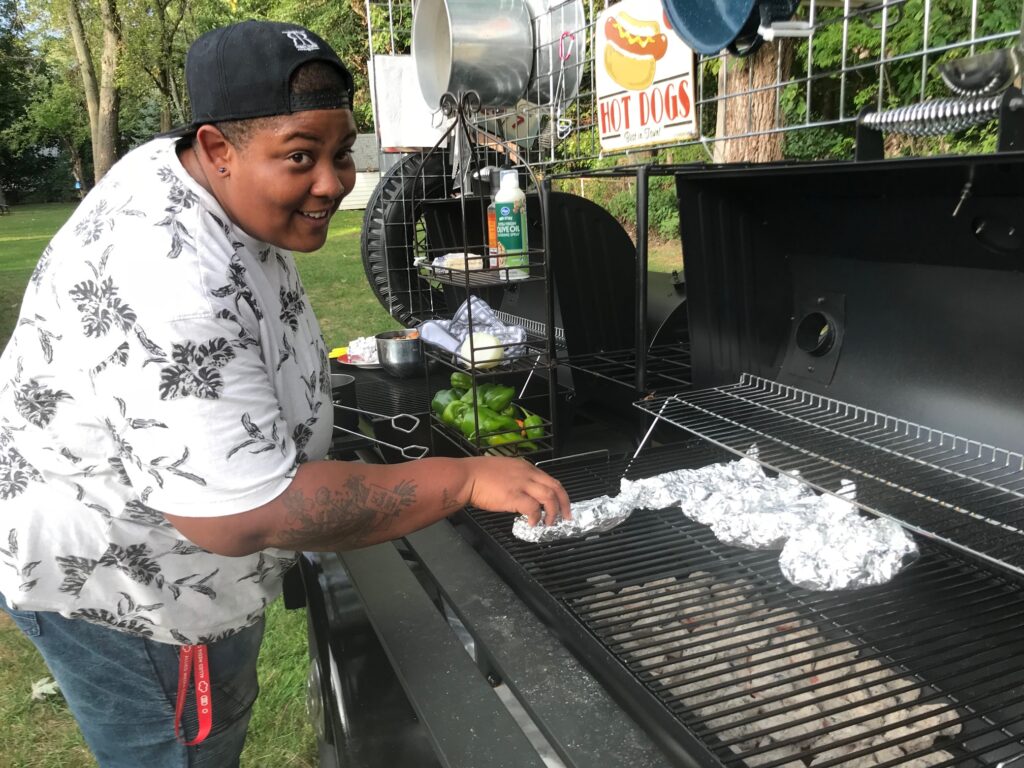 To celebrate eight years of Morgan Willis magic at AMP, we've published a zine, "The Book of Mo." We hope you enjoy reading and sharing this as much as we did making it — because everyone deserves a little more Mo wisdom and glow.
The Book of Mo: Reflections on eight years of Morgan Willis magic at Allied Media Projects Designed by Taylor Stewart.