Welcome to the 20th Allied Media Conference
Words by Allied Media Conference
Welcome allied media makers to the 20th annual Allied Media Conference!
Twenty years is a long time. Twenty years is no time at all.
Look at this from one angle: it's a swarm of full-grown butterflies. Look at it from another angle: it's a single chrysalis, both fully alive and yet-to-be-born at once. Whether this is your first AMC or your 20th, you are right on time and the best is yet to come.
The AMC you see today is the result of hundreds who, over two decades, did work to change what this is, and were changed by it.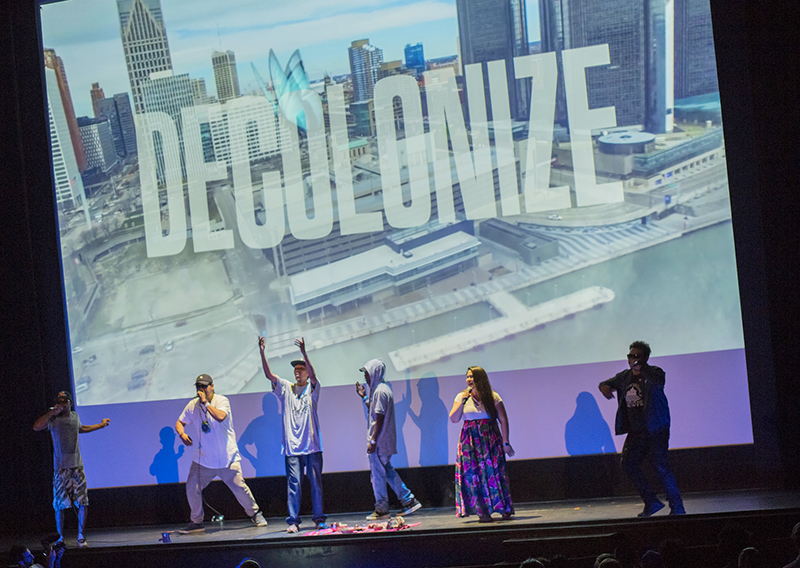 Over the past 20 years our media has changed from zines to radio, mesh networks, hashtags, algorithms, poetry, podcasts, fashion, and magic.
The solidarities and alliances nurtured here have multiplied: from DIY media makers to radical women of color bloggers, Detroit-Johannesburg youth media exchanges, networks of formerly incarcerated people and media justice activists, movement oral historians, radical lawyers, places of post-disaster resilience, and so much more.
And the way we come together has changed, incorporating practices like the Kids Track, and Healing Justice practice space that make it possible for more people to participate with their full selves. We've built four-day experiments that grew into year-round infrastructure in Detroit, like the MagicNet mesh network and Community Safety Team. This year, the seeds planted in past years' food-as-communication workshops and community dinners are blossoming into a full-blown AMC restaurant – the Dream Cafe – which will be serving local, delicious, liberatory food all weekend long.
We've also come together around evolving sets of ideas: "Do it yourself," "Sharing our tools, refusing the master's," "From truth to power because being right is not enough," "Our evolution beyond survival," "We are ready now," "We begin by listening," "We presume our power," "Get ready, stay ready."
And we have planted these ideas like seeds in places both familiar and strange: in books, networks, campaigns, city governments, foundations, and congressional halls. They circulate, change, and return to the AMC in new forms.
The AMC is the story of how one thing leads to another. It is a story in which no one is an object and everyone is the author of the reality we write together. If we can cast one spell over the next 20 years of this beautiful, living thing, let it always stay in a process of becoming, held by a multitude of loving hands
So say we all!
Jenny Lee
Executive Director
Register for the AMC
If you have not yet done so, now is the time! Walk-up registrations are welcomed at the AMC, but your check-in at the conference will be much faster if you have pre-registered online. Click on the link below to get started.
See you at AMC2018!