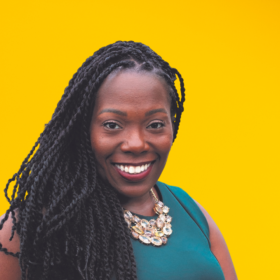 Shatona Holcomb
Director of People & Culture
While many people seek to master the playing field, she seeks to level it altogether. For Shatona Holcomb, work experience cultivator, HR extraordinaire and consultant, crafting the success of individuals and corporations alike comes easy. Her passion for people, professionalism and quality processes sets her apart from competitors large and small. With more than 15 years of experience in Human Resources, what started out as a career in college admissions has now blossomed into a full-blown brand of quality consulting, talent management and change management.
Nominated for Corp! Magazine Michigan's Most Valuable Millennial Award, Shatona has mastered the art of creatively leveraging her HR and business expertise to wear different hats well, aligning companies and individuals with limitless possibilities for success. As a catalyst of change, she strategically helps minorities learn their value—whether they're a solopreneur or a Fortune 500 Company CEO—positioning them for greatness long-term in their career. Best known for setting up solid processes and procedures for businesses of all levels, Shatona helps companies operate more efficiently and effectively, positioning them to retain satisfied employees and leaders longer.
Helping leaders of all levels leverage their career and gather the necessary tools to navigate their career more effectively, she has worked with students of all ages, empowering them to thrive in their corporate career and life in general. Committed to breaking racial, cultural and environmental barriers across multiple industries, Shatona has worked in every industry, from advertising and collegiate, to medical, hospitality and non-profits—making her a force to be reckoned with inside and outside the boardroom.