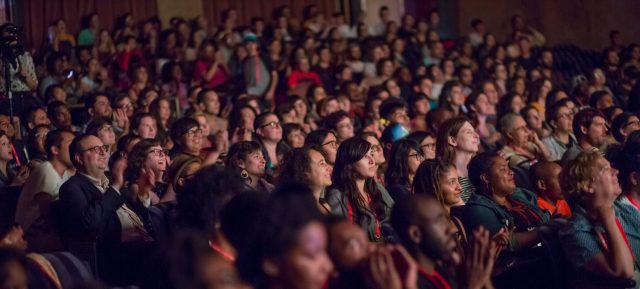 Allied Media Projects
Allied Media Projects cultivates media for liberation.  We are a network of people and projects, rooted in Detroit and connected to hundreds of other places across the globe. Allied Media Project (AMP) convenes its network of media makers through the Allied Media Conference, a gathering of several thousand changemakers. 
Role Overview
People come to the AMC to celebrate, strategize and share skills in media for liberation while modeling new worlds of care and possibility. As we continue to adapt to the growing need for a more accessible conference, the 2022 conference will take place in Detroit and online, June 30th – July 3rd, 2022. We are seeking a team of dedicated logistics professionals who will work closely with AMP to provide a seamless conference experience in Detroit while working closely with the online production team.
AMP strongly encourages proposals from Detroit based BIPOC led teams who can perform and/or manage the performance of all of the following services for AMC2022:
Secure all necessary venues and meeting rooms and serve as the point of contact for all conference facilities.
Secure partnerships with Detroit hotels and manage hotel blocks/ room lists for speakers and special guests
Manage and monitor the reservation system for Wayne State University dormitory housing, working closely with the AMC Registration Coordinator.
Secure and manage interconference transportation which includes shuttle transportation to and from the airport and transportation of AMC attendees to and from conference locations.
Negotiate and/or manage contracts + logistics for all catering; working with Wayne State University on beverage stations and all catering orders related to the conference.
Oversee the technical production of all Main Events, including AMC@Night, coordinating closely with AMC's virtual production partner, Wayne State University's A/V staff, and the AMC@Night Coordinator.
Coordinate staging, sound checks, run-of-shows, and all other production aspects of the plenaries and ceremonies
Manage supplies and room set-ups to ensure that all AMC Network Gatherings and Sessions' needs are met.
Design an overall site map and manage production and implementation of wayfinding signage.
Manage set-up and break-down of all conference facilities (with contracted professional movers).
Collaboratively work with other conference support staff to help foster a supportive and welcoming environment for all participants
The following services should NOT be included in responses to this RFP:
Graphic Design
Volunteer Management
Registration Management
Required Skills
Allied Media Project's seeks a team of people who have the following skills and/ or experience:
A proven track record of producing beautiful, accessible, and seamless large scale events
Extensive knowledge and experience with project management and implementation.
Strong verbal, organizational, collaboration, and facilitation skills — the ability to synthesize and distill information to inform the technological and experiential/participatory needs for the hybrid conference
Demonstrated strengths in problem-solving and attention to detail; approaching challenges from a solutions-oriented perspective
Experience leading and managing volunteers
Knowledge of the Allied Media Projects network
Timeline
Allied Media Conference will have a logistics partner in place to begin work by the end of August 2021. Our selected partner will work closely with AMC staff and coordinators from September 2021 thru mid-July 2022.
Submitting Your Proposal
Please include the following information in your proposal:
Organization Information:
Name
Primary Contact
Pronouns
Email
Phone
How long you have been providing event planning/logistics support
Case Study/Client referrals
Team details + bios
Case Statement
Why would you like to work with the Allied Media Conference?
How does Allied Media Projects mission and vision align with the work you do?
How would you approach the delivery of the services described above? (Provide a rough sketch of a workplan).
Financial Details
The total estimated cost of the contract including pricing comments
Submit your proposal to mars@alliedmedia.org by June 30th, 2021
If you have any questions regarding this RFP, please contact MARS at mars@alliedmedia.org