Growing Thriving Movements Through Our Sponsored Projects Programs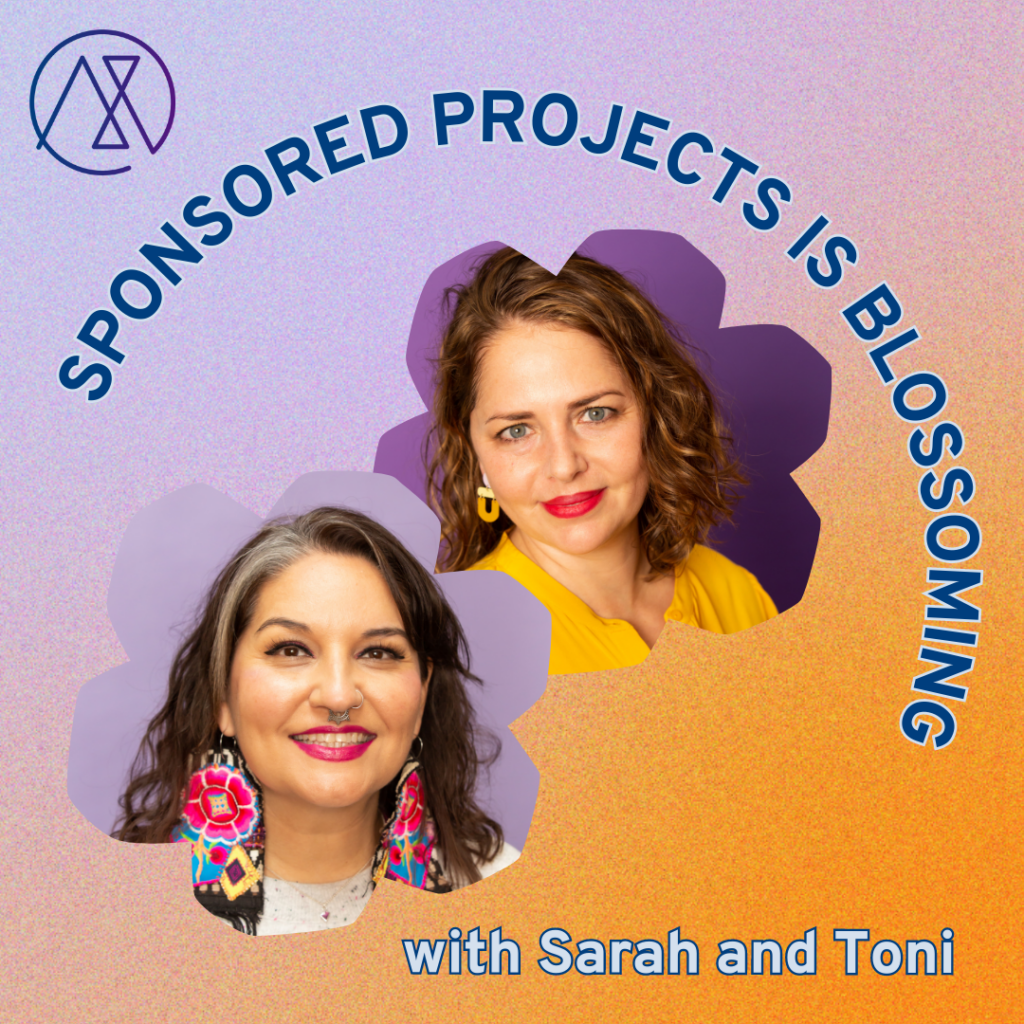 'We became a non-profit so others did not have to."

– Jenny Lee, former Executive Director of Allied Media Projects
This Spring, we are celebrating our 20th anniversary of cultivating media for liberation at Allied Media Projects. We remain in awe of the brilliance of our network – creators and visionaries helping us reimagine ourselves and our movements.
One of AMP's main commitments, as we look to the next 20 years, is to continue growing thriving movements through our Sponsored Projects Programs. One of AMP's main commitments, as we look to the next 20 years, is to continue growing thriving movements through our Sponsored Projects Programs. We are excited to share this conversation between Sarah Gonzales, the current Director of Sponsored Projects Program and Toni Moceri, the former Director of Sponsored Projects Program and current Co-Executive Director of Allied Media Projects, to share about AMP's journey of fiscal sponsorship to provide support, infrastructure and nourishment to the movements and people building the world we need.
What is fiscal sponsorship? What services does AMP provide to projects?
Toni Moceri: From 2007 to 2014, the work of Allied Media Projects mainly involved producing a yearly conference, the Allied Media Conference and implementing Detroit Future, a city-wide movement to facilitate just and creative broadband adoption activities. During this time, the need to support the liberatory work of media-based organizing beyond the container of the conference and broadband activities emerged. Many of our first fiscally sponsored projects emerged from the years of organizing work happening through the conference sessions and network gatherings and broadband efforts, and these groups needed a way to be resourced and grow in an ongoing way.
In 2014, with a strong commitment to support grassroots networks of liberatory media making, Allied Media Projects became a fiscal sponsor. Fiscal sponsorship is a relationship through which one organization operates under the umbrella of another with a shared mission, in order to access charitable funding and administrative support without having to become their own 501c3 non-profit.
AMP's Sponsored Projects Program has provided supportive services for more than 150 groups across the U.S. and Puerto Rico. They are community technologists, radio producers, chefs, fashion designers, dancers, and so much more. They are all actively creating the world we need. Half of our projects are rooted in our hometown of Detroit, MI. You can check out all of our amazing projects here.
What are the actual day to day workings of the Sponsored Projects Program?
We provide supportive infrastructure to projects including:
– Access to our 501(c)(3) status.
– Financial management and compliance expertise in accordance with the IRS.
– Additional capacity with human resources, contracting, communications, networking, and more.
How is supporting movements for liberation through fiscal sponsorship a way to make the radical practical?
Toni Moceri: We make the radical practical through providing infrastructure and behind the scenes capacity for projects. Because we are a 501(c)(3) organization and fiscal sponsor, we provide the means by which projects and people can access contributed funding—donations and foundation grants—without having to build the organizational infrastructure to be responsible for compliance. As a fiscal sponsor, AMP is taking on the financial and legal responsibility of the project's work, and in many ways some of the risk associated.
We can help keep our community safe by taking on the legal responsibility of the work. Due to the radical nature of many of our projects, they can be targeted and under scrutiny, so the scale and 501(c)(3) status of our organization can serve as a buffer during those hard times.
Ideally, this infrastructure allows people and projects to build, experiment, and cultivate relationships both with partners and funders while some of the more "organizational" aspects are taken care of by our systems and processes.
What makes AMP's Sponsored Project Program unique in the world of fiscal sponsorship?
Sarah Gonzales: We have learned so much from our peers in the fiscal sponsorship realm. One of the ways AMP is unique is our relationships with projects and their teams often come from long standing community building within the AMC. Additionally, many of the AMP staff also have projects, or have been or are currently community organizers. Fiscal Sponsorship as a field has a history rooted in white, cis male leadership, due to our roots AMP staff continues to be representative of much more diverse leadership. We are proud to be Queer, Trans, GNC, Black and POC led. We'll always be growing and evolving to be the best support we can for projects so their critical work can be done.
Toni Moceri: We are unconventional in that we are willing to work with people's circumstances. When taking on a project that another fiscal sponsor might not be able to support, we look at what could be considered a risk, and we evaluate for ourselves and figure out what we can do to accommodate. We are deeply aware and understand when an issue is a systemic factor and barrier, and we try our best to put ourselves in a position where we can figure out how to navigate it.
Our projects are majority led by people of color, queer and trans folks. We have a willingness to learn and evolve our practices. We've really tried to grow alongside folks, learn together and take on shared responsibility to figure out together how to best support each other.
What are your hopes and dreams for the future of the Sponsored Projects Program?
Sarah Gonzales: When I think about the future, I think of expanding, not necessarily outward but into fullness. With the Sponsored Projects Program, we have to continue to fight against white supremacist notions of growth and expansion while striving to offer the most care filled and personable support possible for our current projects.
Almost half of our projects are based in Detroit. AMP is excited to continue growing our team and our ability to nourish our Detroit rootedness. We continue to dream about how to support media for liberation in Detroit and beyond. I'm grateful to be in this work as I witness how the projects move about this universe in a multitude of ways.
Toni Moceri: My hopes for the future are that we continue to grow and learn. One of our Network Principles is, "We begin by listening." We are committed to the process of improving and evolving in deep partnership with our network.